T14-X Low Cost Thermal Rifle Scope for Hog Hunting
The T14X is a low cost, affordable solid state digital thermal infrared imaging (FLIR) rifle weapon sight that can also be used as a hand held thermal viewer. The Dual use system offers the users flexibility for hand held and weapons mounted applications. The T14X offers fast real time 60 hertz refresh rate assuring that you wont miss any target of interest in day or night.
DOWNLOAD the T14-X Thermal Scope Product Spec sheet HERE.
CALL TODAY for pricing! (702) 369-3966.
Product Description
The T14X is a multi purpose low cost thermal rifle scope that compares to units costing thousands more. The T14x is the only thermal tool that you need to get the job done. Not only is the T14x a rugged handheld thermal imager with video recording, color imaging and zoom it is also a potent thermal rifle scope. That's right the T14X is ready to mount to the picatinny rail of your 223/556 AR15 style rifle for hog hunting, protection or just having fun. The T14x is a handheld thermal spotting scope and a thermal video recorder and a thermal rifle scope. It does the job of three thermal devices but costs less than one! See the video below to find out whats included in the entire T14x multi purpose thermal scope kit. You wont believe how affordable it really is.
Watch the T14-X Low Cost Thermal Rifle Scope In Action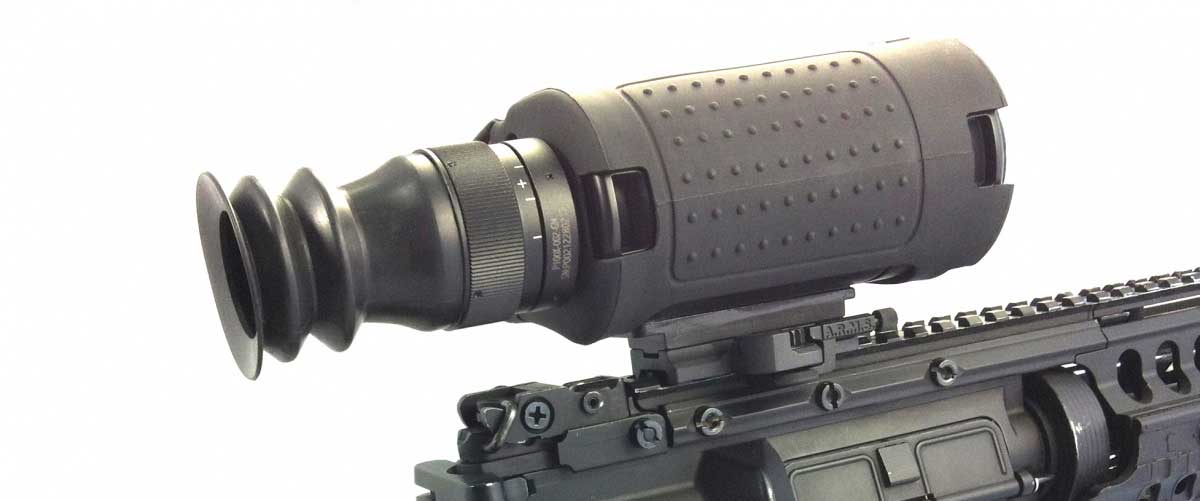 ---
What are the features that you should consider in choosing the Thermal Rifle Scope to use?
Thermal Scope Price: Usually, it is a wise decision to buy a thermal scope when it is at a promotional or discounted price since they are quite expensive
Scope Sensitivity: The Scope should have very sensitive detector material that are sensitive to 1/10th of a degree.
Year of Product Release: Just like most products in the market, the year that the product was introduced would usually gives us the idea on the features that they have. The price of the product is actually based on the features and the enhancements that it has among other products of its kind.
Time for Start Up: In real life situations, it is important that our thermal scope has a fast start up. This will cause problems if your thermal scope takes forever before starting up.
Options for Mounting: Thermal scopes usually have several options for mounting. However, out thermal scope can be used as a hand held device.
Consecutive Auto fire Rounds: This is a necessary feature, especially if you are going to use your thermal scope in the military or other security areas. Most these high quality thermal scopes are capable of making a massive auto fire rounds reaching 5k.
Zooming Capacity: A scope will never fulfill its purpose without zoom capability. The distance on how far and accurate the thermal rifle and vision is capable of zooming is one of the essential features to look at when examining the scope.
Target Tracking: Out thermal scope is currently the only one that has automatic TOI (Target of Interest) Tracking.
Life of the Battery: Everything can happen in the battlefield or out for a hunt, Just like the time for your thermal scope start up, it is also important that it is capable of staying alive during your crucial hours.
Capturing and Storage of Captured Images: Our Thermal rifle scopes can store photos and videos internally to an SD removable care, this feature is essential so the user does not have to carry along additional recording devices. Our thermal rifle scope is all self contained sealed unit.
The Product Weight: Since thermal rifle scopes are used in a life and death situation, we prefer to have a lighter product. Because you will be holding the scope and will mount it either on the rifle, the lighter the product, the more that it will be an advantage to you.
---
T14-X Low Cost Thermal Rifle Scope User Submitted Video
The Above T14X thermal scope videos were submitted by our hog hunting customer with the internal SD card recording mode set on fast compression. The ACTUAL video & imagery is much better overall real time.
**Customer Review of The T14x Thermal Scope**
A customer reviews the T14x thermal scope on an AK-47, shooting at steel target from 100 yards to 300 yards.
T14X Low Cost Thermal Rifle Scope Features
-Uncooled microbolometer FPA with 60 HZ real time video refresh rate
-High Grade coated Germanium lens with 9 degree FOV, super fast F1.0 optics
-Ezoom
-3 user selectable reticles
-8 user selectable color and black and white imaging pallettes
-Inverted Polarity imaging scence feature
-Auto imaging / and Manual imaging setting for user selectable image adjustment
-TOI Target Of Interest crosshair (tracks and identifies the hottest spot on the image)
-Fully sightable windage and elevation settings
-Floating crosshairs adjusts to any image enviornment
-All metal housing
-AA battery operation
-Adjustable Mil Grade Eyepiece for desireable eye relief
-Onboard Image snapshot or movie recording implemented with removable SD card
-A.R.M.S 17 MKII picatinny quick release weapons mount
-Ideal for thermal imaging viewing, target acquisition, security & surveillance + a wide variety of applications.
-includes USB, external power cord, standard video output cables, rechargeable batteries, battery charger.
-Includes Carry Case
-Brand new 1 year warranty
The T14X Thermal Scope has fantastic sensitivity and shows differences as subtle as 1/10th of a degree
T14-X THERMAL RIFLE SCOPE GENERAL SPECIFICATIONS
| | |
| --- | --- |
| THERMAL PERFORMANCE | |
| Sensor type | FPA Uncooled MicroBolometer Thermal Sensor 60hz |
| Zoom | 9 Degree Hard Germanium Optics with 2x DSP Ezoom |
| Automatic features | Auto focus through zoom, AGC, Digital Image Enhancement, Auto/Semi-Auto imaging, Reticle Polarity. |
| VIDEO PERFORMANCE | |
| Display | FULL COLOR viewfinder > High Resolution |
| Eyepiece | Precision ground glass optics. Large image with extended eye relief. |
| Presentation | Full color and grayscale imaging. |
| OUTPUTS | |
| Video | NTSC/PAL Video full color imaging |
| Connector types | Analog Video, USB and RS232 |
| Image presentation | Monochrome, color and On Screen Symbology |
| Image Storage | Handheld mode Internal SD CARD JPEG image storage for easy PC download |
| Thermal Video Storage | Handheld mode Internal SD CARD Thermal video storage for easy PC down- load |
| POWER | |
| Power Batteries | AA batteries disposable or rechargeable |
| Power AC | 110/240 AC adapter to 9VDC input |
| ENVIRONMENTAL | |
| Operating temp | -20°C to 60°C |
| Dimensions | 7" X 4.2" X 2.6" |
| Weight | ~1.5lbs |
| Mounting | Handheld or ARM#17 MKII Throw Lever Picatinny Mount |
| STANDARD PACKAGE | |
| SPOTTER-T14x Featuring | 60hz real time, Video Recording, Image Capture, Black Hot / White Hot, Color Thermal, DSP Zoom, SPOT TRACK Auto Targeting, Video Output, External Power Supply, SD Card, Adjustable reticle. |
| Kit Contents | T14-X, 4x AA Rechargeable Batteries, Battery Charger, External Power Supply, Video Output Cable, Rubber Eyecup, Hand Strap, ARMS#17 MKII, Lens Care Cloth, Operators Manual, Soft Case, Hard Case. |
*SPECIFICATIONS SUBJECT TO CHANGE WITHOUT NOTICE. NO EXPORT. ITAR REGULATIONS APPLY.