Cooled MWIR Long Range FLIR PTZ Pan Tilt Thermal Infrared Imaging cameras / zoom lens Options
CONTACT US FACTORY DIRECT FOR LONG RANGE COOLED MWIR or UNCOOLED LWIR THERMAL IMAGING CAMERAS, RAPID QUOTES
AND CUSTOM CONFIGURATIONS AT

(702) 499 – 9551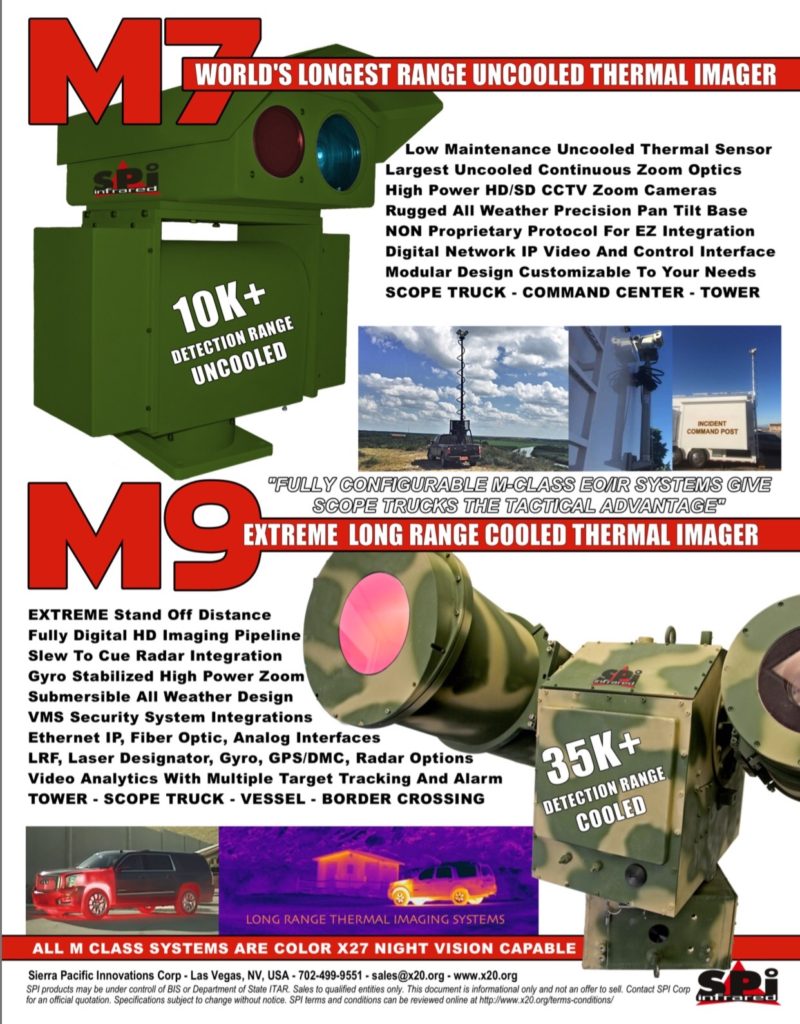 The  affordable M7 LWIR & MWIR Pan & Tilt Now available with 35 +KILOMETER DETECTION RANGE Performance !
CONTACT US at sales@x20.org for additional information.
The M7 Long Range Thermal Imager is a complete multi-sensor PTZ flir Imaging system that offers crisp, robust long range infrared and HD ZOOM visual EOIR color / Low light imaging in a sealed, rugged housing. This model can be easily integrated into existing systems and is highly customizable.
PTZ LONG RANGE THERMAL IMAGING FLIR CAMERA PRODUCT LINKS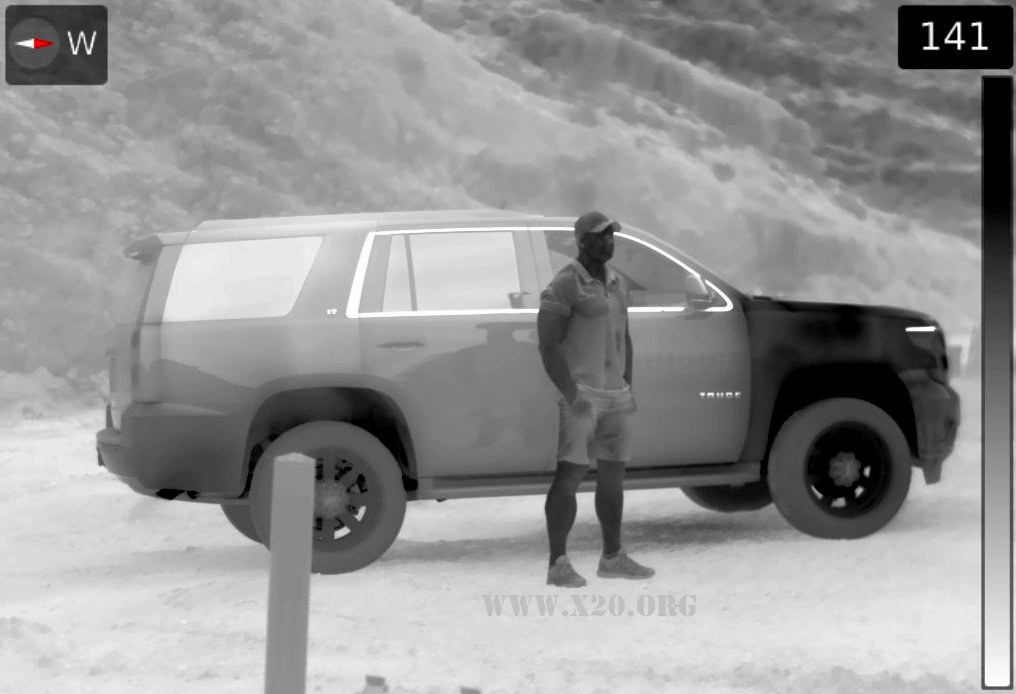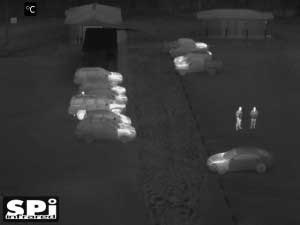 Human subject Thermal Images at multi-kilometer range detection at night
Extreme long range night vision target detection in pitch darkness and harsh environments can present a challenge. The M7 PTZ EO/IR PTZ FLIR Thermal infrared imaging camera platform can achieve advanced detection, recognition and identification of distant targets at very long ranges with extreme accuracy and precision with highly sensitive, high resolution sensors, Our affordable high sensitivity steerable PTZ flir Thermal imaging systems can be configured with long range germanium telephoto zoom Lenses that offer target detection at 35 KILOMETER + RANGE.
COOLED MIDWAVE 3-5 MICRON MWIR LENS OPTIONS:
15-225 mm MWIR continuous zoom hardened, coated/sealed germanium lens.
18-335 mm MWIR continuous zoom hardened, coated/sealed germanium lens.
35-670 mm MWIR continuous zoom hardened, coated/sealed germanium lens.
35-720 mm MWIR continuous zoom hardened, coated/sealed germanium lens.
35-835 mm MWIR continuous zoom hardened, coated/sealed germanium lens.
88-1420 mm MWIR continuous zoom hardened, coated/sealed germanium lens.
15-305 mm MWIR continuous zoom hardened, coated/sealed germanium lens.
47-595 mm MWIR continuous zoom hardened, coated/sealed germanium lens.
88-1220 mm MWIR continuous zoom hardened, coated/sealed germanium lens.
55-1650 mm MWIR continuous zoom hardened, coated/sealed germanium lens.
THE M7 PAN AND TILT IS NOW AVAILABLE WITH OUR OPTIONAL HD LWIR ULTRA HIGH RESOLUTION THERMAL DETECTORS ARRAYS, COUPLED WITH OUR LONG RANGE CONTINUOUS ZOOM OPTICS. NOW THE M7 CAN REACH OUT TO DISTANCES EQUAL TO 2000mm + LENSES AND STILL RETAIN HIGH DEFINITION IMAGE QUALITY
SPI GUARANTEES THE ABSOLUTE BEST PRICING FOR LONG RANGE THERMAL PTZ FLIR IMAGING RECONNAISSANCE OBSERVATION SYSTEMS!
The M7 is the easiest thermal pan tilt zoom system to install. Integrates simply with all security systems. FULLY UNIVERSAL AND COMPATIBLE WITH ANY NETWORK INTEGRATION SCENARIOS WITH WIRED, LOCAL, REMOTE, IP, STREAMING, ONVIF, POE POWER OVER ETHERNET, ANALOG, ETHERNET, SOLAR, FIBER, RECON, SLEW TO CUE, VEHICLE, MOBILE, CAR, VESSEL, WIRELESS, UNMANNED, REMOTE DEPLOYMENT, DATA, FIBER OPTIC, GPS, DMC, RADAR, MICROWAVE INSTALLATIONS.
CONTACT US FACTORY DIRECT FOR RAPID QUOTES
AND CUSTOM CONFIGURATIONS AT

(702) 499 – 9551
If your application calls for high reliability pan/tilt PTZ, ultra extreme MWIR or LWIR FLIR long range day/night imaging system, then the M7 if your clear choice. There are many Long Range Imaging systems available in the marketplace, although one drawback is the cost. The M7 PTZ flir pan & Tilt Gimbal payload camera system is priced substantially lower than its competitors and offers true optical long range optronics imaging in low light, day and night. Laser Pointers/illuminators and rangefinders are all available in medium, long and very long ranges. The M7 Has a very rugged, sealed all weather 100% duty cycle metal payload PTZ Pan Tilt Positioner with zero backlash and extreme positioning precision.
SPI Encourages you to shop around for quality long range multi sensor FLIR thermal Imaging cameras coupled with HD zoom telescope EOIR optics & multi sensors, you will not find a comparable long range PTZ FLIR  camera solution that performs as well as the M7 camera does for the price offered. Long Range thermal Imaging EOIR Pan Tilt sensor systems are an exotic detector/lens and positioning platform that allow for extreme range remote sensing application in a wide variety of security, surveillance, remote wireless and research applications. The M7 has a proven track record of being the most reliable and highest performing system available anywhere. With an assortment of imaging sensors such as NIR, BsTFA, SWIR, MWIR and FLIR detectors integrated into the M7, the unit is a one package solution that solves a wide array of imaging needs.
The M7 is available in LWIR and MWIR cooled sensor configurations, general micro pitch on the detector is 15 Um. For customers that need Medium to long range thermal infrared IR FLIR imaging, We offer the LWIR Long Wave uncooled 7-14 micro sensor version of the M7. For those demanding applications that require exotic long range, and Ultra Extreme long range IR FLIR Thermal Imaging Range, The M7-X MWIR Mid Wave Infrared is available in a wide array of lens options up to effective 2000MM focal length at F4. These Detector and lens combinations offer the longest range performance at the highest resolution and sensitivity. These type of cooled thermal imaging FLIR IR systems payload turrets offer hardened cz telephoto optics, SPI ensures you the best value and most affordable priced long range Thermal FLIR PTZ imaging solution. Contact us if your application is a brand new one or if you would like to integrate and incorporate into an existing security system, our knowledgeable engineers will guide you every step of the way to build and design a high performance, effective and affordable robust security platform.
Our M7 LWIR Thermal PTZ FLIR and has no cooler internally, it uses all solid state electronics which ensure long life, and is maintenance free, Our LWIR thermal imaging sensor detectors offer advanced pixel pitches which when coupled with our long range lenses will offer impressive detection, recognition and identification performance. We offer you the best price on our continuous optical thermal zoom cooled thermal imaging PTZ flir cameras.
The M7 gps Telescope FLIR thermal imaging LWIR uncooled PTZ camera can be custom configured to your exact application and specification, with a wide array of HD TV, CCD, CCTV, CIS, Telescope Thermal, NIR, SWIR, VNIR, LWIR, MWIR & FLIR Optics, the M7 system will definitely suit your needs from medium, long to Very long range security, surveillance and imaging needs. Optional Slew to cue Radar integration, solar, remote, gps, fiber, microwave, wireless, ethernet, ip, ONVIF, POE, RS485, RS422 serial digital compass installations are available for the M7 PTZ Turret.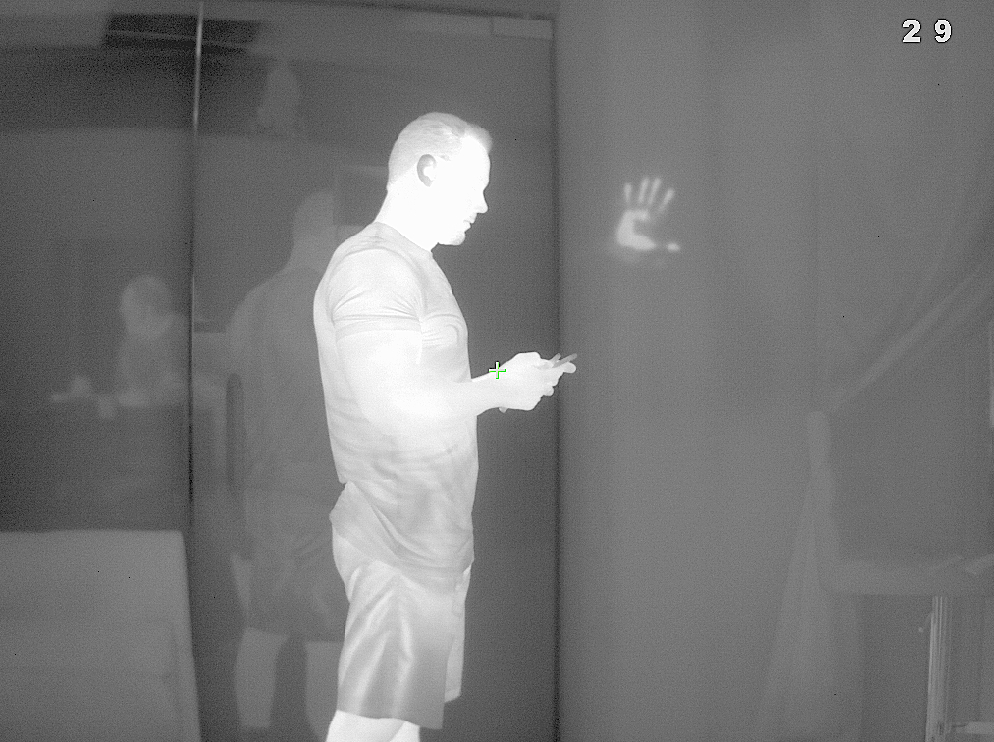 CONTACT US FACTORY DIRECT FOR RAPID QUOTES
AND CUSTOM CONFIGURATIONS AT

(702) 499 – 9551
NEW OPTION – Ultra Low Light HD X26 HFIS imager optimized to 1100 NM for SeeSpot 1064 (Link for the X26 Hyper Fidelity Intensified Sensor HFIS) can be outfitted to the M7 for additional imaging performance, X26 HFIS option is available ONLY FROM SPI and offers unbelievable HD imagery in day and Night !
---
The M7 features 360° continuous pan tilt zoom surveillance at an up to HD High Definition 400x zoom for maximum performance in even inclement conditions & harsh environments.
Contact us for options & pricing!
---
---
---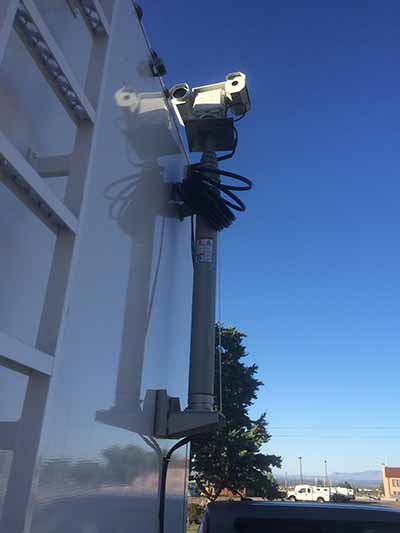 The M7 long range thermal imager is a long range multi channel EO/IR, stabilized all weather PTZ LWIR long wave infrared surveillance system on our product roster. This PTZ flir pan tilt zoom multi-sensor system doesn't mess around when it comes to your most rugged applications. This Rugged, mountable camera system features both a daylight TV LLL camera and a super high resolution LWIR or MWIR thermal sensor combined to give you up to 500x zoom. Combine that with the 360° continuous pan tilt zoom function and you have the most well-rounded, all condition 24/7 surveillance camera system for maximum distance footage at any time of day or night.
Fast, smooth and precise continuous zoom Germanium optics offer wide field of view all the way to long range telephoto (Wide to narrow continuous zoom A-thermalized, coated, sealed LWIR Germanium lens)
This system is easily mounted on vehicles, boats, marine vessels, masts, buildings, and its included stabilization platform optimizes it for whatever application you need to utilize it for. The controls are simple for any user to navigate and the system has an integrated wiper system, the unit represents the ultimate in extra long thermal imaging security / surveillance. The M7 LWIR PTZ flir thermal iimaging camera is a sealed totally Stealth & covert military grade long Range FLIR thermal imaging PTZ Pan Tilt camera system that emits no laser or illumination at all making it completely stealth and unseen to enemy night vision devices.
The M7 PTZ flir Long Range Thermal Imager is the worlds most affordable long range PTZ Thermal FLIR camera payload with high resolution, high sensitivity & turn key multi sensor High Definition Zoom color/low light EOIR camera which can be CUSTOM CONFIGURED to your specific needs, these systems are suited for:
Military combat surveillance applications
FOB perimeter/critical facility infrastructure, high value security
Border / frontier patrol & security
Security and surveillance
Law Enforcement
Critical facility security (power stations, prisons, government offices)
Mobile, mast or tripod mounted for sea & land monitoring
Vehicle safety applications (railways, mines, heavy equipment)
Cruise ship man overboard detection & rescue
Land & sea security, search & rescue operations
DEA & SWAT applications
M7 Long Range Uncooled LWIR Thermal FLIR PTZ Camera with Continuous Optical Telephoto Zoom Lens
The M7 Long Range Thermal Imager Goes Wherever You Go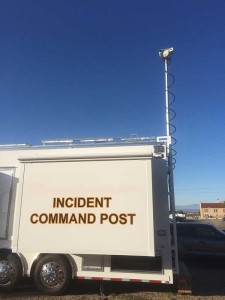 The M7 PTZ flir long range thermal Ir infrared camera is a sealed, all weather ruggedized platform that is fully universal in any situation. It is structured with an open architecture, which allows plug and play rapid hookup and operation in any conditions. Any time of day or night for maximum situational awareness force protect, security, surveillance and asset protection.
The m7 PTZ flir long range thermal surveillance system features the ultimate in uncooled LWIR / MWIR technology, this highly reliable, maintenance free unit assures you continuous operation for many years to come. The M7 is 100% reliable and solid state, and lasts longer than other systems on the market today. The unit is fully sealed and ruggedized for use in any harsh environmental conditions. Our extra long range PTZ flir thermal imager units have been deployed in every situation, from combat missions in the Middle East to security operations at vital facilities nationwide. These systems are unparalleled in their performance and compatibility with existing surveillance networks, their resiliency in inclement conditions such as rain, fog or snow, and offer target of interest detection ranges up to 35 Km+ making them a superior extreme standoff distance system in thermal imaging cameras technology today.
M7 LWIR / MWIR X-Long Range Thermal Imager for Surveillance Features:
Ultra sensitive, LWIR or MWIR thermal detector sensor
Ruggedized, sealed all weather housing
Daylight CCTV HD camera (500x zoom)
360 degree continuous pan tilt zoom functionality
target tracking and slue to cue radar compatibility
User friendly PELCO-D controls, wireless, universal data and video outputs in PAL/NTSC – RS 232/485, Ethernet IP
Multiple color palettes, tracking, fusion, image blending, pip
Very efficient & Economical Power draw
100% Duty Cycle system can operate locally or remotely for 24/7/365 uninterrupted
M7 LWIR/MWIR X-Long Range Thermal Imager Setup Includes:
M7 PTZ flir LWIR/ MWIR long range thermal ir imager system with stf cables and accessories
HD Long Range ZOOM COLOR / LOW LIGHT daytime Camera
Video & power cables
Stabilization system
User manual for operation
-Selectable wide view to Extreme long range view
-works uninterrupted in day and night from full sunlight to no moon
-industrial steerable positioner PTZ system with all steel gears and metal construction
-outstanding image quality with enhanced detail in all weather environments
-Ideal for drivers aid as well as ultra distance detection applications
-Ideal for military vehicles
-Dual high resolution HD high sensitivity thermal imager and daytime low light tv camera with optical and electronic zoom
-extremely easy to install and use
-includes robust keyboard/joystick for,command and control
-includes high res monitor for viewing
-includes all accessories, cables,connectors
-includes heavy duty stabilizer/dampener for harsh environment applications
-auto focus, eliminates unnecessary user focusing while activating optical zoom
Optional Equipment:
Keyboard / hand controllers TFT HD monitor displays
NEW OPTION – Ultra Low Light HD X26 HFIS imager optimized to 1100 NM for SeeSpot 1064 (Link for the X26 Hyper Fidelity Intensified Sensor HFIS) can be outfitted to the M7 for additional imaging performance
SWIR channel
color or monochrome cmos night vision sensors
Stabilized
1024 x 768 & HD thermal FLIR LWIR sensor
IR Laser pointers and laser illuminators
Eye Safe LRF Laser Range Finders with 20Km detection Range
Extended warranty
Extended main system cable
Network interface (TCP/IP Ethernet, web, app, fiber, microwave, custom)
DVR / PC recording & operation
Radar Slew to Cue Compatible
Tripod / building / mobile/ marine & Mast mountable
LCD / LED monitors
NEW OPTION– Ultra Low Light LONG RANGE Day/Night HD X26 HFIS imager optimized to 1100 NM for SeeSpot 1064 (Link for the X26 Hyper Fidelity Intensified Sensor HFIS) / The X26 HFIS Camera is the Ultimate Day/Night HD imaging camera that offers unmatched performance in full daytime and very dark night time applications. The HFIS has Generation 3 Image Intensified image quality and sensitivity, without having the inherent problems of traditional image intensified systems, full sunlight and high energy scenes do not disturb the X26, with its super wide dynamic Range and ultra sensitive 1100 Nm detection capabilities. 
X26 HFIS Daytime imaging Scene Video / (Link for the X26 Hyper Fidelity Intensified Sensor HFIS)
X26 HFIS Video of Daytime and No Moon Night scenes / (Link for the X26 Hyper Fidelity Intensified Sensor HFIS)
The M7-X Can be integrated with the X27 high fidelity color night vision sensor. The X27 is a revolutionary real time color HD 10 megapixel low light/low lux color night vision sensor that can image down to extreme 1 millilux night time scenes. The video above was filmed at night time with 1/4 moon conditions. CLICK HERE FOR ADDITIONAL INFORMATION ON THE X27 COLOR LOW LIGHT NIGHT VISION SENSOR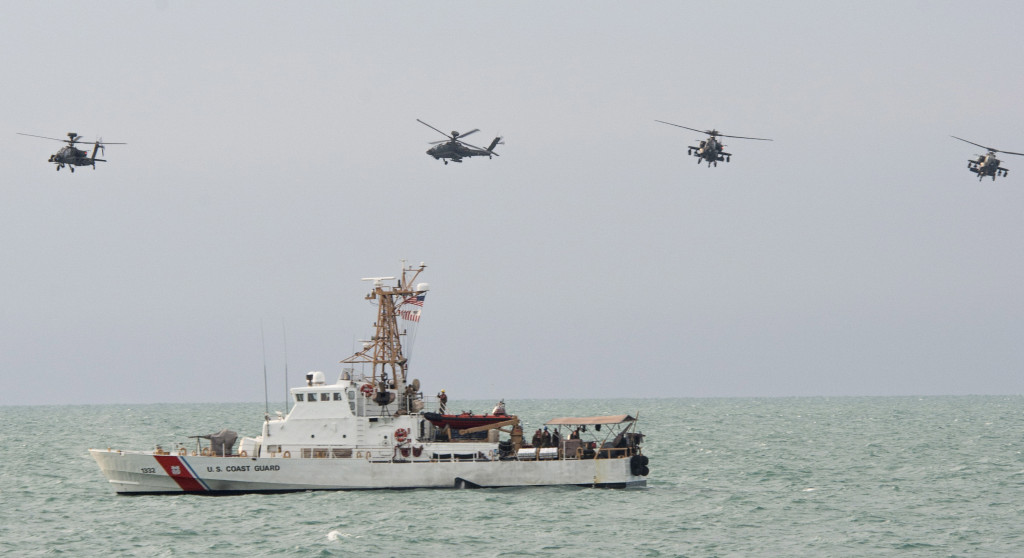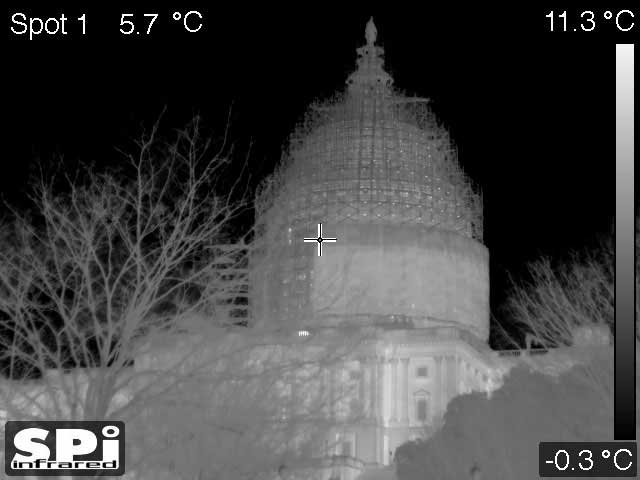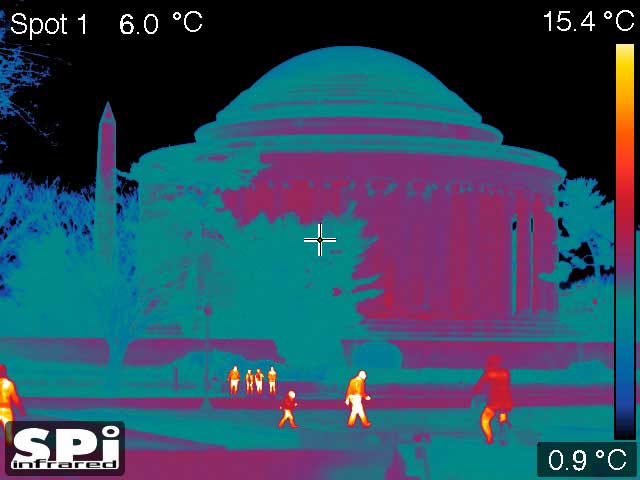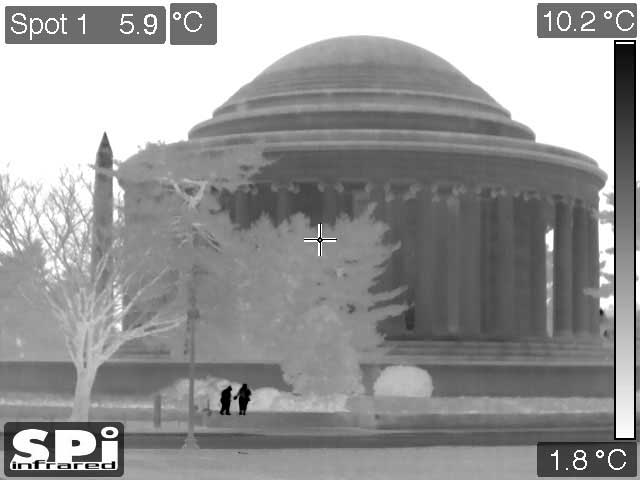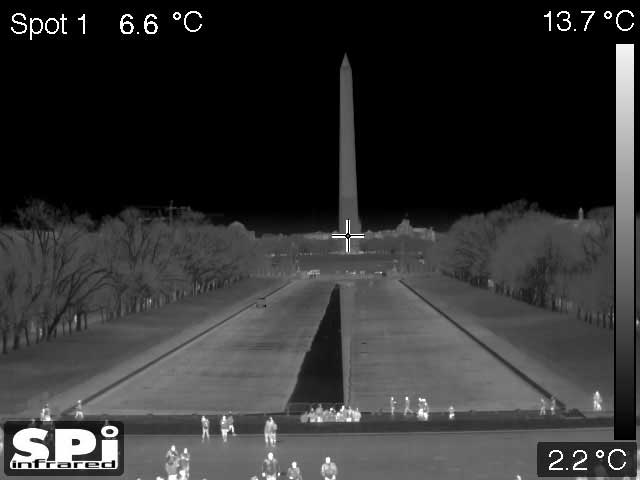 | | |
| --- | --- |
| Sensor | Large format, maintenance free 12 um /17 Um uncooled LWIR uFPA, MWIR cooled InSb FPA 12 um/15 um cooled photodetector / high sensitivity / protected from sun damage / auto gain & level imaging / sky & land image correction / high dynamic range when imaging extreme cold and hot scenes / auto non uniformity correction / Made in USA |
| FOV | +/- 25° – 0.4°(dependent on sensor lens combo) |
| Lens | Wide to narrow continuous fov LWIR zoom Germanium @ F/1.3, or,Wide to ultra extreme narrow fov continuous zoom f/4 MWIR – true focus maintained throughout the entire zoom cycle from wide to narrow / auto optical correction / sealed, coated, treated |
| Electronic zoom | Up to 10x |
| Daylight camera | Zoom 500x CCTV color/low light HD / HD-SDI Output / back thinned CMOS sensor / anti fog, haze & clutter cutting capability |
| Video output | NTSC composite video (RS-170 / SMPTE-170), or HD-SDI |
| TV zoom | 500x SD / 400x HD |
| Detection range | +/- 10 km, +/- 20 km vehicle or vessel up to 20 kilometer target detection / UP To 35 KM Detection Range with M7-uX MWIR & 45 Kilometer Vehicle, Large Vessel and Aircraft Ultra Extreme Long Range Detection Ranges |
| TV FOV | 38.2° (wide) to 0.7° (telephoto) Continuous zoom color / lowlight |
| CCTV / IR | Auto focus, auto WB, auto exposure (with low light filter cut), stabilization, digital zoom on/off, polarity, color, zoom wide, mid, telephoto, FULL AUTO IMAGING |
| Environmental | Working temperature -25°C +69°C, storage temperature -40°C +85°C / all weather platform, no backlash, 100% duty cycle |
| Steerable positioner | 150m/s2 11ms anti impact shock, zero backlash, 100% duty cycle, sealed with titanium gears, aircraft aluminum, all weather. |
| Dimensions | ~450mm x 310mm x 210mm (17"W x 12"H x 8"D) |
| Weight | ~15Kg ( ~33 lb ) *configuration dependent |
| Power | 12V DC – 24V DC |
| Interface | Universal non proprietary RS485 Pelco-D protocol, video output (analog / HD-SDI)THE M7 IS FULLY SUPPORTED BY SPI, UNMATCHED 24/7/365 SUPPORT IS ALWAYS AVAILABLE TO OUR CUSTOMERS! |
Color Palettes:
HIGH RESOLUTION THERMAL FLIR INFRARED IMAGING CAMERA
The M7 Ultra Long Range Thermal PTZ FLIR system comes with hand selected, top of the line military grade MWIR or LWIR cooled or uncooled detector arrays that go through rigorous testing and ensure extreme high resolution and High sensitivity.
UNBEATABLE ULTRA EXTREME LONG RANGE TELEPHOTO ZOOM OPTICS
The M7 Has both LWIR lenses and MWIR Lenses catered to your range requirements, Our lenses are top grade hardened, coated and sealed with high precision continuous zoom mechanisms. Our optics keep in focus throughout the entire zoom cycle from wide to telephoto fields of view.
Our Daytime optics come in SD or HD and 4K, with optical CCTV lens solutions up to from 25mm to 2500mm, Our lenses really reach out to insane long ranges!
360° CONTINUOUS ROTATION
Advanced "slip-ring" design lets the M7 PTZ FLIR IR CAMERA and its Multiple sensor payloads rotate continuously in either direction to stay locked onto the target. Slue to cue Radar and target tracking is available.
ADVANCED EOIR SENSORS
The M7 PTZ FLIR incorporates next generation Sensor Technologies, we use the latest Military grade sensors and can integrate exotic sensors to compliment the thermal and TV day optics. Optional Cameras include SWIR, BsTFA, HFIS.We can also custom integrate your specific sensors/cameras into the M7 System. Included is Continuous electronic digital zoom and a wide array of image enhancing and correcting algorithms that assure you the best image performance.
USER PROGRAMMED AUTO-TOUR
The M7 thermal imaging IR security camera is based on an intelligent PTZ platform that can be user programmed to follow pre set tours.
INTEGRATED WIPER
The M7 is an all weather solution. An integrated wiper keeps dirt and debris from clouding your image.
EASY INSTALLATION
The M7 is the easiest thermal pan tilt zoom system to install. Integrates simply with all security systems. FULLY UNIVERSAL AND COMPATIBLE WITH ANY NETWORK INTEGRATION SCENARIOS WITH WIRED, GPS, LOCAL, REMOTE, IP, STREAMING, ONVIF, POE POWER OVER ETHERNET, ANALOG, ETHERNET, SOLAR, FIBER, MICROWAVE INSTALLATIONS.
CUSTOMIZABLE / BEST VALUE TO PERFORMANCE
The M7 PTZ FLIR configurations include long range thermal, HD Thermal Imaging LWIR and MWIR detector arrays, network interface, mast mounted, slew to cue, drop deployable, Radar, Panoramic imaging, marine, emergency response vehicle, tactical vehicle, surveillance truck, border, sea, coastline and more with EO/IR add-ons such as NIR, SWIR, MWIR, LRF LASER RANGE FINDERS, SCMOS, LOW LIGHT CMOS, BSTFA, HFIS, LASER IR INFRARED ILLUMINATORS, POINTERS, DESIGNATORS, DAZZLER & SPOTLIGHT, tracking, GPS picture in picture, fusion & image blending.Exotic Thermal imaging and multi sensor systems such as the M7 are a significant investment, SPI offers you the best performance to price Value. We strive to offer our customers the absolute best equipment & support at the absolute best price.Contact us for our COTS or CUSTOM solutions.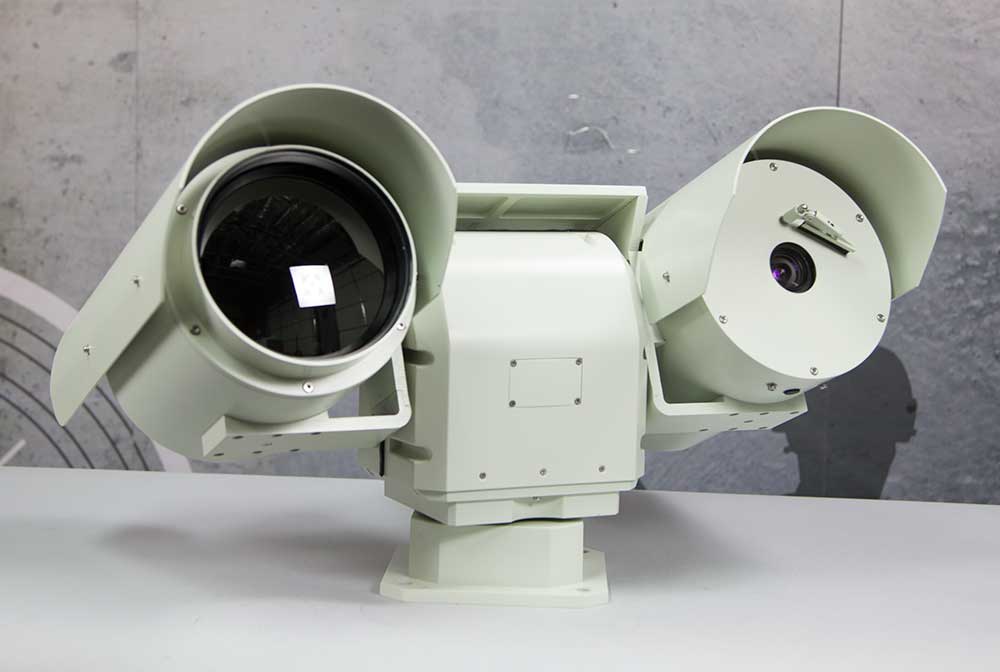 Sample Thermal Surveillance Images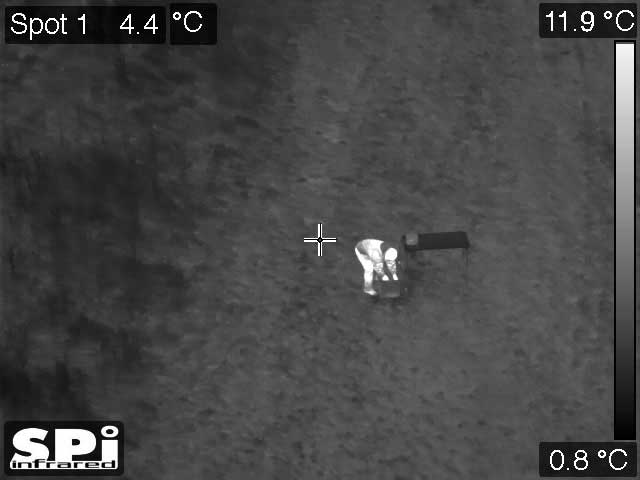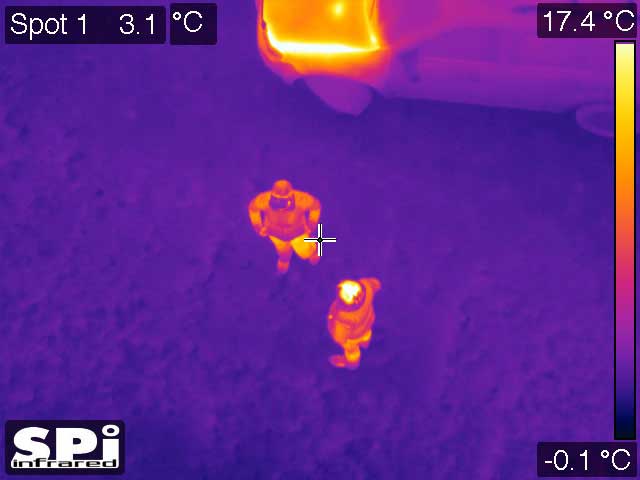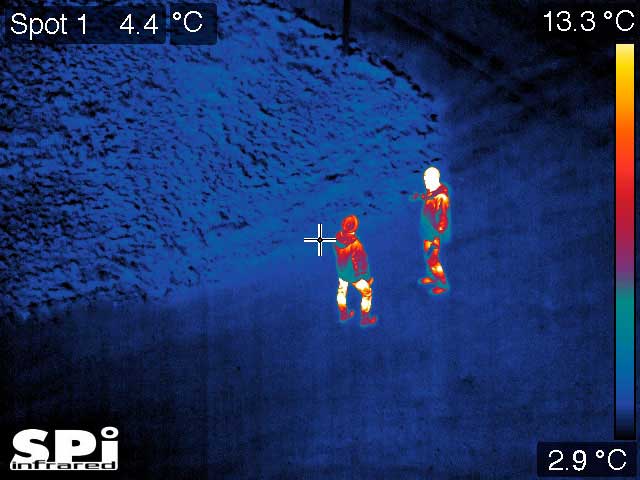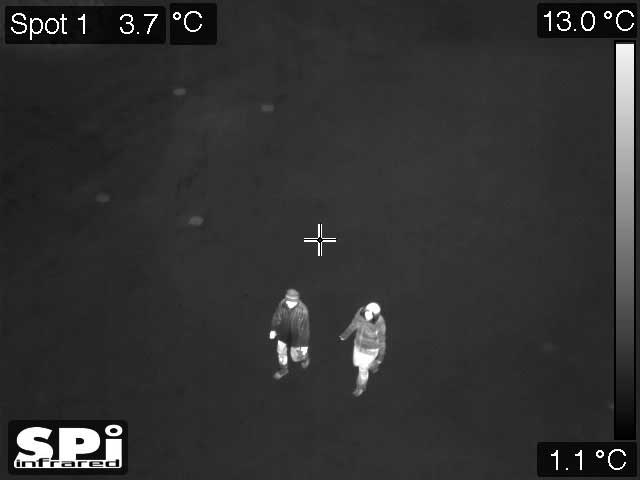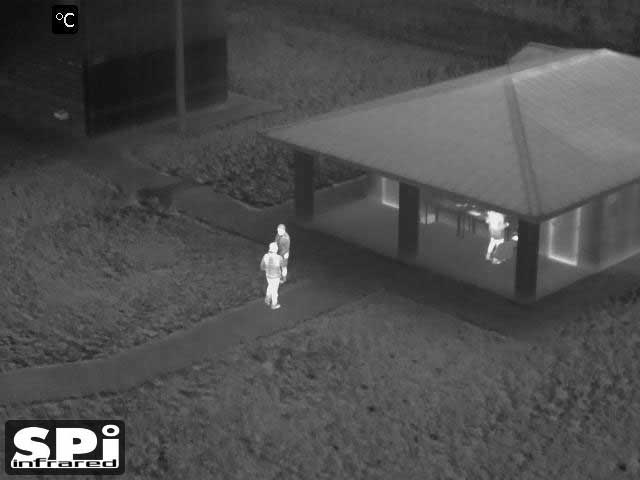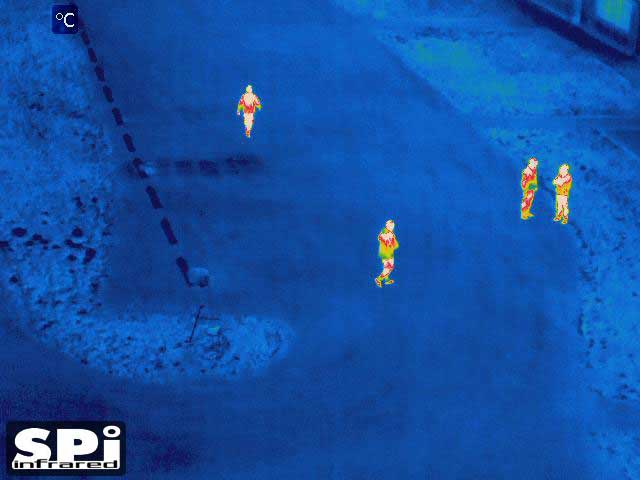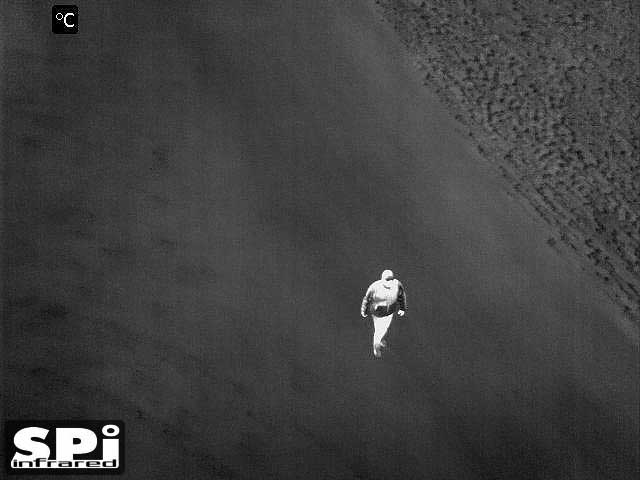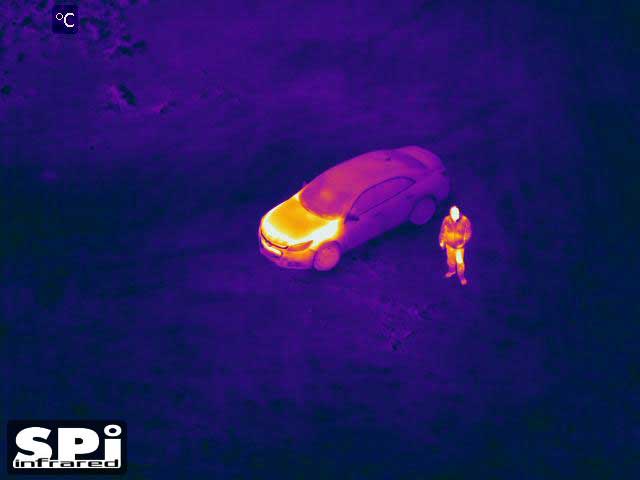 The M7 Pan Tilt Zoom (PTZ) can be totally custom configured to the end users exact specifications with optics, detector and laser selection payloads, short, long and extreme long range systems are all available
---
---
CONTACT US FACTORY DIRECT FOR RAPID QUOTES
AND CUSTOM CONFIGURATIONS AT

(702) 499 – 9551
Homeland Security never sleeps. It's a 24/7 operation that can't afford downtime or periods of reduced readiness. More and more, Long range PTZ thermal FLIR security cameras along with complimentary CCTV long range zoom telephoto TV EO sensors have become the visual surveillance sensor of choice for these demanding, high-security missions.
For many years PTZ (Pan, Tilt Zoom) FLIR thermal cameras have proven themselves to be the best 24-hour visual surveillance imaging solutions available, and today they are a vital component in the US Homeland Security mission, helping to secure our borders, airports, sea ports, nuclear facilities, and other critical infrastructure installations.
Through dust and smog, even in the darkest nights, SPI's Long range PTZ (pan & tilt, zoom) FLIR thermal cameras let security professionals see intruders and vehicles alike at various short, medium, long, and very long detection, recognition and Identification (DRI) Ranges.. No matter what they need to see, or where they need to see it from, SPI thermal FLIR PTZ cameras keep law enforcement and security officers seeing clearly.
FLIR (Forward Looking InfraRed) Thermal Imaging cameras
The demand for thermal imaging to enhance the CCTV environment is increasing markedly.  Thermal imaging provides 24-hour, all-year-round, long-range asset and personnel protection.  Unlike other cameras thermal imaging cameras require no lighting that may draw unwanted attention to a facility or site.  They provide vivid, high-contrast images of intruders even when light fog, smoke, rain, snow, foliage or lack of ambient light may make them difficult to see with the naked eye or with conventional cameras.
Some thermal imaging cameras have a range up to 35km and can be easily integrated into either legacy video or modern IP based networks to complement established daylight cameras.  Compatibility with third-party video analytical tools provides reliable unattended threat detection and alarm capability.
Thermal imaging has a valuable part to play in short to long-range surveillance but there are several system choices available in the commercial market place.  The main options are a cooled or uncooled thermal imaging system.  So apart from the obvious what is the difference between them and which one is the most effective system?
cooled (Stirling micro-cooler type) FLIR thermal imaging camera
Let's start with the design basics.  A cryocooler is integrated with the imaging sensor on a cooled camera to reduce thermally-induced noise to a level below that of the signal being imaged.  This type of camera is the most sensitive to small differences in scene temperature.  They can be produced to image in the midwave infrared or MWIR band of the spectrum where the thermal contrast is high due to blackbody physics.  They can also be designed to work in the longwave infrared or LWIR band.
Thermal contrast is the change in signal for a change in target temperature.  The higher the thermal contrast, the easier it is to detect targets against a background that may not be much colder or hotter than the target.  Generally speaking, the images from MWIR cameras pointed at nighttime scenes of interest show quite vivid contrast compared with other infrared wavebands.
Uncooled (Thermo Electric TE) FLIR thermal imaging camera
A common detector design employed by the uncooled infrared camera is based on the microbolometer.  This is a tiny vanadium oxide resistor with a large temperature coefficient on a silicon element with a large surface area exhibiting low heat capability and good thermal isolation.
Changes in scene temperature cause changes in the bolometer temperature that are converted into electrical signals and processed into an image.  Uncooled sensors are designed to work in the longwave infrared from 7 to 14 microns where terrestrial temperature targets emit most of their infrared energy.
Uncooled cameras are generally less expensive than their cooled counterparts.  The manufacturing economies based on detector-demand have a large part to play here but so too does the exclusion of the cyrocooler which is costly device.  As they also have fewer wearing parts uncooled cameras have longer service lives.
Cost effectiveness of thermal FLIR imaging cameras
Given the price-sensitivity of the security market and the need for cameras capable of uninterrupted operation there would appear to be little or no case for a cooled camera.  But of course it's not as clear-cut as that!  Range and other issues have to be considered.  When the stand-off range is 5km or greater, thermal imaging systems, based on cooled cameras, quickly become more cost-effective.  And note the emphasis on the word 'systems' of which the basic thermal camera is just a part.
One of the biggest cost drivers of a long-range uncooled system is the lens.  As effective range requirements increase the lenses for uncooled camera systems become so bulky and expensive that it can often be cheaper to opt for a cooled camera with an equivalent focal length lens.
 PTZ (Pan, Tilt, Zoom) Thermal FLIR imaging provides 24-hour, all-year-round, long-range asset and personnel protection
The cooled system cost is high at short focal lengths where the price of the lens is a relatively small fraction of the system cost.  Unlike the uncooled system, the cost of the cooled option does not increase rapidly with focal lengths.  This difference in cost is driven by the lens and the crossover point – currently around 350mm for typical systems – is changing in the rapidly emerging global IR optics market.
Why are lenses more expensive for PTZ Pan Tilt FLIR uncooled thermal cameras at long focal length?
It has to do with another crucial lens parameter, the f/number.  This determines the light gathering power of the lens and therefore affects the sensitivity of the camera system.
As the focal length of the lens is increased, the diameter of the front lens element must also be increased to keep the system f/number constant.  An uncooled camera has to be run at a low f/number – typically 1.4 ~ 2 – to achieve the sensitivity comparable with that of a cooled camera.  Higher f/numbers reduce uncooled camera sensitivity and there is no adjustment to compensate for the reduction in the light signal transmitted through the lens.
The f/number of an optical system is the ratio of the focal length of the lens to the diameter of the front lens element.  For example, an f/2 lens with a 500mm focal length must therefore have a 250mm diameter front lens element.  That element is very expensive and approaches the limits of manufacturability for germanium.  In part this is due to the difficulty in making a large enough optics-grade blank of raw germanium material.
Integration time of FLIR thermal imaging cameras
In contrast, a cooled camera system can be operated at f/numbers of 4 and higher without significantly compromising system sensitivity.  This is because the exposure or integration time of a cooled camera is an adjustment parameter that can be increased to make up for reduced light throughput.
The integration times needed to operate with f/5 lenses are less than 10msec enabling 50/60Hz and higher video frame rates which are standard in the security industry.  An uncooled camera cannot have its integration time increased.  It is continuously integrating IR light from the scene.
An f/4 lens with a 500mm focal length need only have a 125mm diameter front optic which is much less expensive than a 250mm optic.  Longer focal length lenses for cooled systems are readily available commercially – up to 1000mm – at f/4; very long focal length lenses of several meters or more at f/5.5 have also been constructed & designed.
Effect of multi-km range on cost of thermal imaging cameras
 The multi-tasking ability of the PTZ PAN TILT ZOOM FLIR thermal camera brings it into a completely different league.
In conclusion, long-range thermal infrared surveillance applications require long focal length lenses.  The cost of lenses increases rapidly with focal length for uncooled camera systems and slowly for cooled systems.  As a result, despite the higher cost of cooled camera core, the system cost – the core plus the lens – for the uncooled camera surpasses it at a focal length of around 350mm.  Useful imaging of man-sized targets at multi-km ranges exceeds that limit.  Therefore in these circumstances the cooled camera is the more cost-effective option.
FLIR Thermal imaging cameras multi-tasking ability
Justifying a system is not just about purchase price and maintenance.  Unlike a conventional CCTV, a thermal camera can be used in other applications beyond simply supplying a visual image for the security operation.  For example, it can provide important life-saving images in the case of a fire or explosion where visibility is impeded by smoke and dust.  It gives the emergency services vital information on location of victims and access routes.
By and large, security cameras have always been seen as a necessary evil and therefore the subject of strict budget limitation.  The multi-tasking ability of the thermal camera brings it into a completely different league as its higher cost can be justified more easily.
A thermal camera is easily combined with other technologies such as fence alarms, ground sensors, radar, TV cameras, VMD and intelligent analysis to provide early detection, alarm, visual verification and assessment.  These elements can be configured into a fully automated system to raise the alarm and notify security staff in the event of a threat, eliminating the need for constant visual monitoring of multiple cameras.
Good choice: cooled or uncooled thermal FLIR imaging camera?
Thermal imaging FLIR cameras can be easily integrated into legacy video or IP networks
In order to achieve layered situational awareness, one of the first things that should be checked when looking for a thermal security solution is that the vendor offers a broad spectrum of products, price points, performance specifications and configuration options.  Naturally they should all be fully compatible to existing command and control software environments.  The ultimate choice should provide the optimum combination of equipment and software at the lowest installation cost.
The thermal FLIR cameras should be geared for facility network infrastructures and therefore be both future and backwardly compatible to support both legacy interfaces and emerging IP-based standards.  Ideally, they should simply plug-and-play with all allied systems and have the software tools to provide the flexibility to accommodate future needs.
Whilst being more expensive than a traditional CCTV camera based system its price to performance ratio is considerably higher.  A simple calculation proves the point.  How many CCTV cameras would you need to protect and monitor a 2km-perimeter fence?  Remember, if you want so guard the fence during nighttime, in all weather conditions, you will also need additional lighting for these cameras and to budget for their power consumption.  And the cameras and lights will have to be maintained and serviced.  Now compare that cost with just two thermal cameras to do the same job.  No extras, no on-costs, just a one-off investment.  Thermal imaging is a highly cost effective solution.
SPI Can custom configure and integrate a complete solution with cooled or uncooled thermal FLIR infrared IR imaging cameras, along with long range CMOS CCTV high magnification telephoto zoom lenses with a variety of laser pointers, illuminators and rangefinders. SPI's Lasers Range from 800Nm to 1600Nm covering a wide spectral range for the customers unique needs. Ultra low light b&w and color CMOS and Emerging sensor technologies can also be integrated into the M7 system for a full comprehensive imaging suite from 400nm to 14Um.
PTZ (Pan Tilt Zoom) Long range FLIR Thermal security cameras act as a force multiplier, allowing law enforcement, military and security operators to react more effectively — responding to threats with the appropriate force, and using agency resources more efficiently.
For instance, thermal PTZ FLIR security cameras have been widely adopted as the imaging technology of choice to answer federal regulations requiring unbroken video surveillance coverage like the Nuclear Regulatory Commission's requirement for one, that nuclear facilities provide continuous 24-hour surveillance, observation, and monitoring of their perimeter and control areas. They have become an integral part of the Delay, Detect, Respond strategy; their increased detection range giving security forces more time to respond, contain, and neutralize adversaries before they can access or damage nuclear materials or facilities.
Thermal Infrared FLIR Imaging DRI
Detection, (D) Recognition, (R) & Identification (I) (DRI)  (Johnston criteria) , is the universal standard for rating thermal IR FLIR cameras.
Detection
Detection means that you will be able to see the target, it means that the target is visible on the image monitor, and that there is a good chance that the target is actually something of suspicion that may need further investigation or consideration.
Recognition
Recognition means that you are able to recognize an object's class (human vs car, human vs animal, truck vs tank, etc).
Identification
Identification of an object means that you are able to differentiate between
objects. For example, being able to identify the exact type of vehicle not just
its shape.
Thermal IR: Advantages Over Optical Cameras
Unlike standard TV, CCD or CCTV Camera systems, which like the human eye requires some light, thermal FLIR IR imaging detectors and sensors uses infrared electromagnetic radiation 3,000-14,000nm wavelengths (heat) to produce clean, crisp monochrome or color images even in complete darkness. Thermal infrared LWIR and MWIR (Uncooled and cooled) FLIR IR cameras are extremely effective as humans, animals, and vehicles are all very hot in contrast to a background making them easily detectable by SPI's ultra-sensitive, hand selected thermal camera arrays. This allows SPI's thermal cameras to detect threats at distances up to 30km, even in complete total darkness. Not only does thermal FLIR Imagers offer longer night vision ranges but it has advantages during the day as well. Standard visible CCTV cameras can be rendered useless by direct or reflected sunlight because they rely on contrast in order to identify an intruder. In areas where contrast is poor optical cameras can be rendered useless and their performances change based on lighting conditions. a good quality Thermal PTZ Camera, however, is completely immune to light allowing it to see in any lighting environment for 24/7 true day/night/twilight imaging.
SPI's powerful thermal Imaging security cameras compliment and complete your security camera network. They turn night into day, allowing you to see intruders invisible to the naked eye. Thermal FLIR cameras create video images from infrared thermal energy (heat), and perform well at night and day, in good weather and bad.
Passive Stealth undetectable Imaging
Thermal FLIR IR LWIR & MWIR (uncooled & cooled) imaging is a passive technology meaning that, thermal IR does not artificially increase light or require any illumination or light source. This is extremely important as standard active infrared illumination or lasers emit a faint red glow which can allow intruders to find possible blind spots in your surveillance system (active Infrared and lasers also emit an invisible beam that the human eye cannot see, although it can easily be spotted by traditional night vision devices, and which can be a deterrent when trying to be completely "invisible" without giving away the position). There are many applications that require stealth, such as SWAT teams, investigation units, counter surveillance and military personnel who require their presence to be undetected in order to achieve their objective. Thermal IR imagers are the best technology for these applications as it is a completely passive technology allowing you to conduct reconnaissance, surveillance and spotting day or night.
Image Enhancements
SPI's LWIR and MWIR PTZ Pan Tilt Zoom thermal infrared FLIR imaging cameras integrate specialty image enhancement algorithms that increase the thermal images contrast, gain and level settings allowing the user to better distinguish details within the image, Image enhancement can be of value because it cleans up the image of blooming, unnecessary noise and brings out crucial details of subject, vehicle, the landscape and surrounding areas no matter if looking at the land, sky or waterways.
Intelligent Video Analytics and Thermal Infrared FLIR imaging cameras
Video analytics is revolutionizing the way we use cameras. Video analytics allows us to add intelligence and automation to security cameras dramatically increasing performance and capabilities. Video analytics are widely used with optical cameras as optical cameras cost less and are more abundant than thermal cameras. This has been a major limiting factor to the effectiveness and performance of video analytics. Optical cameras require light and as a result the images they produce change with the lighting conditions. Video analytics detect changes in a scene and, through advanced algorithms, rules and user defined parameters, it intelligently creates alerts when an abnormal event causes a trigger. A common example is a trip wire where a user draws a perimeter and if any object crosses that perimeter it generates an alarm. In a more advanced and automated system this will move a PTZ to the position of intrusions and even auto track the intruder. Optical cameras have a high false alarm rate because changes in lighting can trigger false alarms. Optical cameras are also limited to around 200 feet at night as they use traditional IR LED illumination. LWIR and MWIR (uncooled and cooled) Thermal FLIR Cameras, however, is ideal for video analytics as it is immune to changing light. When properly installed, one thermal camera with Infiniti's video analytics can cover up to 5km of perimeter with an extremely low false alarm rate.
Continuous Zoom Thermal Infrared Imaging Germanium optical Lenses
Continuous zoom LWIR and MWIR Thermal Imaging Lenses are the most desirable format of PTZ FLIR imaging, they smoothly zoom continuously from a wide field of view (WFOV) all the way up to narrow field of view (NFOV). SPI's cooled and uncooled M7 optics are made of the finest Germanium lenses which are hardened and coated to give you the cleanest thermal infrared image. The M7 Germanium lenses are fast precision optics that produce the cleanest and clearest most sensitive thermal image.
M7 PTZ Thermal Imaging Multi Sensor camera system connectivity
The M7 is extremely easy to install, The unit if fully universal and has Serial data and analog video outputs, connecting to Ethernet, IP or any standard wired or wireless network is simple, due to the M7 non proprietary outputs. Many commercially available off the shelf modules are also available that interconnect to the M7 for custom or exotic installs.
Benefits
Affordable low cost solution to long range day/night imaging, incorporating the best quality, highest grade materials that are made to last.
Detect objects, vehicles, persons or incidents even in complete darkness and make it impossible for individuals to hide in shadows or blend in against complex backgrounds.
Do not demand any additional light sources and handles many difficult weather conditions including smoke, haze and dust.
Cannot be blinded by strong lights or put out of order using laser pointers, etc.
Are available as out-of-the-box outdoor-ready products for cost-effective installation & complement many network video installations.
Require minimized storage and bandwidth due to support for industry-standard video compression techniques such as Motion JPEG and H.264.
Are ideal for intelligent video and typically offer higher accuracy in analytics than conventional cameras, because they are immune to light conditions and normal shadows. The cameras offer video motion detection, active tampering alarm, and provide capacity for third-party analytics modules, including support for COTS Camera Application Platform.
Support Power over Ethernet to supply power to the camera via the network, eliminating the need for power cables and reducing installation costs.
Include the industry-standard open interface which ensures support for the market's broadest range of video management systems.
The M7 Can be custom configured with Ultra long range optics for extreme distance detection ranges such as:
5 KM Kilometer Detection Ranges
10 KM Kilometer Detection Ranges
15 KM Kilometer Detection Ranges
20 KM Kilometer Detection Ranges
25 KM Kilometer Detection Ranges
30 KM Kilometer Detection Ranges
35 KM Kilometer Detection Ranges
40 KM Kilometer Detection Ranges
45 KM Kilometer Detection Ranges
50 KM Kilometer Detection Ranges
55 KM Kilometer Detection Ranges
60 KM Kilometer Detection Ranges
65 KM Kilometer Detection Ranges
70 KM Kilometer Detection Ranges
5 mile Detection Ranges
10 mile Detection Ranges
15 Mile Detection Ranges
20 Mile Detection Ranges
25 Mile Detection Ranges
VEHICLE, LARGE VESSEL AND AIRCRAFT DETECTION RANGES IN EXCESS OF 45 KM KILOMETERS.
Like any other camera, a thermal or thermographic flir imaging camera collects electromagnetic radiation which is formed into an image. But while a conventional cmos/ccd, tv, eo or cctv cameras works in the range of visible light, i.e. with wavelengths between approximately 400 and 700 nanometers (0.4–0.7 μm), a thermal imaging flir camera is designed to detect radiation with greater wavelengths, up to around 14,000 nanometers (14 μm). Radiation in this part of the electromagnetic spectrum is referred to as infrared, or commonly IR, which in turn can be divided into several sub-groups. Near-infrared light has a wavelength of about 0.7–1.5 µm, which is just beyond what the human eye can see. Camera sensors, on the other hand, can be built to detect and make use of this type of radiation. A so-called day-and-night camera uses an IR-cut filter during daytime to filter out IR-light so it will not distort the colors of images as perceived by the human eye. When the camera is in night mode, the IR-cut filter is removed. Since the human eye is unable to see infrared light the camera displays the image in black and white. Nearinfrared light or NIR also requires some kind of light source – either natural, such as moonlight, or man-made, such as street lights or a dedicated IR-lamp.
Moving further away from visible light, the rest of the IR-spectrum is usually divided into the following categories: Short-Wave Infrared (SWIR), approx. 1 – 3 µm Mid-Wave Infrared (MWIR), approx. 3 – 5 µm Long-Wave Infrared (LWIR), approx. 8 – 12 µm Very Long-Wave Infrared (VLWIR), approx. 12 – 25 µm Far-Wave Infrared (FWIR), approx. 25 µm – 1 000 µm or 1 mm Note that there is a gap between 5 µm (MWIR) and 8 µm (LWIR). This part of the waveband is virtually unusable for thermal imaging purposes because of the high spectral absorption of the atmosphere in this range. Microwaves have a wavelength exceeding 1 mm. At the far end of the spectrum are radio waves, with a wavelength of 1 meter and more. In the other end of the spectrum, wavelengths shorter than those of visible light are successively referred to as ultraviolet, x-rays, and gamma rays.
An object's thermal radiation is also dependent on its temperature – the hotter it is the more thermal radiation it emits. Humans cannot see this, but we can sense it, for example, when we approach a camp fire or enter a sauna. The greater the temperature difference in a scene, the clearer will the thermal flir images will be. Furthermore, some materials will have a different emissivity in the mid-wave infrared spectrum than in the long-wave span. For imaging purposes these differences in emissivity are, for the most part, of secondary importance since the camera's sensitivity can be defined as its capability to distinguish between temperature differentials. Thermal images are sometimes associated with bright, intense colors – which may seem a bit odd considering that the camera works outside the spectrum of visible light. The answer is that the colors are created digitally, so-called pseudo-colors but produce a very vivid crisp useable picture. Each color or nuance represents a different temperature, usually white and red for higher temperatures, over green, blue and violet for colder ones. The reason is foremost practical since the human eye is better at distinguishing different shades of color than different shades of grey. Detectors used for thermal imaging can be broadly divided into two types: Cooled thermal imagers that typically operate in the mid-wave infrared (MWIR) band and uncooled thermal imagers that operate in the long-wave infrared (LWIR) range. Cooled and uncooled systems both have thier advantages in the world of thermal imaging applications.
With PTZ or pan / tilt / zoom thermal imaging becoming relatively cheaper and an integral part of Short, medium, long and extreme ultra long range Surveillance, security, observation systems, a whole range of uses becomes both possible and economically viable. Thermal flir PTZ cameras can be an excellent complement in many situations where conventional cameras diminish thier performance as low light levels are present. They are, of course, unparalleled in a situation of twilight, thermal cross-over, near darkness and total darkness. They can also be an option in areas that are very difficult to illuminate effectively, for example a sea front, a harbor, or any other vast expanse of open water thus making SPI's PTZ thermal infrared imaging Ir cameras paramount for use in marine, boat, vessel and ship applications. Similarly, artificial light not only runs the risk of revealing where the cameras are placed, enabling parties to avoid or vandalize them, but can also create projected shadows in which an intruder can avoid detection. Furthermore, spotlights can blind as well as illuminate. So cameras that do not rely on light can be the preferred solution in many different traffic situations, whether it is in railway tunnels, on air strips, runways, or on regular streets. Thermal flir PTZ cameras, on the other hand, cannot be blinded by bright lights or laser beams.
SPI Corp's long range multi sensor Eoir flir thermal imaging camera systems offer substantial long distance detection ranges allowing the operator to be positioned at very far distant standoff locations offering ample time to react, to threats or targets of interest. Long range imaging systems provide a benefit to the user when coupled with an array of sensors and geo locating modules especially in specialty military, security and surveillance applications. The farther you are, the more time you have to react and not be seen.
CONTACT US FACTORY DIRECT FOR RAPID QUOTES
AND CUSTOM CONFIGURATIONS AT

(702) 499 – 9551