Prism MTS Advanced Multi Sensor Thermal GEO Ranging rifle Scope
The PRISM Family of Scopes and sights are the absolute most advanced, image stabilized, highest performing, Multi band thermal imaging scopes available anywhere. These State of the art sighting platforms include multi sensors, geo sensors, rangefinders, high sensitivity IR thermal imager and a variety of
useful and battles proven features to assist you in accomplishing your mission. These Sights come in a family of configurations from Standalone and as an inline clip on sight used with your existing day scopes/optics.
PRISM MTS Multi Sensor Scope —multifunctional ultra sensitive thermal sighting system, designed for professional or military purposes,  can be mounted on any type of small arms and provides:
Target detection, recognition and identification ;
Target range measurement ;
Atmospheric parameters measurement (temperature, pressure, humidity);
Full ballistic calculation and wind forecast;
Sight shooting in manual and semi-auto modes;
Terrain orientation, navigation, determination of the target coordinates and target designation;
Automatic photo and video fixation;
Remote control;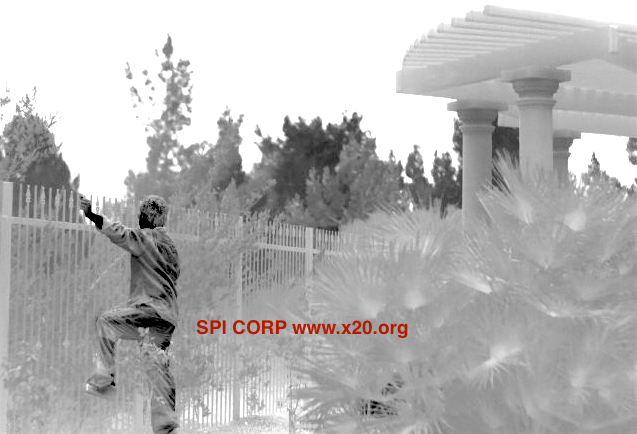 PRISM MTS Multi Sensor Scope – is a modern hi-tech Broadband multi sensor IR electronic unit and advanced Sensor suite one compact all weather/hardened device.
Thermal imaging sensor, laser rangefinder, meteorological station, Linux OS based computer, ballistic calculator, GPS module, 3-axis gyro sensor, G meter, electronic compass, interfaces of remote control, communication and data transfer are integrated into a compact size and weight shockproof and waterproof aluminum-magnesium alloy housing.
PRISM MTS Multi Sensor Scope – is a turnkey easy to understand and use multifunctional device in which the entire process from preparation to the shot is completely automated. The Sensitive video Detector will automatically sense camouflaged or partially concealed targets at any time of day and laser rangefinder measures the distance in the most adverse harsh enviornmental weather conditions: snow, rain, fog, dust-storm, high humidity or heat. The Onboard Ballistic calculator will automatically replace the reticle taking into account the measured range, elevation angle, atmospheric pressure, air temperature and humidity, ballistic characteristics of selected ammunition, wind speed and direction.   All that remains by the operator is to coincide the center of the aiming mark with the selected target and pull the trigger.
The PRISM MTS Multi Sensor Scope opens new horizons of the extra-long-range shooting, The Systems outperforms even the most experienced sniper and with its multiple sensors that blend information and present it to you, a one shot hit is assured in day / night 24/7.
There is no other electronic scope solution available anywhere.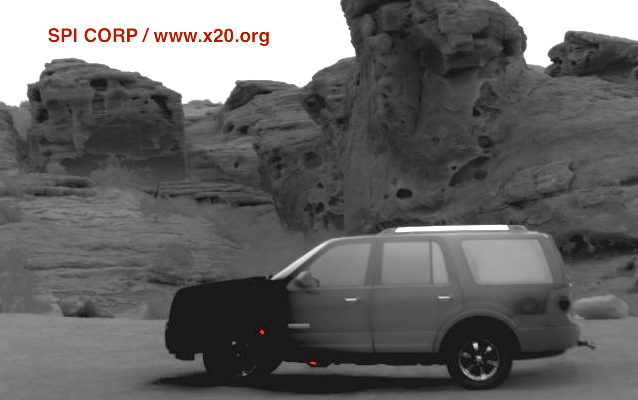 FEATURES
High-selective rangefinder operation modes: through translucent barrier, in fog, dust-storm and in other adverse weather conditions at distances range from 6 to 2000 meters;
Built-in meteorological station (atmospheric pressure, temperature and humidity);
Built-in GPS module;
Can be used as a hand held device, a dedicated scope or an in line clip on sight
Built-in sensors: tilt and elevation angles, shot, rest, free fall, eye, illumination, 3-axis gyro sensor and G meter;
Reticle selection;
One-shot zeroing mode;
Zeroing correction mode – selection of the click value by zoom changing (minimal click value at maximal zoom);
Counting of number of shots for each ammunition and rifle;
Ballistic data base and information about zeroing for three ammunition for each of eight rifles; (just select pre-saved profile of rifle and ammunition when reinstalling of sighting system to another rifle);
Motion detection – when motion of a thermal contrast target is detected, shooter is notified by the indication on the screen or sound notification to Bluetooth headset and vibration of SPI remote control (wristband) (security alert);
Target size measurement function – after target range measurement or range input, provides an opportunity to visually determine linear target dimensions with high accuracy and without mathematical calculations, in any zoom, by using of graphic ruler;
Automatic target size measurement function – provides an opportunity to determine linear dimensions of a thermal target through the process of range measuring by the rangefinder;
Automatic calculation of exterior ballistics of the bullet at the distance up to 1500 meters.
Shooting by using of the reticle center – auto correction of reticle position considering:
Target range;
Elevation angle;
Atmospheric pressure, temperature and humidity;
Wind strength and direction;
Ballistic data of the bullet, derivation and Coriolis effect.
Manual focus adjustment – design solution without moving parts in an optical system of the device;
Autofocus mode – provides automatically focus on the object by measured or manually set distance (optional);
Damping system of recoil and vibration redistribution designed for any caliber without limits;
Innovation aiming mode , which provides user with ability to fire on moving target from volatile position when image is stabilized;
Image stabilization in the observation mode (hand tremor, moving transport);
Front Focus software modeling –reticle scales synchronously with target at zoom changing, which provides by using of the MIL/MOA reticle:

set corrections when aiming-off at a moving target;
determine distance to a target knowing target's angular dimensions (without using of the rangefinder);
determine target dimension at known distance;
PIP (picture in picture) provides comfort aiming at any zoom at the same time to control all the field of view at the panoramic view screen (electronic collimator);
«Lock&Shot» performs automatic capture and tracking of a static or moving target and in combination with calculated by ballistic calculator ballistic point with autocapture mark, performs target shotwith the help of electronic trigger of the rifle. User shouldhold the trigger to confirm shot. (required electronic trigger and special software – option);
iOS / Android application for smartphone or tablet for target coordinates calculation and its displaying at the electronic map (option);
Automatic calculation of target coordinates (by range, elevation angle, azimuth and device's coordinates);
Navigation service with routing to position of hitting a target;
Profiles – joins and saves numerous personal settings. User can quickly select most suitable profile to the firing conditions (time of day, weather, landscape);
Special communication interfaces – integrate the device with other SPI sighting systems;
Own-produced brackets have patented design, provide stable repeatability of installation to a rifle as part of the system and do not requires addition zeroing (optional);
Open Red-dot sight attaching point (additional aiming tool);
Built-in infrared illuminator (illumination an target designation for night vision devices);
External power unit (optional);
Connection of the wireless accessories via telemetric radio channel:

SPI remote control and alert unit (wristband) (optional);
SPI Windmaster meteorological station with ultrasonic wind speed and direction sensors (without vane or impellor), pressure sensor, temperature and humidity (optional);
Kestrel meteorological station (optional);
Helmet-mounted wireless monitors (optional);
Bluetooth-headset for voice guidance about operating modes and results of calculation (optional);
Target designator (optional);
«Friend-or-foe» system (optional);
Rangefinders hunting detector (optional);
Database backup on microSD memory card;
Photo and video recording (with sound) with telemetric information overlaying; (supports microSD memory card up to 32 GB);
Automatic video recording by event: «shot», «detection by the motion detector» with capability to set recording time frame before and after event;
Automatic photo recording at the shot;
Video streaming with telemetric information overlaying via WI-FI to smartphones and tablets (iOS / Android);
Matching of a recorded photo and video to the digital terrain map (geotagging);
Adjustment and operating of the device by using of SPI Software application for smartphones and tablets (iOS / Android);
Ability of independent software update from the manufacturer site (developing of new functions and software);
The Features and a many and are there for you to utilize at all times, although this is a simple device which can override all of the above features and go right to quick User Interface imaging from startup instantly without confusing menus.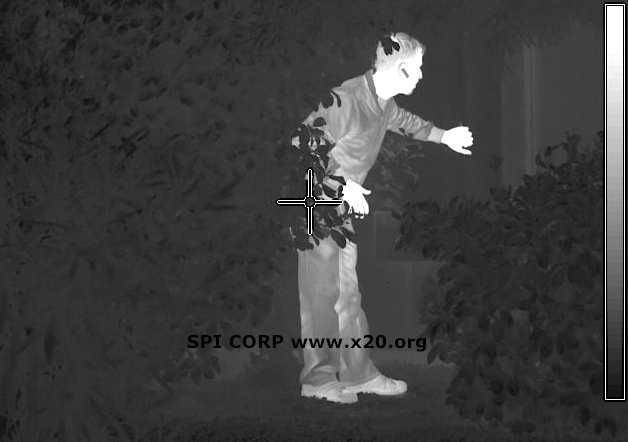 SPECIFICATIONS

PRISM 105M
Prism 75M
Optical system
Lens
Hardened Germanium
Hardened Germanium
Zoom
х4, х8, х16, х32
x3, х6, х12, х24
Field of view,
6,2 х 4,7
10,4 х 7,8
Field of view, m for 100 m / yd for 109 yd
10,9 х 8,2 / 11,9 х 8,9
18,1 х 13,6 / 19,8 х 14,9
Minimal click value, mm for 100 m / 109 yd
1,8
2,8
Focusing
Manual
Human detection range, m/yd
2450 / 2679
1750 / 1914
Human recognition range, m/yd
650 / 711
450 / 492
Human identification range, m/yd
330 / 361
225 / 246
Sight mode/ballistics
Maximal shooting range, m/yd
1500 / 1640
1200 / 1312
Data base for 8 types of rifles
+
Data base for 3 types of ammunition to a rifle
+
Built-in ballistic calculator
+
Table ballistic calculator
+
Automatic reticle correction for distance, elevation adjustment, atmosphere (temperature, pressure, humidity)
+
Wind forecast
+
Rifle zeroing with one shot
+
Selection of a rifle zeroing distance (10 – 300 m)
+
Selection of a reticle type and brightness
+
Automatic capture and tracking of the target
Available
Integration with an electromechanical trigger
Available
Thermal sensor
Type
uncooled microbolometer
Resolution
640×480
FPA
Maintenance free
Spectral range
7.5 – 13.5 µm
Frame rate PAL/NTSC, Hz
8.3/7.5; 25/30; 50/60
NEdT, F1.0
< 50 mК
Monochrome and colour palletes
Yes, 12 modes
Sensor calibration
Auto, by lens cap / without callibration
LRF
Laser wavelength, nm
960 / 1550 (option)
Distance measurement range, m/yd
6 – 2000 / 6 – 2187
Range measurement accuracy
1 m
Calculation of the true distance to the target (taking into account elevation adjustment)
+
LRF reticle alignment on the device display
+
Display
Type
OLED
Resolution
800х600
Eye relief
90 mm
Diopter adjustment
±3 diopters
Interfaces
USB
microUSB
Wi-Fi
802.11 b/g/n
Bluetooth
+
Radio interface, 2.4 GHz
+
Additional functions
Memory card microSD
 up to 32 Gb
Audio, video, photo recording
+
Data reading of a microSD or internal memory via USB
+
Firmware upgrade via USB, microSD
+
Streaming video transmission via Wi-Fi
+
Setting and control via Wi-Fi
+
Connection of additional devices (remote, wind station, etc.) via a radio channel
+
Profile settings
 Yes, 5
Setting via SPI 9959 software
+
Quick menu
+
Buit-in navigation and mapping
+
Self location and target location on the integrated map
+
Picture in picture mode
+
Target size measurement
+
Video recording modes
Per shot, per motion detection, manually
Power saving modes
+
Integrated motion detector
+
Automatic display brightness correction
+
Digital image gyrostabilization
+
System settings
 Switch-on time
<15 seconds
Battery life
>4 hours (at 0°С)
Battery type
4x CR123A or 4х 16340
Input for an external power supply
+
Range of the external power supply voltage, V
10 – 24
Integrated sensors
Shot sensor
+
Rest  sensor
+
Eye sensor
+
Free Fall sensor
+
Light sensor
+
Elevation sensor
+
Roll angle sensor
+
Temperature sensor
+
Pressure sensor
+
Humidity sensor
+
Switch-off timer
+
GPS module
+
Digital compass
+
Gyroscope
+
Physical parameters
Operating temperature range
-40°С… +65° С
Ingress protection rating (Waterproof)
IP66
Housing material
Aluminum-magnesium alloy
Dimensions, mm
279 x 103 x 87,6
259 x 103 x 85,6
Weight (without batteries), g
960
850
Contact Mike@x20.org for additional information or call (702) 499-9551