[intense_hr color="#ffffff" shadow="10″ accent_width="30″ accent_height="3″]
Agema Thermovision 470 Infrared Camera
The 470 is truly one of the best designed thermal infrared imaging radiometers of all time. This unit offers color imaging along with super accurate temperature measurement, on board floppy disk image storage, and on board magnification (zoom) features. Now discontinued, SPI has a limited supply of used models for Rent or Sale.
CALL TODAY for pricing! (702) 369-3966.
---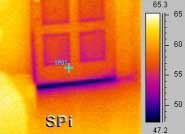 If you're looking for a very low cost, portable thermal imaging system to carry out your condition monitoring surveys or R & D applications, a used Agema / FLIR Systems Inc Thermovision 470 infrared cameras are a perfect choice.
The Agema Thermovision 470 and 450 model infrared cameras were some of the first commercially available radiometric systems used in industrial applications. These reliable machines have been around for many many years. Now they are only available as used models being long discontinued by FLIR Systems. The 470 and 450 infrared cameras are very large by today's standards but they do offer some unique features that are hard to find on modern infrared cameras. The units are scanning systems rather than focal plane array thermal imagers. They also operate in the 2-5 micron wavelength range but are still uncooled technology. SPI maintains a very limited supply of 470 systems for rent or sale. Contact us for latest inventory.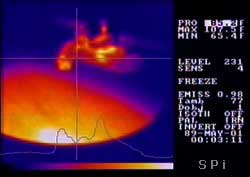 Built for field use and with a proven track record within the condition monitoring market, these are among the most reliable and most accurate cameras you will come across in the infrared business.

All cameras in the 470 series are characterized by:
Rugged design for operation in harsh industrial environments
Proven reliability
High accuracy temperature measurement
Automatic set-up functions for maximum ease of use
Thermoelectric cooling for instant start-up
The Agema Thermovision 470 Infrared Camera is Perfect For:
Product inspection
Building maintenance
Research and development (R&D)
Predictive and preventive maintenance of mechanical and electrical distribution systems
Perimeter surveillance
Non Destructive testing
PCB circuit board infrared scans
Locating faulty electrical connections
Checking steam traps and valves
Surveying substation, switchgear & transformers
Monitoring motors and rotating equipment
Locating refractory breakdown
Inspecting pipe and vessel insulation
Identifying wet insulation on rooftops
Examining bad connections
Monitoring vessels for fluid leakage
---
---
The Agema Thermovision 470 Infrared Camera Product Specifications
Thermal Sensitivity: 0.1 c
Warmup time: Less than 20 seconds
Image Storage: 3.5″ floppy
Optics: SWIR Gm 20 degree FOV lens
Focus range: 12″ to infinity
Video out: Standard RCA RS-170
External screen: Color, high resolution TFT active matrix
Camera: Sealed 400 series radiometric thermal imager
Measurement Range: -4 degrees F to 932 degrees F (standard) Extended ranges available
Operating Range: 5 degrees F to 131 degrees F
Storage: -40 degrees F to 158 degrees F
Wavelength: 2-5 Um (shortwave)
Shock/Vibration : 5.0 G/0.5 G
Detector Type: MCT – Sprite
Sensitivity: 0.18 degrees F (0.1 degrees C)
Field of View: 20 x 20 (degrees)
Focal Range: 12″ to infinity
Display Type: 625 lines, Includes eyepiece display and external display
Display Resolution: 400 lines
Display Levels: 5,10 or 128
Video Output: RS 170 (BNC or BNC to RCA)
Infrared Detector: MCT Thermoelectric SPRITE
Spectral Response: Broadband anti-reflective coating 2-5 micron (SWB)
IR-dynamic Range: 13 bit (78 dB)
IR-Line Frequency: 4000 Hz

---
Agema Thermovision 470 Infrared Camera Images
---
Agema Thermovision 470 Infrared Camera Features & Benefits
Industrial and factory inspections are what the IR470 thermography camera's heart and soul was built on. The Rugged 470 can be used for a whole range of applications in many different industries. This portable unit offers high sensitivity and ease of use. The 470 is built to operate in demanding environments, such as offshore applications and steelworks. the splash proof, bump and vibration protected 470 can be operated even in areas where electromagnetic fields are present, for example, close to induction furnaces.
Features
Benefits
Maximum flexibility
Interchangeable lenses, 7, 12, 20and 40
Digital image storage on removable floppy disk
Remote control via RS-232 link -optional
Liquid crystal display
Thermoelectrically cooled
Optional thermal image analysis and report software for the PC
Accurate and dependable results
Built-in 3.5″ floppy disk drive enabling 70 images per disk
Alternative image downloading via RS-232 link
Unique compensation system using internal black body references and temperature sensors for high repeatability
Selectable emissivity, ambient temperature and object distance
Fast and simple operation
Self contained unit with ergonomic and rugged design
Highly portable for shoulder mounting or carrying under the arm
Simple touch button control of software functions
Customized screen layout
AUTOSENSE and AUTOLEVEL functions for automatic image set-up – optional
Real time spot and difference temperatures
Dual isotherm temperature measurement
Live profile
Image magnification
3 grey scale and 5 color palettes
Rapid start-up time
Clear images in the field
Choice of lenses for optimum image resolution
Excellent thermal sensitivity
Color viewfinder
Image integration function
Real time images
Auto-Palette function for optimum color contrast
High utilization factor
Low life cycle and running costs
Modular design for easy maintenance
Comprehensive service back-up
"Sierra Pacific Innovations is in no way related to, or affiliated with, FLIR Systems, Inc., nor is Sierra Pacific an authorized distributor of FLIR Systems, Inc. Thermography Systems. SPI is an authorized distributor for FLIR Systems Inc. Government Systems."