Long Range Thermal Imaging FLIR Surveillance Cameras for Border Security, Patrol and protection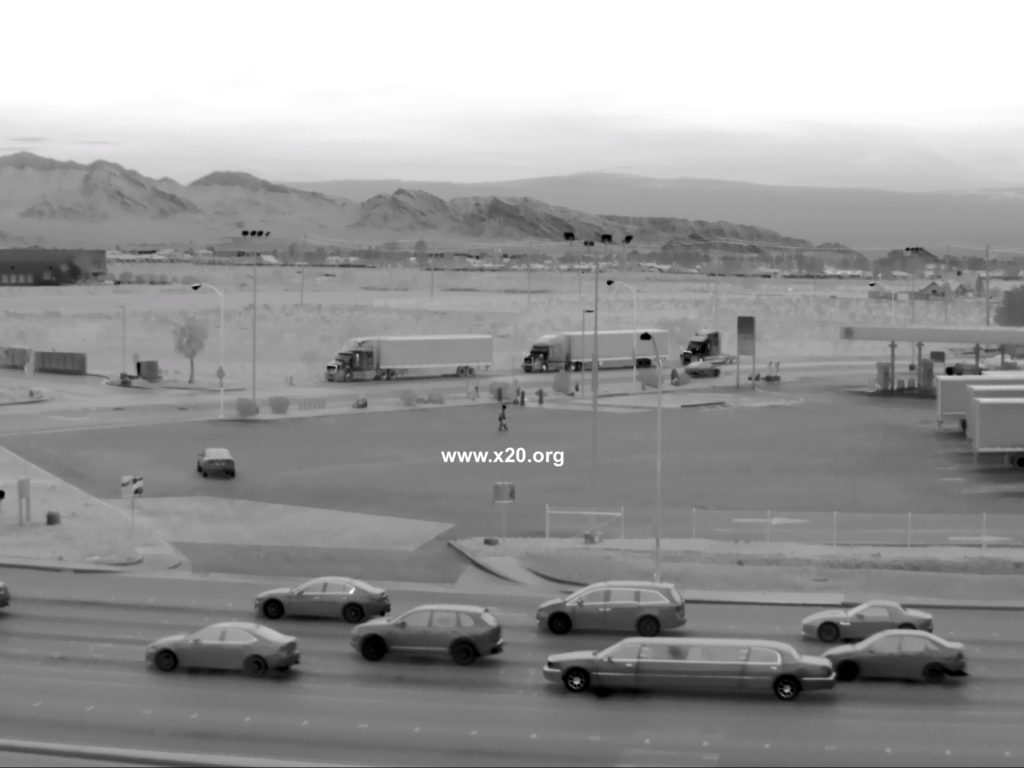 SPI OFFERS ULTRA LONG RANGE FLIR THERMAL IMAGING PAN TILT PTZ GIMBAL SYSTEMS FOR BORDER PATROL SCOPE TRUCKS.
BORDER PATROL AND PROTECTION SCOPE TRUCKS REQUIRE STABILIZED HIGH QUALITY LONG RANGE DAY/NIGHT CAMERAS FOR DETECTION IN EXCESS OF 10 MILES, SPI's LONG RANGE IMAGING SYSTEMS ARE IDEAL FOR SCOPE TRUCK APPLICATIONS WITH ULTRA EXTREME LONG RANGE DETECTION CAPABILITIES WHILE KEEPING THE IMAGERY ROCK STEADY AND STABLE WHILE VIEWING IN ZOOM TELEPHOTO MODES. SYSTEMS LIKE THE HIGHLY CUSTOMIZABLE M7 / M9 SKIDS ARE MFG FOR THE EVER DEMANDING SCOPE TRUCK OPERATOR. 
Terrorists don't care if it's night, day, rainy or snowy when they attack. That's why SPI Corp believes that neither should thermal imaging cameras when it comes to security and surveillance.
With threats coming in from all angles, via land, sea and air, homeland security relies on our PTZ/handheld thermal imaging cameras with full pan tilt zoom capability to get the job done in any conditions with no restrictions. Whether mounted on trucks, buildings or UAS & UAV drones, our infrared imaging systems remain a reliable means of detecting human and various other threats from a safe distance away.
Our long range thermal imaging surveillance / Security night vision cameras work in total darkness and low light conditions, and out perform most night vision systems because they do not require any light to operate as many models of night vision systems do. Our infrared EOIR security cameras can also be integrated into existing border security systems to provide the ultimate in surveillance, 24/7/365.
SPI long range thermal imaging security systems come with a wide array of options including handheld, mountable, wireless & pan tilt zoom models, some of which also feature full color CCTV cameras for ultimate day time optics coupled with thermal vision. So whether you are a law enforcement officer looking to gain footage for evidentiary purposes, a border patrol agent on the tail of drug traffickers or just need to implement thermal imaging solutions into your existing security regimen, we have many affordable options to offer.
SPI Corp also engineers marine PTZ Flir thermal imaging cameras developed specifically for coastal & waterway surveillance applications. Our maritime infrared camera models come with rugged, sealed weatherized housing and are explicitly suited to maintain boat security, conduct search & seizures and even be utilized in water rescue operations.
There truly is no where to hide from SPI long range FLIR PTZ thermal imaging camera systems. Let us develop the best custom thermal imaging solution for you.
Contact us today to learn more about our thermal imaging surveillance cameras. Call (702) 499-9551 in Las Vegas, toll free at (800) 403-2983, or email us at sales@x20.org.
M11 Ultra Long range High Definition High Reliability PTZ FLIR Border Patrol, protection, security and surveillance thermal imaging camera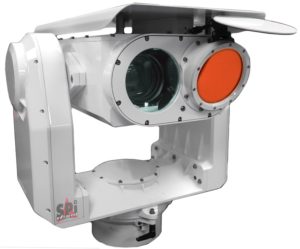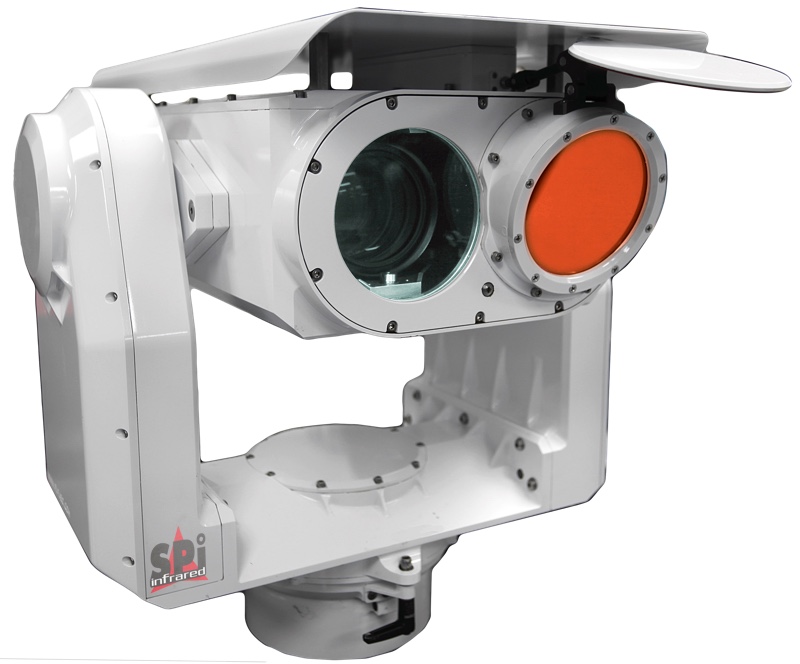 If your mission requires high grade high reliability ultra long range high definition thermal infrared imaging Flir PTZ pan tilt technology for the most potent border patrol, security and surveillance applications with extreme long range CCTV zoom optics and laser target rangefinding, the M11 is the clear choice.
The new SPI HD multi sensor pan tilt unit M11 is a state-of-the-art high grade multi sensor pan tilt zoom unit that is built with the highest performing products and sensors available. The rugged pan tilt unit is a weapon grade pan tilt gyro stabilized gimbal turret, the multi sensors include long range cooled InSb Mwir FPA thermal imaging Flir detector with extreme long range CZ continuous zoom auto focus lens from 25mm – 1550mm, the daytime visible HD camera is comprised of the lowest light gathering ultra sensitive CMOS sensors with zoom lenses exceeding 3000mm. The unit has add in lrf laser range finders, ir infrared lasers, GPS, compass, and SWIR, NIR and LWIR options.
---
---
The MX5 marine / Border patrol, Scope truck UGV PTZ Dual FLIR Thermal Sensor High-performance camera with both thermal/optical video output Image control and quality are integral aspects of any PTZ camera, and the MX5 Border / UGV thermal flir PTZ delivers. A high-quality day/night camera EO core with 500X total Zoom, and a high-performance, uncooled thermal imaging core sit side-by-side within the housing. The MX5 Marine/ Border / UGV Thermal FLIR PTZ has two video outputs – one for the optical camera and one for the visual CCTV Camera, lasers are available as an option.
____
M9 Ultra Extreme Long Range PTZ FLIR thermal security camera for Border patrol, protection & Security.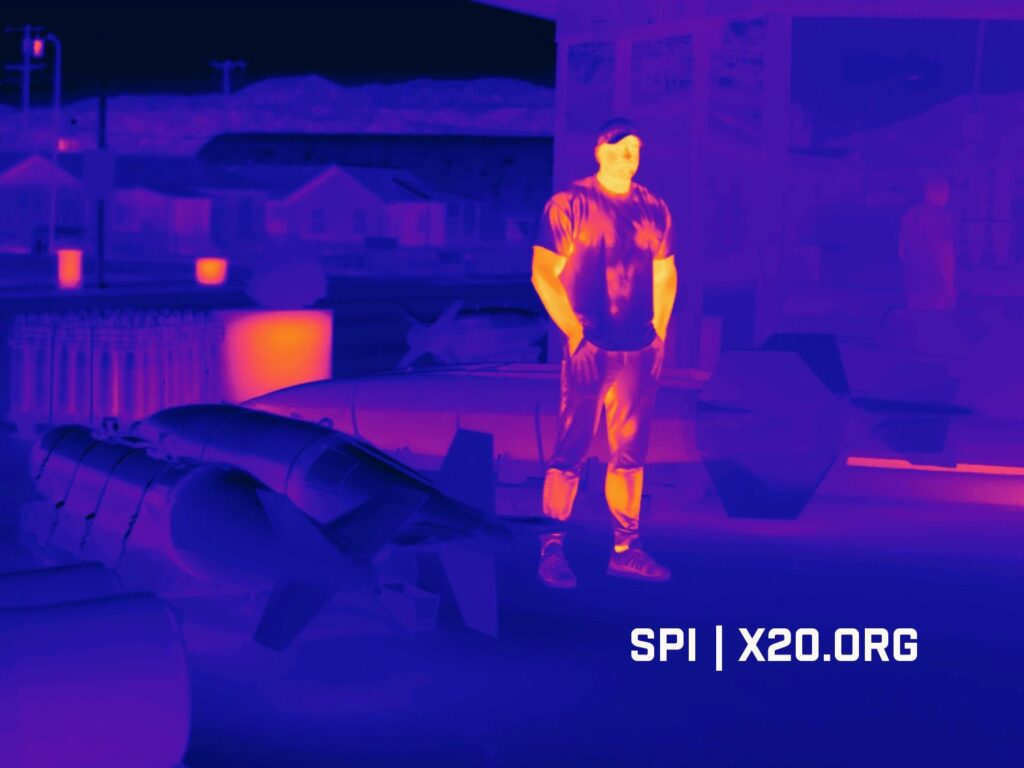 M1D PTZ Marine & UAV Thermal Surveillance Cameras
M1D PTZ Thermal Imaging Surveillance Cameras
The M1D Family of pan tilt zoom thermal security cameras give you the ultimate in 360 degree 24/7 situational awareness.  Fully equipped with thermal sensors, a laser pointer and CCTV camera, the M1D is a completely weatherized thermal imaging system that mounts just about anywhere, magnetically on vehicles or affixed to marine vessels & UAV drones via hard mounts.  The M1D thermal cameras feature ultra-rugged housing and  image stabilization with a compact size offering performance & convenience in one small, lightweight package.
These fierce little infrared cameras come in several configurations, including wireless models to offer supreme surveillance capability from a safe distance away in combat zones, border patrol missions or homeland security operations.
---
---
M1D Thermal Security Camera Specs
| | |
| --- | --- |
| Dimensions | 11″ X 6″ X 7.5″ |
| Weight | 12lbs |
| Power | 12-28 VDC |
| Pan/Tilt | 360° continuous / 180° +/- |
| Magnification | Continuous Optical zoom, 2x, 4x, 8x |
| Sensor Types | HD, 640×480, 320×240, 160×120 Thermal FLIR |
M5 Pan Tilt Zoom Thermal Surveillance Cameras
---
M5 SWAP Long Range EOIR Thermal Security Camera Specs
| | |
| --- | --- |
| Dimensions | 14.6″ x 13.5″ x 13.5″ |
| Weight | 13.2 lbs |
| Power | 12VDC I≥2.5A |
| Ruggedness | Continuous spray 48hours under PH of 6.5-7.2, All weather, sealed |
| Zoom | 455 X zoom CCTV Optical & Digital |
| Detection | >2000M Thermal >6200M Visual |
| Average Work Time | ≥50000hours |
---
M7 PTZ Thermal Imaging flir Eoir Camera Specifications
| | |
| --- | --- |
|  Dimensions | 14.6″ x 13.5″ x 13.5″ |
|  Weight | 26 lbs for M7 / 15 Lbs for M5 (dependent on Sensors) |
|  Connectivity | 12 VDC /Digital/Analog/HD-SDI/RS485 customizable to customers specifications |
|  Pan/Tilt | 360° continuous rotation / 180° +/- |
| Magnification | Up to 600X HD CCTV zoom EOIR sensors are included / up to 20Km human detection in day or night/full true continuous zoom LWIR optics, also available in cooled MWIR THEMAL IMAGING DETECTORS |
|  Sensor Type  | 640×512 standard FLIR / optional 1024 x 768 detector, NOW AVAILABLE 1920×1280 HD LWIR sensor 10-15μm uncooled microbolometer, optional InSb, MCT, hot MCT |
|  Sensors | Full color and b&w thermal FLIR imaging / HD Zoom b&w Color camera, Low light level Camera Channel, Laser Rangefinder with 20 KM Range, tracking, fusion, image blending |
The m7 PTZ Flir thermal camera is the worlds highest performing affordable pt pan tilt thermal camera. The unit features continuous wide to telephoto optical thermal zoom germanium lens that maintains its focus throughout the entire zoom cycle and has the capabilities of 20 kilometer (km) detection distance ranges. The included 500x tv reconnaissance camera offers crisp color/low light CCTV imaging with a high fidelity CMOS sensor EO camera. The unit is a great day/night imaging platform catered for driving, navigation aid, long range vehicle, mast mounted and marine applications.
More Thermal imaging surveillance cameras
SPI Corp Thermal Surveillance Camera Catalog
We have many more pan tilt zoom thermal security systems available to fit any mission profile. We also have long range handheld thermal imaging systems & thermal imaging cameras for law enforcement. Click here to view our entire catalog.
Protecting a country's borders is vital to its national security. No matter what hour of the day, the job is an enormous undertaking that becomes even more challenging under the cover of darkness.
Long Range PTZ (Pan Tilt Zoom) FLIR 
Infrared (IR) thermal imaging cameras provide another set of eyes for border control professionals and help them meet the demands they face at night and in other low-light situations. IR cameras detect the invisible infrared energy that all people and objects emit, and can "see" better than the naked eye at night and in bad weather. Whether searching for a fugitive or performing a special surveillance operation or routine patrol, darkness can be the greatest obstacle to border control professionals.Long Range PTZ FLIR Infrared thermal imaging cameras equip border control personnel with a whole new way of looking at the world. In simplest terms, thermal imagers operate like the human eye, but they are much more powerful. Energy from the environment comes through a lens and is registered on a detector. In the case of the infrared thermal imager, that energy is heat rather than light. By measuring very small relative temperature differences, invisible heat patterns are converted by the thermal imager into clear, visible images that the human eye can see through a viewfinder or TV monitor.All objects that are not at absolute zero temperature (0 degrees K or -459.67 degrees F) emit various types of electromagnetic radiation including infrared. The hotter an object gets, the more infrared radiation is emitted as a result of the thermal agitation of its molecules and atoms. The spectral distribution or wavelength of this energy depends on the nature of object (i.e. its relative effectiveness as a radiator, called emissivity) and upon its temperature. Blacker colors and duller surfaces usually have a higher emissivity and radiate infrared energy more effectively. Lighter colors and shinier surfaces radiate less effectively. Because the energy being sensed is heat and not light, Long Range thermal imagers can be used in both daytime and nighttime operations to find people, avoid obstacles or detect fire hot spots. Due to their own levels of infrared heat energy, people are easily seen 24 hours a day. Thermal imagers are usually very sensitive and can detect temperature variations as small as 0.1 degrees centigrade, even in less than ideal environmental conditions. Since they are unaffected by the amount of light in a scene, they won't "bloom" or shut down in direct light.
Protecting a country's frontier, border and coastline is vital to its Homeland Security and protection. It can be very challenging to detect potential intruders or smugglers in total darkness or in diverse weather conditions. Thermal imaging cameras can help border surveillance and security agents to meet the demands they face at night and in other low-light situations. PTZ Thermal imaging FLIR cameras that are specifically designed for border patrol, protection, security and surveillance can be integrated in a border security project with radars and other sensors in a so called "slew-to-cue", detect, recognize and identify modes. Border Protection systems need to scan wide areas and then zoom in to extreme long ranges and identify targets in real time, assessing whether the intruders are illegal immigrants or refugees, smugglers, terrorists or enemy forces. Securing borders requires round-the-clock, all weather, long distance, all terrain integrated border surveillance systems.  SPI thermal imaging night vision IR camera systems are a complete border security solution that can be mounted and operated on Border Wall (southern and northern), Border Fence, masts, vehicles, tripods, buildings & virtually anywhere
Border patrol security, surveillance & Defense Thermal imaging pan tilt and fixed cameras are widely used for Homeland Security. Thanks to their ability to detect human-sized targets several kilometers away, they are extremely suited for border as they create an invisible fence. SPI Family of long range border security  thermal imaging cameras can detect human-sized targets at a distances exceeding 25 kilometers. Not only land borders need to be protected. Thermal imaging cameras are the perfect tools for coastal surveillance as well. Small vessels can be detected at extremely long ranges.
SPI has a broad experience with Homeland Security projects and markets a wide variety of thermal imaging cameras for this application. Multi-Sensor Systems are also available. We work with you our customer to design the perfect thermal imaging solution but the camera is a part of the package, the entire network is established for local or remote observation and controlling of the systems. SPI Works with end users, integrators and consultants to meet mission requirements. The Reliability of the gimbal endlong with the entire system have to be able to withstand extreme weather and harsh environments, our ptz gimbal platforms are the absolute most ruggedized and reliable systems available today with 100% duty cycle, weapons grade shock resistant stabilizers and nitrogen purging.
Controlling movement across national borders presents numerous political, economic and technical challenges. While primary responsibility for Long Range FLIR thermal imaging/CCTV EOIR PTZ border control rests with the US Department of Homeland Security (DHS) and Public Safety and Emergency Preparedness Canada (PSEPC), the respective defense departments have both key roles and significant materiel resources with which to support national security objectives. Given the size and in many cases remoteness of North American borders, technical solutions for long range PTZ FLIR thermal imaging/HD CCTV Sensors and pan tilt zoom extreme distance gimbals are necessary to act as multipliers to limited manpower within government enforcement agencies. The FLIR thermal imaging night vision and HD TV Visible PTZ GIMBALS AND TURRET products and technologies to tackle this effort reside not only in the private sector, but in capabilities either under development or already in use by the military. Civil agencies can benefit from leveraging these capabilities if hurdles such as cost, training, interoperability and security can be overcome.The Department of Homeland Security (DHS) is implementing several initiatives toward securing the border, including the Secure Border Initiative (SBI) and the Western Hemisphere Travel Initiative (WHTI). SBI takes a systematic approach to border security by integrating and unifying border security systems, and developing and coordinating programs and policies to secure the border and efficiently enforce customs and immigration laws. The goal of WHTI is to strengthen border security and facilitate entry into the United States for U.S. citizens and legitimate foreign visitors.The potential for danger at borders all over the world is a very real concern as of late with regard to the high risk of terrorism and drug/human trafficking. In areas such as the Southern US border there has been a sharp increase in the number of armed drug and immigrant smugglers that require heightened levels of surveillance. Actionable intelligence needs to be provided to patrols in the field. But technologies providing information to the Border Patrol personnel need to address a very specific set of challenges: Long Range FLIR Thermal imaging Pan Tilt Zoom PTZ Surveillance equipment must be able to endure consistent exposure to harsh environments in remote locations. In addition, Detection and Tracking technologies have to face highly cluttered environments, at times filled with tumbleweeds and a wide range of animals, the geography itself can also present its own intricacies as line of sight is not always available as rugged hills can be part of the landscape's fabric. Challenges specific to border surveillance include: Wide-area perimeter surveillance of at times rural and mountainous regions with wildlife clutter Survey and automatic detection of a wide range of different threats, including hardly detectable ones such as: UAVs, RHIBs, crawlers, swimmers etc. Equipment must be able to withstand harsh environments in remote locations Provide actionable, real-time intelligence to allow for immediate action by patrols in the field Long Range FKIR OPTZ Pan Tilt Zoom thermal imaging cameras and radar BORDER SURVEILLANCE/SECURITY PLATFORMS Securing national borders has become increasingly difficult. Global deployments call for a wide range of mission capabilities requiring flexible, high-performance multi-sensor systems, installed and operated from a variety of platforms. The most effective intrusion detection systems use multiple technologies to increase the probability of early detection with low false alarm rates under a range of atmospheric and lighting conditions. Closed circuit television (CCTV), infrared image cameras, surveillance UAVs, long range radar and laser radar (LIDAR) are often deployed in appropriate combinations. Short, medium, long and ultra long range FLIR Thermal imaging camera platforms integrate a wide variety of sensors – including such systems as tautwire perimeter detection, vibration intrusion detection, electromagnetic intrusion detection, electrostatic field disturbance, electro-optical observation, and even microwave field disturbance detectors. • Perimeter fences – deploy a variety of electronic surveillance technologies for intrusion detection and warning. These ground-based systems are primarily short-range, up to around 500 meters. • Observation towers extend Long Range FLIR Thermal Imager camera surveillance capabilities many tens of kilometers further from a border installation, and provide a platform for ground-based medium-range surveillance. • Mobile surface observation platforms, such as land vehicles as well as maritime vessels, patrol frontier regions and coastal waters, extending the reach of medium-range /  and long range Mobile Surveillance system sensors. • Thermal imaging EOIR FLIR Observation aerostats, stationary platforms, generally tethered PTZ FLIR THERMAL IMAGING balloons, allow for extended day/night vision EO/IR ISR observation over wider areas, extending the reach of long range Thermal FLIR Imaging surveillance sensors beyond what can be seen from an observation tower. Gyro Stabilizing the platform is recommended for extreme long ranges in order. To obtain high resolution images from the sensors
Contact us
for long range custom fixed and mobile thermal imaging surveillance/security systems (702) 499-9551