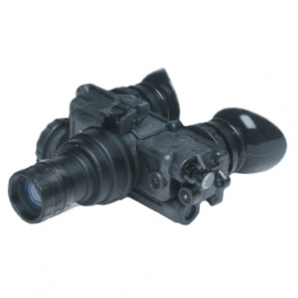 AN/PVS-7 Night Vision Goggles
The AN/PVS-7D night vision goggles have are a battle hardened night vision system that has seen real world combat use in all US military engagements since the 1980's. The PVS-7 is the tried and true US Military Night Vision goggle system that is still relied upon by US Military and Law Enforcement forces every day.
CALL TODAY for pricing! (702) 369-3966.
---
PVS-7 Night Vision Goggle / Binocular
The PVS-7 night vision goggle is a dual eye, single tube , night vision system that offers the user a more comfortable dual eye image that is not available with standard AN/PVS-14 night vision monoculars. By utilizing a dual eye configuration the PVS-7 night vision goggle eliminates the tendency to squint that is so common with single eye monocular systems.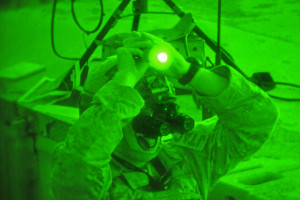 This greatly enhances operator attention in extended surveillance missions by dramatically reducing operator fatigue. The AN/PVS-7 also gives the user a more natural dual eye image presentation that makes navigation easier. The AN/PVS-7D has been proven in combat for decades and is constructed of thoroughly tested mil-spec components to give a lifetime of service. The PVS-7D is waterproof and lightweight to facilitate long term use.
The PVS-7D Night Vision Goggle / Binocular Kit
The PVS7 Night Vision Goggle / Binocular Kit comes with all the items pictured here, which include:
AN / PVS-7 Night Vision Goggle / Binocular System GENERATION 3+
Goggle Assembly
Head Mount Assembly
Soft Carrying Case
Operators Manual
Lens Cleaning Pad
2 Standard AA batteries
PASGT PVS7/14 style mount interface
(1) sacrificial lens
(2) demist shields
(S) (M) (L) Brow pads
Full Warranty
OPERATION OPTIONS
The PVS-7D combat night vision system can be used as a dual eye head mounted night vision goggle system. The PVS7 is also a potent handheld night vision binocular device. With the inclusion of optional clip on long range lenses, the PVS-7 becomes a true long range night vision surveillance binocular.
PVS-7D Night Vision Specifications
Field of View 40˚
Gen 3+ top grade A image intensifier tubes
Magnification one power (1X)
Diopter Adjustment -6 to +2 Diopters
Eye Relief 15mm
Objective Lens 27mm, f/1.1
Focus Range 25cm to infinity
Power Source 2/AA-Size Batteries
Weight 24 ounces
Size 6″L x 6″W x 3″H
AN/PVS-7D Night Vision Goggles / Night Vision Binoculars
The enemy is real. The night is dark. The job is critical. Get the right tool to get it done!
The future is here now, and it's more affordable than you think. In today's uncertain times of modern warfare, it is critical for the good guys to own the night. This requires the ability to see and navigate in total darkness with the same precision as during the daytime. Humans have a dual eye, stereoptic configuration that allows us to perceive the world around in 3-D. One tool that is used commonly is the night vision monocular. Popular night vision monocular systems like the AN/PVS-14 offer a true night vision advantage, but induce fatigue by requiring the user to "squint" one eye. This creates a "better than nothing" scenario. While dual eye dual tube night vision systems have been around for many years, they are generally relegated to the upper crust of Military personnel, namely pilots and special forces groups. When piloting jet aircraft and helicopters, it is absolutely necessary to maintain natural stereoscopic vision and depth perception. Early models like ANVS -6 and ANVS -9 systems were rudimentary in their construction and not designed for rigorous environments. These dualhttp://localhost:8080/wordpress/wp-admin/post.php?post=887&action=edit&message=1# tube flight systems almost always resided in a protected cockpit environment. If these goggles were ever submerged in water, well, those binoculars would be least of anyone's worries. Dual Tube ground force systems have also been around for long time. Early popular US Military dual tube NVG's include the old AN/PVS-5 head mounted (really face mounted) goggle devices. These binoculars were a more rugged version of ANVS-6 flight goggles. Today, the recent AN/PVS-15 dual tube night vision goggle is still the standard for special forces dual tube fully battle-proof and waterproof night vision goggle systems. Unfortunately, the AN/PVS-15 night vision goggles have long been plagued with exorbitant purchase prices, outrageous procurement cycles that sometimes reach 9-12 months, and difficult sustainability due to long lead times for replacement parts. The AN/PVS-7D goggle system has been in service for decades and is a proven performer. While the PVS-7D is a dual eye single tube system that does not offer true depth perception, its dual eye configuration makes navigating and surveillance much more natural. The PVS-7d has a reasonable acquisition cost, has been stocked on the shelf as a COTS item, and is sustainable at the military depot level with parts from existing military inventories. The PVS-7 mounts to all standard night vision helmet mounts and features a variety of tube technologies including the latest in ITT PINNACLE night vision tube technology. The PVS-7 can perform as a head mounted system or a handheld long range night vision binocular system. The choice is clear, the AN/PVS-7D is the dual eye night vision goggle that gives you more for less!
Intelligent Design for Ease and Operation
DUAL EYE NIGHT VISION GOGGLE
Dual eye configuration presents the user with a more natural viewing experience reducing fatigue in extended missions.
STANDARD NIGHT VISION MOUNTS
Mates with standard night vision mounts like PASSGT and MICH helmet mounting systems as well as soft head mounts.
EASY SUSTAINABILITY
Made from battle proven, regularly stocked, per-existing milspec night vision parts.
STANDARD BATTERIES
Uses AA batteries, which are the most widely used batteries in the world and are available at any drugstore or electronics retailer.
INFRARED ILLUMINATOR
The PVS-7 is equipped with a built in short range IR illuminator (sometimes referred to as a "map reader").
LONG RANGE LENS OPTIONS
Precision engineered clip on optics extend the range in the field for true night vision binocular performance. 3X and 5X options available.
WATERPROOF COMBAT DESIGN
Endure the harshest environments with the same waterproof construction as military issue AN/PVS-7 night vision goggles.
TACTILE BUTTONS
Designed for ease of use in the most demanding conditions, like the dark of night or while wearing protective gear.
Feature Details
Dual Eye Night Vision Goggles
Two eyes are better than one. Our natural human vision relies on stereo vision to see the world around us. Most night vision systems are monocular or single eye systems that require you to close one eye to use them. The constant "squinting" induces operator fatigue. The PVS-7 with its dual eyepieces gives you a more comfortable viewing experience and greatly reduces operator fatigue. The PVS-7D is a dual eye night vision goggle or binocular system that makes you more effective in the dark.
Standard Night Vision Mounts
The AN/PVS-7D comes standard with the most common PASSGT PVS style mounting plates. The PVS-7 mount is the most common night vision mounting adapter ever made. Your PVS7 system will easily mount to PASSGT or MICH helmets (with optional helmet mounts). In addition every PVS-7 kit from SPI comes with a soft "head mount" to mount the goggles directly to your head. Maximize your investment by getting gear that fits what you already have!
Easy Sustainability
The PVS7-D has been in service in for several decades. While the system has been refined over the years, the overall design is essentially the same. Each PVS-7 is built from currently stocked, battle proven, milspec parts. The majority of these parts are already stocked in quantities at the depot level, so repair is fast and easy. Procurement times are greatly reduced as these critical parts are manufactured and stocked in significant quantities. The PVS-7d is the clear choice for proven technology that maximizes operational effectiveness by greatly reducing downtime.
Standard Batteries
PVS7D night vision binocular/goggles operate on commonly available AA batteries. The battery case design makes changing batteries easy, even while wearing gloves or in the dark of night, without compromising its watertight fit. AA batteries are the most readily available batteries around the world and can be found at local electronics stores, photo stores, and even drugstore chains. Standard batteries mean that you don't have to pay for overpriced proprietary batteries, or even worse, be stuck in the field without the right batteries. Never be stuck without a charge when you need to lead the charge.
Infrared Illuminator
The PVS-7D is equipped with a built in IR illuminator diode. This short range infrared illumination device (also known as a "map reader") extends the PVS-7's capabilities by allowing the user to see in total darkness situations. The illuminator provides effective night time illumination in total darkness out to a distance of 15′. This is IR illumination so it is invisible to the naked eye and only visible to people wearing night vision goggles. There is an indicator in the eyepiece that lets you know that the illuminator is on so that you do not give away your position.
Long Range Lens Options
The PVS-7 night vision goggle system comes with standard 1X lenses that are perfectly suited for navigational and situational awareness mission profiles. The precision-ground, optical grade, military lenses provide a clean clear image in the most demanding applications. However, some scenarios call for a greater stand off distance in order to safely gather intelligence. Long range surveillance and reconnaissance operations can be further enhanced with the PVS-7. Long range lens options are simple to mount and use clip-on type, Afocal lens designs. This advanced type of lens lets you clip the long range lens directly on top of the existing lens. This way, you do not have to remove the standard lens and expose the interior of the unit. The optional lenses are available in 3x and 5x configurations.
Waterproof Combat Ready Design
The PVS-7 is a waterproof, battle proven, night vision device that will NOT let you down. The PVS-7 has been in real world combat use since the 1980's and has been continually refined into a night vision goggle that greatly exceeds the parameters of most other night vision devices on the market today. The PVS-7 is a proven night vision goggle binocular that is waterproof, shock resistant, and ready to roll.
Tactile Buttons
The AN/PVS-7D is equipped with carefully designed tactile buttons that are intuitive and easy to use. The ultra sharp eyepiece display clearly communicates the binocular's mode. IR warning indicator alerts you if you have the IR Illuminator turned on so that you do not accidentally give away your position. There is a button for every function of the P-vs7, which keeps you from getting lost in onscreen menus that can obscure your field of view. The PVS7 is designed to get it done and get it done fast, in any condition!