[intense_hr color="#ffffff" shadow="10″ accent_width="30″ accent_height="3″]
FLIR ThermaCam PM-695/675 Infrared Camera
FLIR Systems Inc is the world leader in infrared camera technology. The FLIR ThermaCam PM-695 infrared cameras built the FLIR Empire. Featuring high resolution thermal, integrated visible camera, extremely robust construction and ultra high temperature measurement capability. Explore IR with this rare opportunity to save big on a top of the line camera.
CALL TODAY for pricing! (702) 369-3966.
---
Condition of FLIR ThermaCAM PM-695/675 Infrared Camera

This FLIR ThermaCam PM695/675 is a prime example of the legendary FLIR infrared cameras. The 695/675 is a venerable thermal imaging instrument that is equally at home on a lab table or scanning the factory floor. Super rugged construction protects this finely tuned imaging system. They just don't build them like this anymore. Not only is this a robust device it also has features and performance that surpass most of the cheap plastic cameras available today. The PM 695/675 sold for over $50,000 brand new. Now you have a chance to own a spectacular imaging system for a very tiny fraction of the original price. You always wanted one, now you can have one. This 695/675 is loaded with all the goodies. This is a rare model upgraded to ultra high temperature and is able to take radiometric measurements up to an astounding 1,500° C (2732° F)! Try to find a new camera that can do that. This one also comes with 4 FLIR rechargeable batteries and the 4 bay battery charger. Included as well is the optional FLIR LCD screen and the original hard shell case and operators manual. The imaging performance is absolutely flawless in this 695/675 and all buttons and functions work perfectly. There is some minor cosmetic wear on the housing that would be typical for a 695/675 of this vintage. This is an rare opportunity to score big on a low cost 695/675 infrared camera that performs like new. Call us today.
---
A Demonstration of the FLIR ThermaCam PM-695/675 Infrared Camera
---
The PM 695/675 ThermaCam is a true workhorse of an Infrared Camera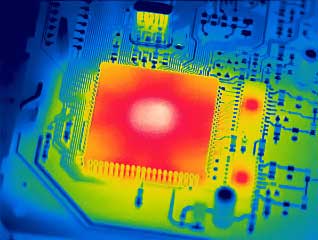 ---
What's Included In This Kit
PM695/675 FLIR 320×240 thermal camera
Integrated CCD video camera
Optional LCD screen
Optional super high temperature measurement up to 2000 C
Hand Strap
4 rechargeable batteries
4 bay battery charger
AC Power Supply
PCMCIA memory card
Video output cable
Users manual
Hard shell carrying case
FLIR PM-695 Infrared Camera Product Specifications
| | |
| --- | --- |
| Detector | Focal plane array (FPA), uncooled microbolometer 320 X 240 pixels |
| Spectral Range | 7.5 to 13 µm |
| Field of view/minimum focus distance | 24° x 18°/ 0.3 m |
| Image frequency | 50/60 Hz non-interlaced |
| Thermal sensitivity | 0.08 °C at 30 °C |
| Spatial Resolution (IFOV) | 1.3 mrad |
| Electronic Zoom | 1 – 4 times continuous |
| Focusing | Automatic or manual |
| Visible Camera | Built-in digital visual 640 x 480 |
| Video output | RS 170 EIA/NTSC or CCIR/PAL composite video and S-video |
| Viewfinder | Built-in, high-resolution LCD (TFT), Optional LCD panel |
| Temperature range | -40 °C to +120 °C (-40 °F to +248 °F) Range 1 0 °C to +500 °C (+32 °F to +932 °F) Range 2 |
| Optional temperature ranges | up to +1500 °C (2732 °F) |
| Measurement modes | Spot (up to 5), area (up to 5), isotherm, line profile, Delta T |
| Accuracy | +/- 2 °C, +/- 2% |
| Automatic emissivity correction | Variable from 0.1 to 1.0 or select from listings in predefined materials list |
| Atmospheric transmission correction | Automatic, based on inputs for distance, atmospheric temperature and relative humidity |
| Optics transmission correction | Automatic, based on signals form internal sensors |
| Image Storage Type | High capacity PC-Card, ATA compatible (160 MB min) |
| File format – thermal | 14-bit radiometric IR digital Image (IMG) including header with all relevant radiometric data. 8-bit |
| File Format – thermal 2 | 8-bit standard bitmap (BMP), image only or image with screen graphics. Every image stored in both formats |
| File format – visual | Standard bitmap (BMP); visual image(s) linked with corresponding thermal image(s) |
| Voice annotation of images | Up to 30 seconds of digital voice "clip" stored together with the image |
| Text annotation of images | Predefined and field-editable text selected and stored together with image. Up to 12 text fields/image |
| Lens Options | Field of view/minimum focus – 7° x 5.3°/4 m – 12° X 9°/1.2 m – 45° x 34°/ 0.1 m – 80° x 60°/0.1 m |
| Close Focus Lens Options | 200 micron close-up ( 64 mm X 48 mm/150 mm) – 100 micron close-up (34 mm x 25 mm/80 mm) – 50 micron |
| Internal, rechargeable battery type | Nickel metal hydride (NiMH) |
| Operating time | 2 hours |
| Power management | Battery low indicated in viewfinder Automatic power down |
| AC adapter | included |
| Charging system | 4 bay intelligent charger 110/220V AC 50/60 Hz |
| Charging time | 1 hour |
| Humidity | Operating and storage, 10% to 95%, non-condensing |
| Operating temperature range | -15 °C to 50 °C (5 °F to 122 °F) |
| Storage temperature range | -40 °C to +70 °C (-40 °F to 158 °F) |
| Encapsulation | IP 54 IEC 529 (metal casing) |
| Shock | Operational: 25 G, IEC 68-2-29 |
| Vibration | Operational: 2 G, IEC 68-2-6 |
| Tripod mounting | ¼" – 20 |
| Size | 220 mm x 133 mm 140 mm (8.7″ X 5.2″ X 5.5″) |
| Weight | 1.9 kg (4.4 lbs.), excluding battery |
| Multi function connector | External power, S-VHS output, RS 232 remote control |
| Video output connector | Composite external video output |
| Headset connector | For voice annotation of images |
| User interface | 4 buttons and joystick for direct access functions and menu control |
CHECKPOINT
CONDITION
NOTES
IMAGING PERFORMANCE
Excellent
massive 320×240 sensor for HD thermal imaging
IMAGE QUALITY
Excellent
performs as good as new
EXTERIOR HOUSING
GOOD
Shows signs of wear and a few scratches. All cosmetic and none
indicative of any internal damage.
BUTTONS AND RUBBER PIECES
Excellent
almost no wear
LENS
Excellent
perfect condition optics
CAMERA FUNCTIONS
Excellent
All camera functions and menus are working
BATTERIES
Excellent
Batteries hold a charge
EYEPIECE / LCD SCREEN
Excellent
LCD screen is sharp. Eyepiece is free of defect
STARTUP TIME
Excellent
Starts up within specification
OVERALL CONDITION
Excellent
A True Value
"Sierra Pacific Innovations is in no way related to, or affiliated with, FLIR Systems, Inc., nor is Sierra Pacific an authorized distributor of FLIR Systems, Inc. Thermography Systems. SPI is an authorized distributor for FLIR Systems Inc. Government Systems."