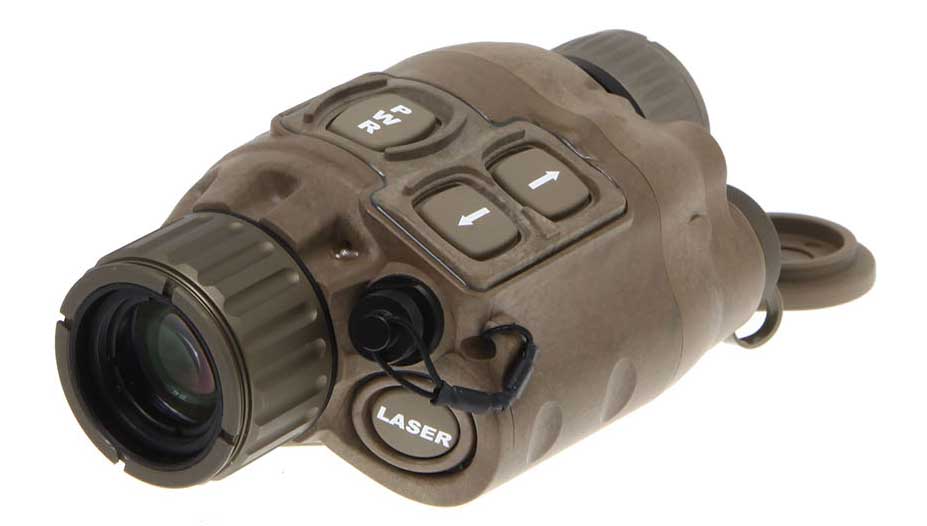 HTMI ultra light high sensitivity Mini Infrared Sight
The HTMI (Thermal infrared sight) infrared scope kit is custom, configurable, infrared system that serves a wide range of military and law enforcement operational profiles. The HTMI thermal IR sight features a high resolution thermal sensor that has 4 times the pixel density of most other thermal monoculars on the market. Additionally, this thermal imaging monocular has a built-in laser pointer and image storage capability. This HTMI kit configurations greatly expand the functionality of the base monocular by offering mission specific accessories including; weapon mounting platforms, invisible IR laser (for DOD only), USB cables, case configurations, night vision filters, LCD screens, real-time video DVR recording, and more. Custom HTMI kits can also be assembled to include night vision, range finding, and other components. Call us today to find out what custom HTMI kits can do for you.
The new v3 model now includes;
*The highest grade most sensitive 640×512 thermal imaging IR sensor offering the absolute best image quality of any thermal IR imaging scope or sight
*Compass
*Duo zoom situational awareness mode
*Inclinometer
*crosshairs
*Color palettes, with insta track and iron bow
*Auto and manual full user interface
*E-rangefinder
*Tactical mode
*Helmet Mount adaptor
*External screen with digital recorder
---
Intelligent Design of the HTMI Mini Infrared Scope = Easy Operation
POCKET SIZE SCOPE
HTMI kits feature the most widely used military pocket sized thermal imaging Monocular
INTEGRATED LASER POINTER
Integrated red dot laser pointer allows you to alert your team to areas of interest.
STANDARD HEAD MOUNT
Head mount adapter allows the HTMI thermal scope to be mounted onto standard issue night vision head gear.
STANDARD BATTERIES
Uses standard CR123 batteries housed in a quick release cassette (available at local stores worldwide).
WATERPROOF
The rugged, military spec construction of the thermal monocular gives you a waterproof, combat ready scope.
DIOPTER
Diopter adjustment customizes the unit to fit your eyesight. The HTMI is great for users that need glasses or corrective lenses.
Rugged all weather, robust design
The HTMI mini IR sight is built from rugged aircraft aluminum and utilizes the highest grade components
TACTILE BUTTONS
Tactile buttons are easy to use in the dark or while wearing gloves.
---
Advanced Monocular Thermal Imager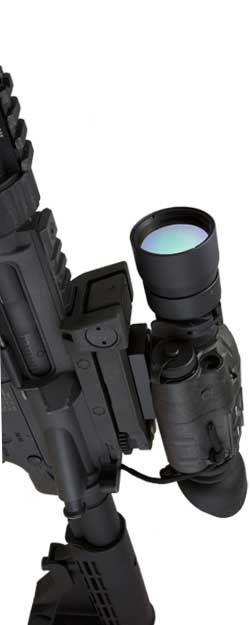 The future is here now, and its more affordable than you think. In today's uncertain times of world conflict, it has become more important than ever for the good guys to own the night. Traditional starlight type night vision monoculars (like the AN/PVS-14) have served their purpose well since the 1980's but have always been crippled by specific limitations. "Starlight" type night vision monoculars and head mounted night vision devices always need an ambient light source in order to function. This required light source can be the moon, stars, or artificial light. The scopes amplify ambient light thousands of times to produce an image. If there is too little light, or too much light, starlight systems produce horrible images. Additionally, these generation 3, starlight, night vision monoculars are extremely sensitive to external light sources like vehicle headlights and streetlights which can cause severe distortion or blooming of the image. These limitations are obviously not ideal when engaged in urban terrain military or police scenarios. Starlight "sensitivity" makes it completely unusable in daylight or low light situations. The critical nature of hands free, night time, situational awareness demands a reliable solution that is as immune as possible to the variables of lighting and weather conditions. Thermal monoculars require no lighting whatsoever. They do not even "see" light so they are completely immune to stray lighting that can destroy other night vision monocular image. These thermal scopes can be used in full daylight, which greatly expands operational usefulness (especially with long range optics attached). The thermal HTMI kits can be configured to your specific combat or law enforcement operations and is equally at home in these mission profiles. The versatility of the HTMI MTM Thermal Monocular is unmatched in the industry. Long range optics, download cables, external screens, DVR video recording, and more are available to get the job done. The choice is clear for any professional involved in night time operations. The HTMI Kit is your tool of choice.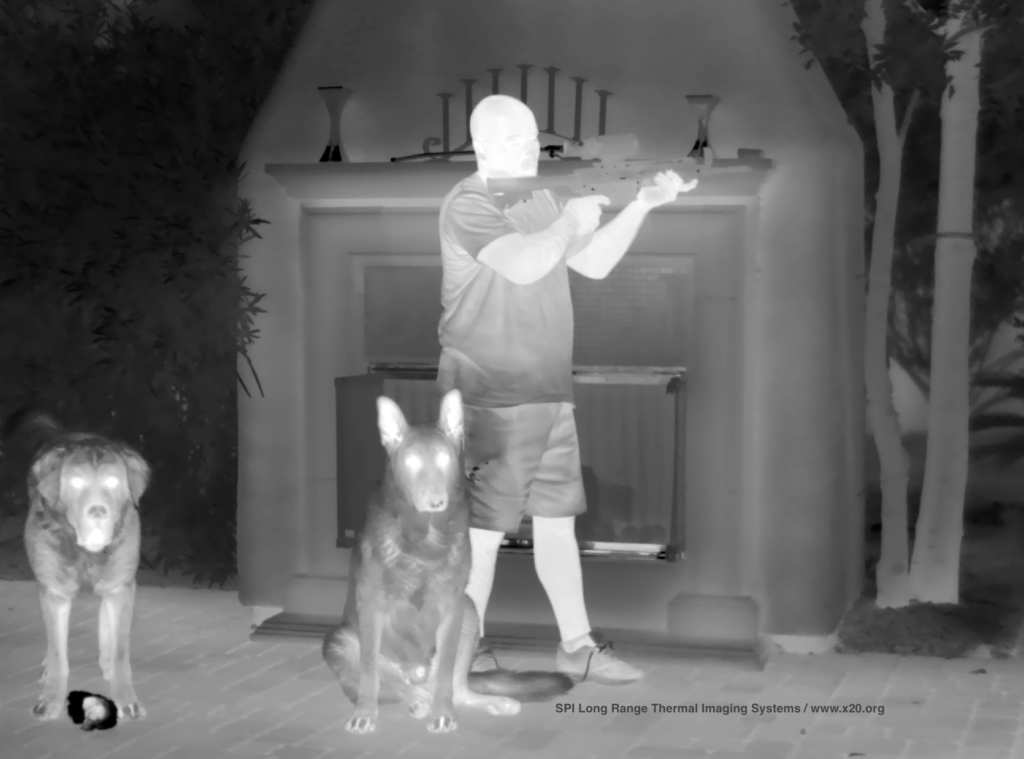 ---
CUSTOMIZABLE OPTIONS
The versatility of SPI handheld thermal monocular imaging kits make the thermal monocular the versatile choice for all your mission needs. Whether used head mounted, hand held, weapon mounted, short range or long range there is an HTMI kit that is just right for your needs.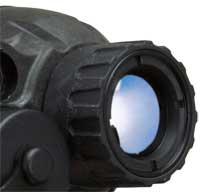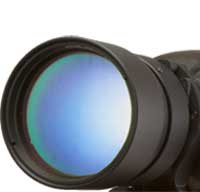 ---
Innovative Forward Looking Infrared Vision
An unrelenting focus on breakthrough technology research is the foundation of our success and the heart of the SPI Infrared overall strategy. We are dedicated to innovation in all areas of discovery and support development with programs focused on unique military needs. The SPI HTMI kit is the latest in U.S. military thermal imaging devices designed for increased situational awareness and offers maximum tactical flexibility.
---
HTMI Mini Thermal sighting Scope Features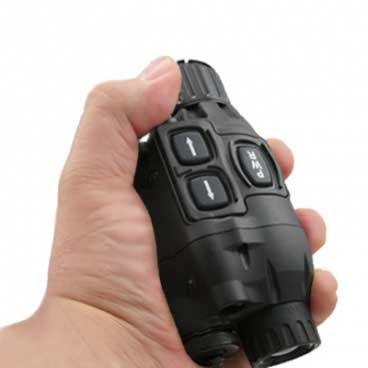 Pocket Sized Infrared Scope
The thermal monocular in the HTMI kit is an ultra small, pocket sized device with high power features. Great care was taken in the design and implementation of the thermal scope to guarantee that it would be the smallest usable scope on the market. Based on years of engineering lessons and feedback from combat troops, the thermal monocular in the HTMI kit is just the right size. Smaller scopes have button size issues and become harder to operate in the heat of the moment. No one wants to fumble around with tiny buttons and small batteries while under pressure This thermal scope is just the right size to get the job done.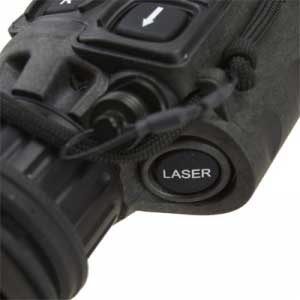 Integrated Laser Pointer
All thermal monocular variants included in the HTMI kit include a laser pointer. This integrated laser pointer operates via a single dedicated, push button control, that eliminates fumbling around in the field. The laser can be operated two ways; momentary mode, where it targets as long as you hold the button down, or continuous mode, where the laser stays on without interruption. An on-screen indicator clearly tells when the laser is on or off. The laser pointer can help you identify critical targets for your team members on the fly. A special wavelength invisible IR laser is available for our military and law enforcement customers; call for details.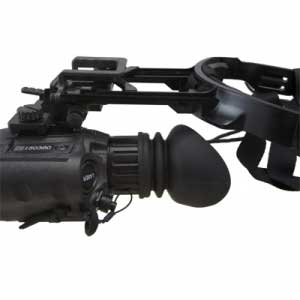 Standard Night Vision Head Mounts
With the head mount transfer arm option, the thermal monocular can be worn head mounted for true hands free operation. The head mount transfer arm is designed to easily mate with most standard issue night vision head and helmet mounts designed for the widely used AN/PVS-7 and AN/PVS-14 night vision scopes. The HTMI system will instantly install on your current issue PASSGT or MICH helmets equipped with flip up night vision mounts.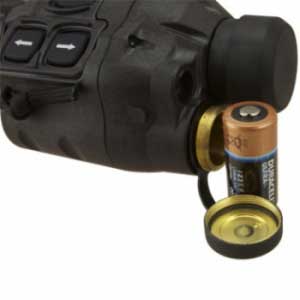 Standard Batteries
The HTMI thermal monocular component operates on standard CR123 batteries which are available worldwide from local and online retailers. Every drugstore and electronics store should carry the standard CR123 batteries for your thermal scope. The design of the screw-cap, o-ring seal makes it easy to replace batteries, even in protective gear, in total darkness while maintaining waterproof integrity.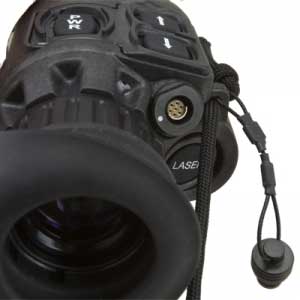 Digital Thermal Image Storage
HTMI kits come standard with a thermal imaging monocular that stores digital snapshots of the scene that you are viewing. Simply press a button to store the image in the thermal scope's internal memory. The image can then be reviewed on the scope later for evaluation of the target. Optional connection kits allow the image to be played externally on a large screen or downloaded to a PC via integrated USB/software cable.

Versatile Kit Options
The HTMI handheld scope is the most versatile pocket sized thermal imager kit in the world. The base components of each kit include a battle proven high resolution (4 times the pixel density) thermal scope to which an almost unlimited number of options can be added to tailor a mission specific kit to your needs. A variety of long range, clip-on, aFocal lens options give you significant stand off distance. Head/helmet mount options are available to fit your current issue models. External monitor and DVR combinations as well as combat tripod units give you a powerful surveillance tool. A unique and rock solid weapon mounting platform expands the HTMI kit into a full blown weapon aiming system. Call our specialists today to design a kit for you to get the job done!
Tactile Buttons
The HTMI mini infrared scope is equipped with a simple command menu structure, so that all functions of the scope are accessible via a three button configuration. The thermal scope's buttons are over-sized and uniquely shaped for use in the dark or while wearing gloves.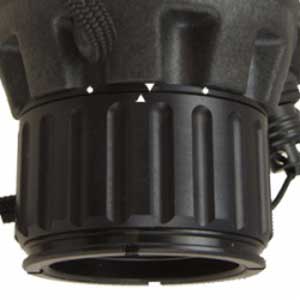 Diopter
The HTMI kit uses a battle proven military eyepiece with easy to use diopter adjustments. The diopter gives you a full adjustment range which allows you to adapt the scope to any user's eyesight.
---
HTMI Mini Product Specifications
DETECTOR
FPA Format: 640×512
Type and Material: VOX Microbolometer highest quality available
Cooling: Uncooled
Refresh Rate: Real-time 60 Hz
PERFORMANCE
Detect Stationary Man: meters
Detect Moving Man: 500 meters
Weapon Sight: 1x – 8x
Field of View (Standard): 16 to 4
ADDITIONAL FEATURES
Polarity Control: Black Hot / White Hot with color and track hot
Temperate Reading: Yes (Optional)
Colorization: Amber High Contrast Optional
PHYSICAL FEATURES
Diopter Adjustment: -6 to +4
Eye Relief: 25.4mm
Weight: 255 grams
Dimensions: 127 x 72 x 56mm (5.0 x 2.8 x 2.2 in)
Power Requirement: (1) CR123 type rechargeable and long life 3x (included)
Lens High Grade Germanium F/1
Eyepiece Adjustment: Manual Focus
Waterproof: Yes
---