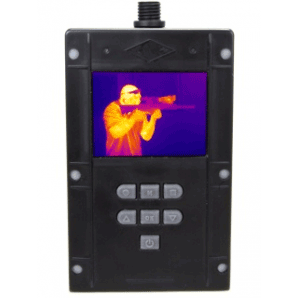 [intense_hr color="#ffffff" shadow="10″ accent_width="30″ accent_height="3″]
Thermal Imaging Waterproof DVR
The X-DVR-XP is the only extended performance all weather micro DVR that is 100% compatible with virtually all thermal infrared imaging systems.
CALL TODAY for pricing! (702) 369-3966.
---
Raytheon Thermal Imaging Waterproof DVR (Digital Video Recorder)
There are many micro DVR devices on the market today. Most of these are half baked consumer targeted systems that have a slew of fancy bells and whistles. Almost all of these systems are of cheap construction and are very difficult to use for actually recording video. The worst part is that most of them do not work with thermal imagers. SPI is proud to introduce the first Micro Digital Video Recorder that is rugged, weatherproof and designed to work with virtually any thermal infrared camera system in existence. The X-DVR-XP is the answer to all your DVR problems. This mini DVR is a no nonsense workhorse for serious users. Very simple to use with easy to understand menus and stellar image recording quality. Very robust watertight design for use in all weather. Long battery life with hot swappable batteries. Direct connect Thermal Camera systems and Visual camera options. The X-DVR-XP is the hottest new digital recording device for thermal video to hit the market and its only available from SPI.
The Raytheon Thermal Imaging Waterproof DVR is a Compact and Powerful Micro
Micro DVR Captures full resolution real time thermal video in color or B&W
Micro DVR technology for professionals
The future is here now and its more affordable than you think. In today's modern world it is critical to document everything. It is no longer sufficient to just "say" that you saw something, people demand documentation of every event. The best form of back up is of course video. Nothing says "hey I feel like I was there" better than high resolution real time video recording. Video recording is not a new technology. Originally the only way to record video was onto magnetic tape like VHS or Betamax (remember beta?). Next came the advent of digital video recording and the tapes shrunk dramatically done to the HI-8 size and eventually to MINI-DV size tapes. While the video recorded on these technologies was digital the medium was still magnetic tape. Finally, we now have true Digital Video Recording and the DVR. With a true DVR device you record digital files onto digital memory cards. The XDVR-XP is a breakthrough device in that it is a MICRO DVR and the housing is of a waterproof design. This greatly expands the capabilities and applications of the digital video technology. Now you can document everything no matter what the weather or conditions. The XDVR is capable of recording any analog video stream that you connect to its waterproof video input connector. It can also record live video and audio with its included CCTV camera module. Once recorded the video can be downloaded to a computer, saved on a memory card, played back on the unit or played back on a TV with the video output interface. What really makes the XDVRXP stand out is that it is certified to be compatible with virtually any thermal camera on the market today. The choice is clear for any professional requiring live video documentation.
Intelligent Design for Easy Operation
WATERPROOF CONNECTORS
Fully integrated waterproof screw on connectors for Video input cable and included CCTV camera module.
SECURE DIGITAL STORAGE
Easy to use and easy to maintain with readily available SD memory cards.
EASY CONTROLS
Simple intuitive controls let you get right down to business. The XDVR-XP is a serious tool.
WATERPROOF HOUSING
Double gasket sealed waterproof housing for the micro DVR in all weather conditions.
CCTV CAMERA WITH AUDIO
Record LIVE CCTV video/audio with the included CCTV module and clip on microphone.
COMPLETE I/O CONNECTIVITY
Water proof housing for USB, SD memory, battery, audio and video output.
The X DVR XP ROCKS!! REE FEDEX SHIPPING (IF YOU USE THE BUY IT NOW BUTTON TODAY!)
VERSATILE PERFORMANCE
The X DVR can record any type of analog video that you throw at it including thermal imaging. The versatile port configuration gives you choices.
The Thermal Imaging Waterproof DVR Complete Kit
The XDVR XP Kit comes with all the items pictured here, which include:
Weatherized Digital Video Recorder
Video input cable for recording real time thermal (from thermal camera sold separately) and other analog video sources
CCTV camera module with clip on microphone for visual audio video recording
3 Lithium Ion Hot Swappable batteries
Vehicle 12VDC battery charging interface
USB interface cable
Headphones
Video output cable
Kit case
CAMO belt pouch
Operators manual
Lens care screen cleaning kit
SD Memory card
Lifetime Support, full 1 year warranty