[intense_hr color="#ffffff" shadow="10″ accent_width="30″ accent_height="3″]
Thermal-Eye Renegade 320 Thermal Scope
The Thermal-Eye Renegade 320 X from L3 Communications is a high performance thermal rifle scope designed for Military and Law Enforcement professionals.
THIS IS THE HOG HUNTERS SPECIAL!
CALL TODAY for pricing! (702) 369-3966.
---
The Thermal-Eye Renegade 320 Thermal Scope from L3 Communications
The L3 Renegade 320X thermal-eye weapon sight is a remarkable achievement of engineering and product design. The rifle scope was designed for the demanding needs of law enforcement and military professionals. This is a rock solid weapon sight that has been thoroughly tested to withstand the harsh conditions of combat. While the 320 is a rugged piece of gear, it is also a precision thermal sighting device capable of high resolution imagery and pinpoint accuracy over distance. This is the ideal tool for long nights on the front lines. With a Renegade thermal scope you have the advantage. You can see targets long before they see you. The scope does not rely on light to see it uses infrared heat energy. This means that you can use it day or night, in complete darkness or broad daylight. No other night vision technology can do that for you. Attention Hog Hunters! If you are being overrun by the menacing feral hog problem this is the tool that will help you turn the tide around. Imagine being able to see and deal with these ferocious creatures in total darkness. Not only can you spot them but you can take them out. Of course you should check with your local regulations before hunting with a thermal rifle scope. This is the ultimate tool in the varmint wars.
Product Highlights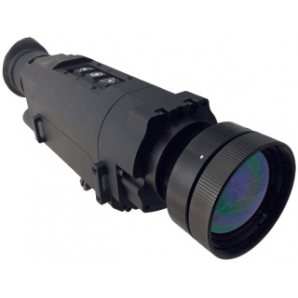 12 Degree Long Range Lens
The Renegade 320 XP gives you a 12 degree long range lens. The high quality germanium lens is designed to give you a safe stand off distance in your application. For law enforcement and military customers this means you can be farther from the bad guys while keeping them in full sight. For Hog Hunting and varmint control the Renegade 12 Degree thermal rifle scope makes sure that you handle the problem before the problem handles you!

---
Easy to Operate
Don't let the rugged combat design of the Thermal-Eye Renegade-320 fool you. This is one of the easiest to use thermal scopes in the world. Based on proven L3 Communications technology, the renegades have a very intuitive interface that lets you unleash this power. Simple tactile buttons let you make all the adjustments you need even in complete darkness. Onscreen menus further enhance the user experience.
---
Fits Your Rifle
Many thermal weapon sights are large, complicated and too big for your rifle. The Renegade is just the right size to fit on your AR / M4 type rifle. A positive locking mount attaches to any picatinny rail that you have. The size and weight are ideal for a scope of this nature.
---
Standard Batteries
The Renegade has an internal image capture design that lets you record digital snapshots of what you are seeing with the scope. These digital images can easily be downloaded to your PC for analysis or to share with your friends. The optional SPI X-DVR connects to the output of the thermal scope and gives you added functionality. Now you can record live thermal video for documentation and training. The Renegade does it all.
---
Standard Cable Configuration
The Thermal-Eye RenegadeX connects to the gear you have. From a single "super port" on the scope you can access the video output. The sight has standard NTSC video output that can be played on any video monitor or TV set. The super port also gives you a USB interface to easily connect to your PC and download your captured images. Finally, the super port gives you an external power connection so that you can run the scope for extended operations. The external power is 12VDC and comes with a cigarette lighter adapter so that you can plug it directly into your vehicles 12VDC power port.
---
The RENEGADE X Thermal Scope Kit
Renegade Standalone Thermal Scope
External Video output cable
Picatinny rail mount
USB interface cable
8 CR123 Batteries
Rubber eyecup
External 12VDC power port
Cigarette lighter vehicle adapter plug
Soft Case
Operations manual
Lens care kit
---
Product Specifications
Focal Plane Array
Material …………………… Amorphous Silicon Microbolometer
Resolution ……………………………………………….320 x 240
Spectral Response………………………………………. 7-14μm
Detector Thermal Sensitivity……………………………. < 50mK
Optics
FOV Alternatives / Range to Detect Human Activity
50° ……….………………………………750ft (230m)
25 ° ……………………………………1,500ft (460m)
12° ………………………………………3,000ft (915m)
Size
50° – 10"L x 2.75"W x 3"H (25.4 x 6.9 x 7.6cm)
25 ° – 10.75"L x 2.75"W x 3"H (27.3 x 6.9 x 7.6cm)
12° – 11"L x 2.75"W x 3"H (28.0 x 6.9 x 7.6cm)

Weight (Batteries Installed)
50° – 31 oz
25 ° – 31 oz
12° – 34 oz
Video/Image Capture
Output Format: Analog NTSC on rear outlet jack
Display Brightness: User Adjustable
Digital Zoom – 2X, 4X
Captures 200 images, USB download
Switchable Polarity (White Hot/Black Hot)
Adjustable eyepiece diopter and focus
Automatic and manual shutter touch up
Power
Power Source: 123 batteries (count: 4)
Operating Time: 6 hours (77°F / 25°C Night Operation)
Auxiliary Power: 9 to 12 VDC input on rear outlet jack
Mounting
Picatinny gun rail mount; ¼-20 tripod mount
Reticle Styles
5 Styles Available; Selectable/Adjustable (Elevation & Azimuth)
Environmental
Operating Temperature: -4°F to 140°F (-20°C to 60°C)
Storage Temperature: -4°F to 176°F (-20°C to 80°C)
Water Resistance: 9 ft (3m) submersion
Shock Resistance: Shockproof to 4ft (1.2m) drop
Shockproof to 2 ft (0.6m) on weapon
EMC Compliance: FCC Part 15

Qualified Weapons
M4, Suitable for M16 – Operational and unaffected after 5,000 rounds in full automatic mode
M240 – Fully functional after 1,000 rounds
Adaption to other weapons possible

Boresight Retention
M4 – Retains boresight through 1,000 rounds
---
Key elements of the Renegade 320 Thermal Scope
High resolution HD thermal imaging sensor for the ultimate in image clarity
Tactile buttons
Easy to use controls
Multiple reticles
Brightness control
Long range thermal target acquisition
Ideal for Hog control, Military and Law Enforcement operations