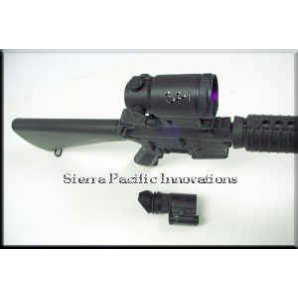 [intense_hr color="#ffffff" shadow="10″ accent_width="30″ accent_height="3″]
SEAL Gen 2/3 Modular Night Vision System
The SPI Seal American Generation Three night vision device is the next generation modular night vision system which offers features never offered before in a tactical night sight all at an affordable price.
CALL TODAY for pricing! (702) 369-3966.
---
The SEAL Gen 2/3 Modular Night Vision System is a high grade Generation 2 / 3 night vision viewer, goggle, weapon sight which offers camera adaptability. Seal Gen III night scope represents the next generation in multi-use gen 3 night vision startlight systems. The SPi Seal American Generation Three night vision device is the next generation modular night vision system which offers features never offered before in a tactical night sight all at an affordable price. The Seal comes standard with the mini pocketscope system. Packaged inside this potent little powerhouse is superpower U.S. Military Generation 3 image intensified technology.
The base unit comes with an infrared illuminator which shines up to 100 Yds which allow the system to be used in ultra low light or no light situations. The adjustable IR illuminator offers bright as day vision in total pitch dark scenarios. Powered by (1) 3v battery and weighing in at a mere 425 grams, this system offers the absolute best U.S. generation 3 night scope value available in today's market. The SEAL system can easily be adapted into a hands-free goggle system. The unit will accept the legendary AN/PVS 7 goggle head strap, Or we can supply you with a number of custom head mounts and adapters which we have available. The Head mount is fully adjustable and can be used in conjunction with right or left eye operation.
The SEAL system can be easily converted into a true mini night vision weapon sight. Along with the Rifle scope kit. Interchanging the standard SEAL night viewer into a weapon sight takes only 3 seconds with our bayonet release mounting system. The Seal Rifle scope kit offers accurate, pin point accuracy, along with its internal windage and elevation sighting features, and internal electronic LIT RETICLE sights. The Seal is the absolute most affordable modular night vision system available to date.
The unit is available in American Second or Third Generation. Housed in a rugged machined aircraft aluminum housing with weather resistant properties ensures long life in harsh and adverse environments.
---
SEAL Gen 2/3 Modular Night Vision System technical data
Performance Parameters
Intensifier Type: U.S. Generation 2 or 3
Resolution: 36 lp/mm (gen 2) , Or 45-64 lp/mm (gen 3)
Standard Lens: 1X f 1.2 Standard / 3.5x with weapons adapter
Focus Range: 8″ to infinity
Physical
Weight : 425 Grams
Length : 155 mm
Height : 65 mm
Width : 45 mm
Chassis: Machined, weatherproof, aircraft aluminum
Mounting Provisions: Head mount, Weapons mount, camera mount, hand held
Environmental
Operating Temperature: -50 to 130 degrees F
Power Supply: Standard 3 Volt
case: water and dust resistant
Standard Equipment
Seal American Generation two or three system
Operator Manual
Military 1x lens ( f 1.2 ) and eyepiece ( dipoter range: +2 to -6 )
Field of View (FOV) : 40 degrees
Durable Carrying Case
3 Volt battery ( 30 hour operation)
Adjustable 100 yard infrared illuminator for low light or no light conditions
Warranty: 2 years
Optional Equipment
Rifle scope adapter: which includes a 3.5x magnification lens, onboard adjustable 100 yds. infrared illuminator, internal windage and elevation pinpoint sighting, and electronic adjustable lit reticle.
Fully adjustable headmount adapter: which offers hands free operation with user adjustable right or left eye viewing, and is compatible with PVS 7 headmount or SPi custom headstrap.
SLR and Video adapters: which convert the seal system into a fully functional night time imaging system for night photography and surveillance applications
Model
New Price
Demo Price
Contact
Seal Generation 3 standard Night sight system
Discounted
Call
Mike
Seal accessories (weapon adapters, headmounts & video adapters

CALL
Call
Mike
*Please contact us for more information regarding your custom application:
Phone (702) 369-3966

For department, agency, wholesale, and quantity pricing contact sales@x20.org
*For a hard copy of this information, press print on your browser.