T7 THERMAL GOGGLES NIGHT VISION LONG RANGE FLIR BINOCULAR IMAGING SYSTEM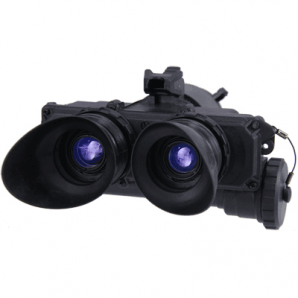 T7 Thermal Goggles with Night Vision Mounts
The T-7 Thermal Goggles / flir Thermal Binoculars system combines the user friendly ergonomics of traditional night vision goggles with the advanced imaging capabilities of a thermal imager.
Head / helmet mounted or hand held thermal binocular goggle
Exceptional clear crisp ultra sensitive thermal binocular
Fast 60hz frame rate
Zoom and auto imaging features
Dual eye thermal imaging flir binocular with high resolution Oled microdisplays
Ergonomic tactile thermal binocular design
CALL TODAY for pricing! (702) 369-3966.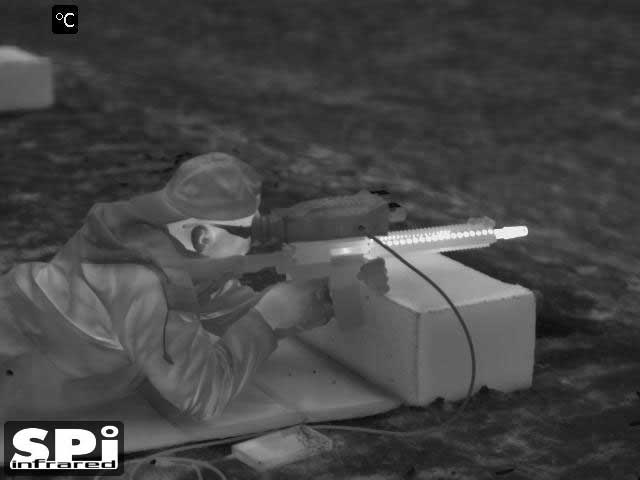 ---
T-7 Thermal Goggles / Binoculars Key Features
The T-7 thermal imaging binocular/ goggles take a clever approach to individual soldier imaging systems. The T-7 thermal binocular brings the best features of the ever popular AN/PVS-7 night vision goggle and adapted them into a full function thermal imager. Innovative engineering allows the user to realize the full potential of thermal imaging performance while maintaining a familiar form factor that easily mounts to most existing night vision helmet and head mounts. Head mounted to standard military or law enforcement helmets, the T-7 thermal binocular is a potent thermal goggle system capable of hands free thermal imaging during dismounted scenarios.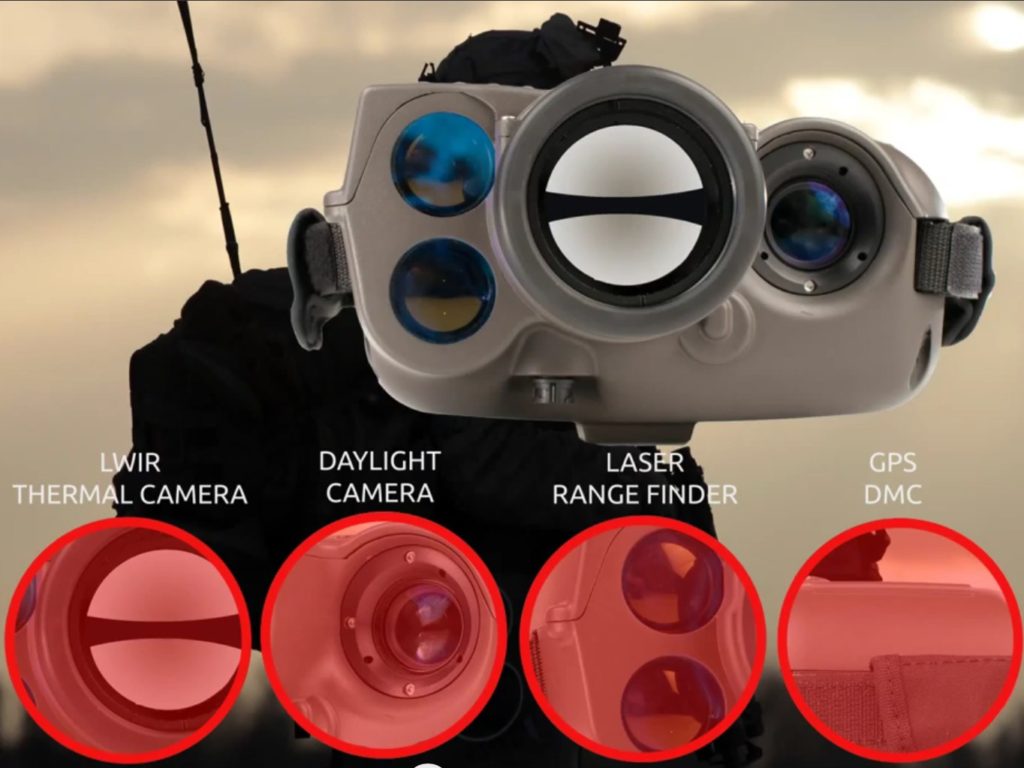 CLICK HERE FOR THE ARROW MULTI SENSOR FLIR
LONG RANGE THERMAL BINOCULARS
Hand held, the T-7 long range thermal binocular is a rugged thermal imager. By simply adding one of several long range telephoto thermal imager optics, the T-7 thermal binocular converts into a state of the art thermal binocular system for intelligence gathering at a safe stand off distance. The T-7 thermal flir binocular / goggle system is loaded with features, easy to use, and affordable for most agencies. Read on to see what the T-7 thermal binocular can do for you. The T7 thermal flir binoculars can also be used as a goggle with added sensors for aiding in long range target detection, location and identification such as laser range finders, lrf, laser pointers, laser Illuminators, GPS, compass, geolocation and remote connectivity.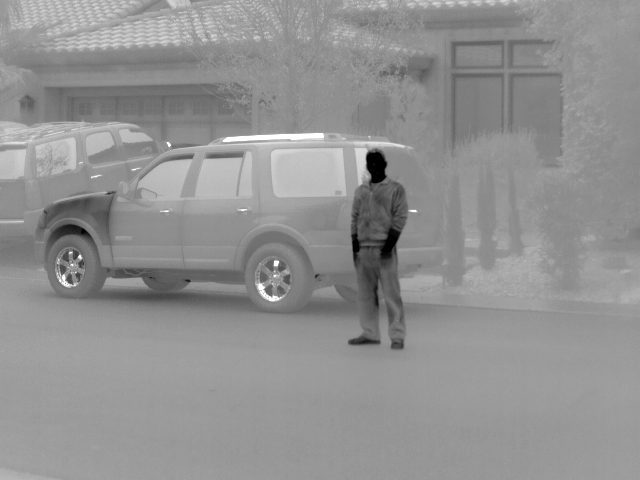 ---
Intelligent Design for Easy Operation
---
ADDITIONAL THERMAL IMAGING FLIR BINOCULAR
SYSTEMS ARE AVAILABLE AT THE www.X26.com
TACTICAL THERMAL NIGHT VISION SITE
---
DUAL EYE THERMAL BINOCULAR
Two eyepieces for greater comfort and mobility in head mounted or binocular configurations.
STANDARD NIGHT VISION MOUNTS FOR THERMAL BINOCULARS
Mates with most standard issue night vision goggles and monocular head or helmet mounts.
2X AND 4x ZOOM AND IMAGE POLARITY THERMAL FLIR BINOCULARS
Internal 2X digital zoom and black hot / white hot polarity control aid in target detection and discrimination.
STANDARD BATTERIES FOR THE T7 THERMAL BINOCULARS
Uses standard CR123 batteries in a quick release cassette. CR123 batteries are available worldwide at any drugstore or electronics retailer.
VIDEO OUTPUT FOR THE T7 THERMAL BINOCULARS
Monitor or record the thermal imaging for documentation or training.
LONG RANGE LENS OPTIONS FOR T7 THERMAL FLIR BINOCULARS
Precision engineered clip on optics allow you to extend your range in the field for true thermal binocular performance.
T7 THERMAL BINOCULAR WATERPROOF COMBAT DESIGN
Based on military issue AN/PVS-7 night vision goggles, the proven waterproof construction will withstand the harshest environments.
TACTILE BUTTONS FOR THE T7 THERMAL IMAGING BINOCULAR
Designed for ease of use in the most demanding conditions, like the dark of night or while wearing protective gear.
T-7 Thermal Goggles / Thermal Binoculars
The T-7 thermal imaging binoculars with its battle proven rugged housing and comfortable dual eye design, is the clear choice for a variety of mission profiles that require thermal infrared imaging performance that is easy to use.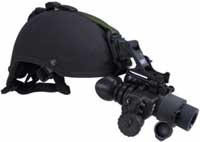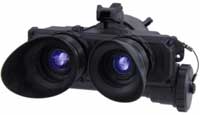 The future is here now, and it's more affordable than you think. In today's uncertain times of modern warfare, it is critical for the good guys to own the night. In the past, the US Military leaned heavily on what was then the pinnacle technology- the night vision goggle. Popular US Military NVG's included the old AN/PVS-5 head mounted (really face mounted) goggle devices. The latest dual eye night vision goggle is the AN/PVS-7. This is an advance over the PVS 5 because it is much lighter in weight and gives the user the option of going handheld or head/helmet mounted.
The PVS-7 night vision goggles have a battle proven, rock solid, NVG design. PVS-7 night vision technology (which requires some ambient light to operate) has served our forces well since the 1980's. While the design is proven and the durability is without reproach, Starlight night vision goggles do have severe limitations.
---
THERMAL IMAGER VERSATILITY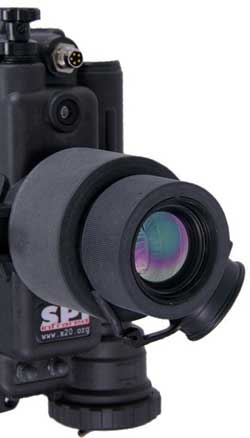 These light amplifying goggles are very sensitive to ambient light sources. Severe image distortion will occur when common light sources like headlights, streetlights, and other equipment light enters the scene. This can be a nuisance at best, but becomes completely unacceptable when situational awareness is a matter of life and death. Thermal imagers active in common military usage since the early 1990's. The first thermal imager systems were bulky, heavy, and extremely sensitive instruments which made them as much a burden as a benefit on the battlefield. There has long been a need for a lightweight, easy to use, and rugged thermal imagers. Clever engineering has brought forth the T-7 Thermal Goggle/Binocular imaging platform.
Based on the tried and true AN/PVS-7 night vision goggle design, the T-7 thermal binocular expands a soldier's capabilities through high performance thermal imaging. Current issue night vision housings assure rugged reliability and soldier acceptance. The T-7 flir binocular learning curve is minimal because the thermal functions are nearly the same as the night vision goggles. Additionally, the T-7 Flir binocular mounts to the current issue head and helmet mounts , so there is no need for new gear. The T-7 thermal imaging binocular is just as comfortable to use head mounted as it is handheld, and with optional long range clip on optics, the T-7 thermal binocular can perform as a thermal goggle or a long range thermal binocular set. The choice is clear, the T-7 thermal biocular is the thermal imager that gives you high performance thermal and flexibility.
---
The T7 Thermal Goggles/Binoculars Kit
The T-7 Thermal Goggle / Thermal Binocular Kit comes complete with:
T-7 Thermal Goggle /Binocular System
Goggle Assemble
Head Mount Assembly
Soft Carrying Case
Operators Manual
Lens Cleaning Pad
Neck Lanyard
Demist Shields
Shoulder Strap
Video Cable
3 Standard CR123 batteries
12V DC External Power Cord
Full 1 Year Warranty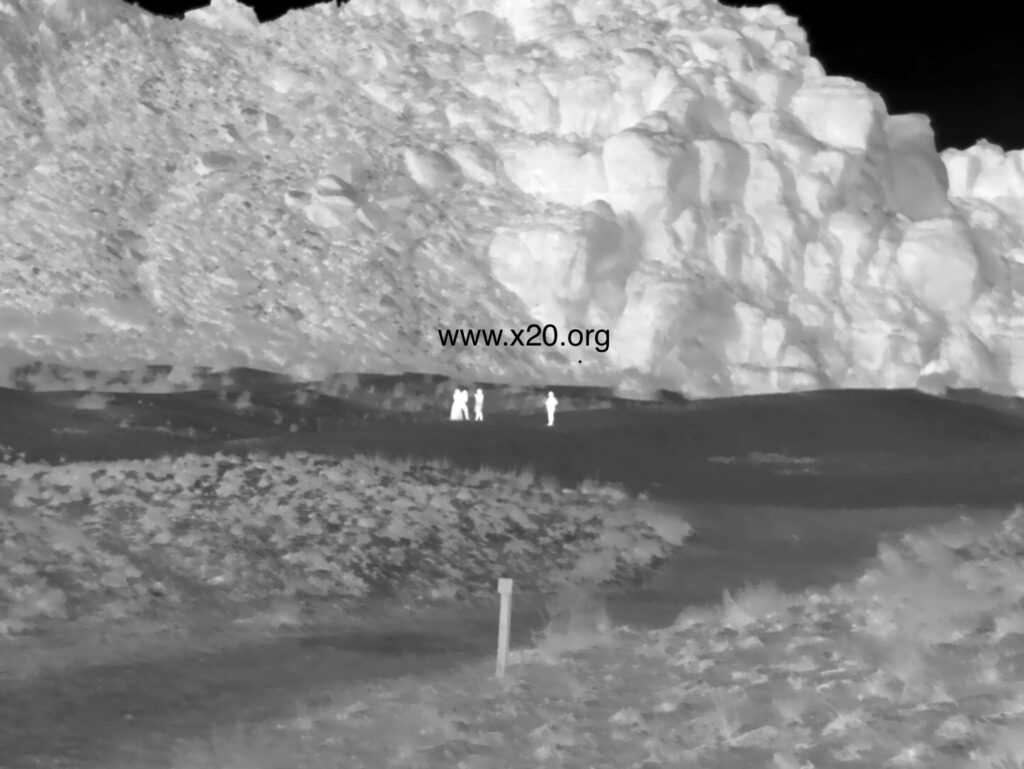 ---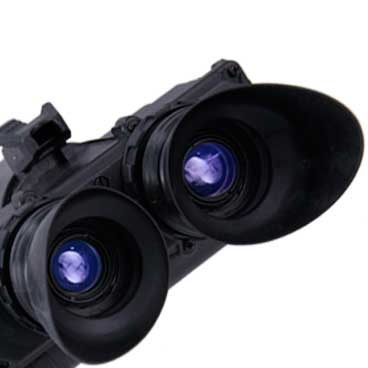 Dual Eye Thermal Imaging binocular
The T-7 thermal goggles/binocular have true dual eye technology that presents a more natural image than the single eye systems that are prevalent in today's market. Single eye or monocular thermal imager systems force the user to close one eye, almost as if they are squinting at the sun. This is OK for quick use, but extended viewing inevitably causes eye strain and discomfort. The T7's thermal binoculars unique, dual eyepiece design makes it ideal for long term viewing. Whether your application is hands free, thermal goggle, or long range thermal binocular, the T7 thermal binoculars will get the job done comfortably.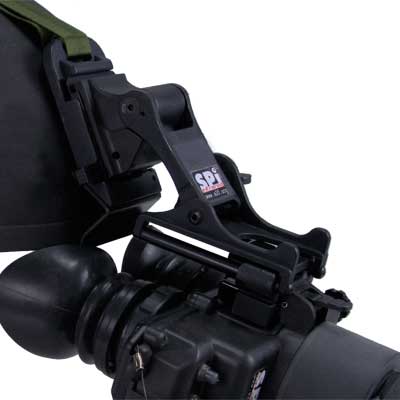 Standard Night Vision Mounts
With any piece of equipment, usability is the ultimate goal. This is why the T7 thermal binoculars are designed from the most proven US Military night vision goggle system– the AN/PVS-7. Not only does this give the user instant familiarity with T-7 flir binoculars operation, it also guarantees a commonality of parts when it comes to head or helmet mounting. The T-7 thermal binoculars offers maximum interchangeability between users and will connect to almost any current issue night vision helmet mount. Maximize your investment by getting gear that fits what you already have!
ClearZoom and Image Polarity
Don't let the rugged exterior of the T7 thermal goggle / flir binocular mislead you into thinking it's a meat-head. The T-7 thermal imaging binocular is packed with the most advanced digital signal processing algorithms to produce stunning thermal imagery. The T-7 flir binoculars digital zoom smooths edges and produces a usable image that makes distant objects larger. Advanced image polarity allows the user to select between Black Hot mode and White Hot mode. Generally speaking, white hot mode is ideal for spotting targets and black hot mode is most useful for situational awareness. Of course with the T-7 thermal binoculars everything is a matter of user preference.

Standard Batteries
The T7 thermal binoculars operates on standard CR123 lithium batteries. housed in a watertight, battle tested compartment. The battery case design makes changing batteries easy, even while wearing gloves or in the dark of night without compromising it's watertight fit. CR123 batteries are readily available around the world at local electronics stores, photo stores, and even drugstore chains. Standard batteries mean that you don't have to pay for overpriced proprietary batteries, or even worse, be stuck in the field without the right batteries.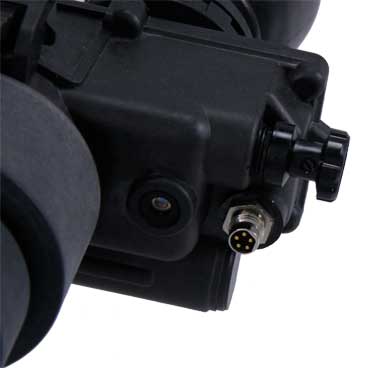 Video Output
T-7 thermal goggles come equipped with a standard NTSC video output function that makes it easy to connect to an external monitor (for extended viewing) or to a digital video recorder (for evidentiary or training purposes). All external connections are watertight and maintain the integrity of the T-7 thermal goggle/binocular system.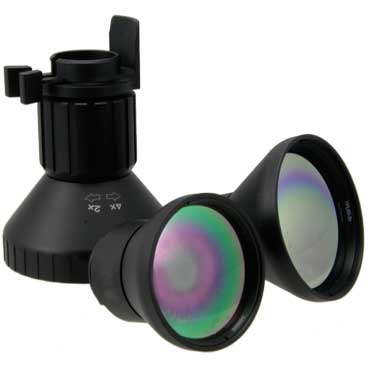 Long Range Lens Options
The T7 thermal binoculars is a truly versatile performer that is equally at home as a short range head mounted thermal goggle system or as a long range thermal binocular set. Several long range telephoto germanium thermal lenses are available to fit your specific application needs. These precision engineered lenses are of an Afocal design so that they simply "clip on" to the existing lens to increase performance. This gives you in-the-field performance without the worry of removing the existing lens and compromising the integrity of the system. Simply clip on the long range optics and spot the target, before they spot you!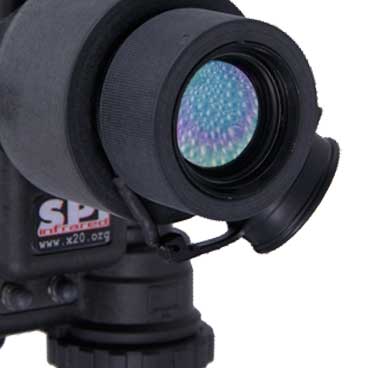 Waterproof Combat Ready Design
The T7 thermal binocular is designed with the same housing and functions as the military grade AN/PVS-7 night vision goggle for optimal performance during modern warfare. The highly sophisticated sensor system and advanced optical engineering of the T-7 thermal binoculars are cradled in a rugged shock resistant housing proven to take the constant abuse of combat. The T-7 thermal goggle / binocular is waterproof, shock resistant, and ready to roll.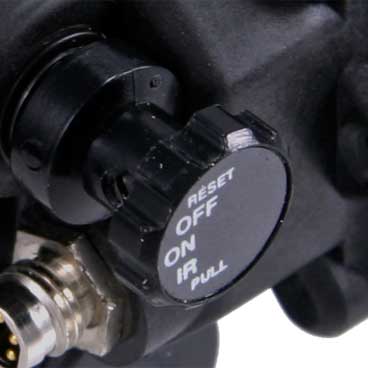 Tactile Buttons
The T-7 thermal binocular is equipped with carefully designed tactile buttons that are intuitive and easy to use. The onscreen display (OSD) clearly communicates the binocular's mode. There is a button for every function of the T-7 thermal binoculars which keeps you from getting lost in onscreen menus that can obscure your field of view. The T7 flir binocular is designed to get it done and get it done fast, in any conditions!
---
T7 Thermal Goggles/Binoculars Specifications
| | |
| --- | --- |
| Sensor Type and Material | Microbolometer |
| Cooling | Uncooled |
| Spectral Response Sensitivity | 7 – 14 μm |
| Narrow Objective | 22mm, Field of View 17° x 12° Optional 110mm long range 3 degree fov lens option |
| Wide Objective | 8.5mm, Field of View 50° x 35° (optional) |
| Diopter Adjustment | -6 to +2 / 52mm to 72mm interpupillary |
| Size | 16.5cm x 15.5cm x 10.25cm (6.5in x 6.1in x 4in) |
| Weight | 700 gr. (25 oz.) |
| Video Output | NTSC Composite (RS-170 / SMPTE-170) |
| Power Source | 3 Standard CR123 (12V DC External Power Option) |
---
T7 Thermal Goggle/Binoculars Product Images
Our long range thermal binoculars are Rugged, all weather, state of the art dual eye thermal imaging flir systems. These devices come in uncooled LWIR And Cooled MWIR thermal imaging sensor Choices both in standard definition and in HD high definition. Utilizing small micro pitch detectors, our long range thermal binoculars pack optics that can reach out in excess of 10 kilometers for human and vehicle detection applications, this is considered very long range especially in total darkness for a handheld thermal imaging unit. Our handheld long range thermal imaging binoculars also come with a variety of complementary Sensors to add for mission readiness. Sensors like laser rangefinder's (LRF), infrared laser pointers, infrared laser illuminators complementary lowlight HD visual day cameras, our EO/IR long range thermal binoculars also have GPS and DMC (Digital Magnetic Compass) modules for geolocating capabilities. Our military grade long range thermal binoculars are a premier choice by military and border protection personnel, the advantage of using thermal binoculars is the ease of viewing especially for long durations while using both eyes. Our thermal cameras offer the user crisp, clear image quality with outstanding detail, clarity and fidelity. Long range thermal binoculars housing tend to be bigger in size compared to Long range thermal monoculars, this extra real estate in the housing allows for the incorporation of the additional optics, sensors, and modules making up a complete multiSensor thermal binoculars system.