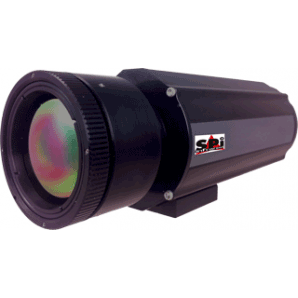 Thermal-Eye TSC 4500 Refurbished Thermal Security Camera
The Thermal-Eye TSC 4500 thermal security camera is a plug and play thermal infrared surveillance package designed for easy integration into existing CCTV security systems.
NOW IN PRODUCTION AVAILABLE WITH NEW XGA 1024×768 HD LWIR THERMAL CAMERA CORE ENGINE
"Plug and Play Ready" for easy system integration
Rugged, weatherproof and tested to IP67
Fully RoHS-compliant and environmentally friendly
Detection of human activity at 3,000 ft
CALL TODAY for pricing! (702) 369-3966.
---
Thermal-Eye TSC 4500 Refurbished / new Thermal imaging FLIR Security Camera
The Thermal Eye TSC 4500-E (Thermal Security Camera) has highly advanced DSP thermal image processing and lower image noise. This gives the user a much better target detection/recognition range. This translates into a longer and safer stand off distance for the security operator. The TSC utilizes the latest advance in Amorphous Silicon Microbolometer technology operating at 320×240 pixels for stunning high definition thermal imagery. The highly refined detector provides a real-time frame rate of 30Hz NTSC, or 25Hz PAL (9 Hz Exportable version is available). Multiple FOV lens options are are available in 50°, 25°, 18°, or 12° lenses. These optional optics can support a detection range of 3,000 ft (914 m)+.
Now with the addition of the XGA sensor availability of 1024×768 resolution, detection ranges and resolution/sensitivity is greatly increased.
The TSC 4500 Refurbished Thermal Security Camera is Packed with Premium Features
Enhanced image quality provides better target recognition and contrast for discerning objects of interest
Improved thermal sensitivity extends target range and reduces noise
Watertight to IP67 rating
Fully RoHS-compliant for improved exportability and available with 9Hz frame rate
Available optics include 50°, 25°, 18°, and 12° HFOV – custom low cost / long range options available
Manual adjustment with passive athermalized lens
Analog output with NTSC or PAL
A host of long range continuos zoom optics available now with 25 degree to 1 degree field of view FOV imaging detection capabilities with lenses consisting of:
50mm
100mm
150mm
200mm
225mm
250mm
275mm
300mm
325mm
350mm
fixed or full continuos zoom from wide to ultra narrow long range auto focus germanium LWIR lenses
---
---
For additional info and discounts Contact mike@x20.org or call 702-499-9551
TSC4500-E TECHNICAL SPECIFICATIONS:
FEATURES
THERMAL-EYE TSC4500-E
FOCAL PLANE ARRAY
MATERIAL, STRUCTURE & FORMATAmorphous Silicon Microbolometer (320 x 240 pixel array)

available in VGA 640×512 and XGA HD LWIR 1024×768 thermal camera core engine

SPECTRAL RESPONSE
7-14μm (filter bandwidth)
REFRESH RATE
NTSC: Real-time 30Hz Frame Rate — PAL: Real-time 25Hz Frame Rate (9Hz available)
THERMAL IMAGING SYSTEM PERFORMANCE
THERMAL SENSITIVITY< 45mK Typical @ f/1.0
START-UP TIME
< 3 seconds
CONTRAST/BRIGHTNESS
Advanced Image Processing
RANGE TO DETECT HUMAN ACTIVITY
Up to 775ft (235m), Up to 1465ft (445m), Up to 2000ft (600m), Up to 3000ft (914m)
OPTICS
FOV ALTERNATIVES

Wide FOV 50° x 37.5° Athermalized, Medium FOV 25° x 19° Athermalized, Medium FOV 18° x 14°Athermalized, Narrow FOV 12° x 9° Athermalized

FOCUS METHOD
Manual adjustment only
F/#
1.0, 1.2, 1.0, 1.2
VIDEO
ANALOG OUTPUT

NTSC: Real-time 30Hz Frame Rate — PAL: Real-time 25Hz Frame Rate

OUTPUT RESOLUTION
NTSC: 640 x 480 pixels for higher-clarity thermal images & symbology overlay
PAL: 768 x 574 pixels for higher-clarity thermal images & symbology overlay
CUSTOMIZABLE ABSOLUTE COLOR
3 OEM selectable color points are mapped to selectable absolute temperatures
POWER
INPUT VOLTAGE

8 to 32VDC

INPUT POWER
~ 2.0W @ 25°C ambient, 12VDC
INTERFACE & CONTROLS
CAMERA SETUP

RS-232 and Advanced GUI Control

PHYSICAL CHARACTERISTICS
SIZE

8.3"L x 2.6"W x 2.7"H (21.1cm x 6.6cm x 6.9cm)

WEIGHT
20oz (567g)
COLOR
Black Extruded Anodized Aluminum
MOUNTING BRACKET
1/4" – 20 UNC-B Universal top or bottom mount
ENVIRONMENTAL CHARACTERISTICS
OPERATING TEMPERATURE

-4°F to 185°F (-20°C to 85°C)

STORAGE TEMPERATURE
– 40°F to 221°F (-40°C to 105°C)
AVAILABLE ACCESSORIES
— Solar Shield Kit— OEM Developer Kit—
Interface Cable- 3 ft (0.9M)— Interface
Cable – 15 ft (4.5M) — Interface Cable –
30 ft (9M)— Break-Out Interface Cable—
24VAC Power Converter Kit
Specifications subject to change without notice
TSC4500-E / September 2016