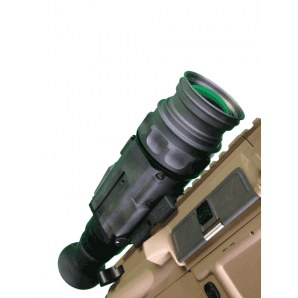 [intense_hr color="#ffffff" shadow="10″ accent_width="30″ accent_height="3″]
X23 Thermal Rifle Scope
The X23 thermal scope represents a breakthrough in thermal rifle scope technology. By utilizing advanced image processing routines and leveraging large quantity throughput, the X23 is a thermal scope that you can now afford. The system packs in all the features of high dollar military thermal weapon sights into a low cost consumer friendly package. You no longer have to dream of owning a thermal weapon sight. Now you can live the dream! Contact us today for an in depth discussion of this amazing new product.
CALL TODAY for pricing! (702) 369-3966.
---
The X23 Thermal Rifle Scope is the newest model on the market. This radical new design finally brings military style thermal weapon sight technology down to the masses. With all the features you would expect on a true military scope, the X23 delivers performance you wont believe. This is the perfect scope for the serious survivalist. You don't want to be caught in the zombie apocalypse without a thermal scope. Hog hunters and game control officials love the X23 thermal rifle scope. Finally, there is a thermal weapon sight option that you can afford without sacrificing performance.
X23 Thermal Rifle Scope Specifications
DETECTOR
FPA Format: 320 x 240
Type and Material: Microbolometer
Cooling: Uncooled
Spectral Response Sensitivity: 8 – 12 μm
PERFORMANCE
Detect Stationary Man: 3800 meters+
Optics: 50mm Focal Length, Manual Focus
Weapon Sight: Up to 24X ZOOM
Continuous Operation: 6 hours
PHYSICAL FEATURES
Weight: 30 ounces
Dimensions: 7.8″ x 3.0″ x 2.75″
Power Requirement: (3) CR123 Batteries
Lens High Grade Germanium
Eyepiece Adjustment: Manual Focus
Waterproof: Water resistant
Additional Controls: Brightness & Contrast
ADDITIONAL FEATURES
Polarity Control: Black Hot / White Hot
Display: 640 x 480 Pixels Full digital reticle
Temperate Reading: Yes (Optional)
Colorization: Monochrome and full color
Video Output: NTSC (STD)