X26-XLR TWS Thermal Imaging Scope
This Long Range Thermal Weapon Sight is High-Def and Heavy Duty The X26 XLR Long Range 640×480 Thermal Weapon Sight (TWS) is now available. The XLR is an ultra high resolution thermal scope with Xtra-Long-Range capability designed for law enforcement, military, sniper and game control applications. The XLR Thermal Weapon Sight can be used as a rock solid weapon sighting platform or a long range handheld thermal imager.
CALL TODAY for pricing! (702) 369-3966.
---
The X26-XLR long range flir Thermal Weapon Sight (TWS) is a next generation High Definition thermal imaging scope with ultra long range optics. Utilizing the latest in uncooled high resolution thermal core technology, the XLR is a long range sniper scope. Designed for hard core applications including military sniper missions, extreme varmint control, law enforcement / SWAT and search / rescue operations. The X26 XLR takes the venerable X26 to the next level of range and resolution performance making it the Thermal Weapon Sight of choice for professional shooters.
The X26-XLR Thermal Imaging Scope Kit comes with all the items pictured here, which include:
X26-XLR long range Thermal Weapon Sight
External Power Adapter
Quick-Release 1913 Mount
Flip Up Lens Cap
4 CR124 Batteries
Video Output Cable
Heavy Duty Pelican Case
Lifetime Support, Full 2 Year Warranty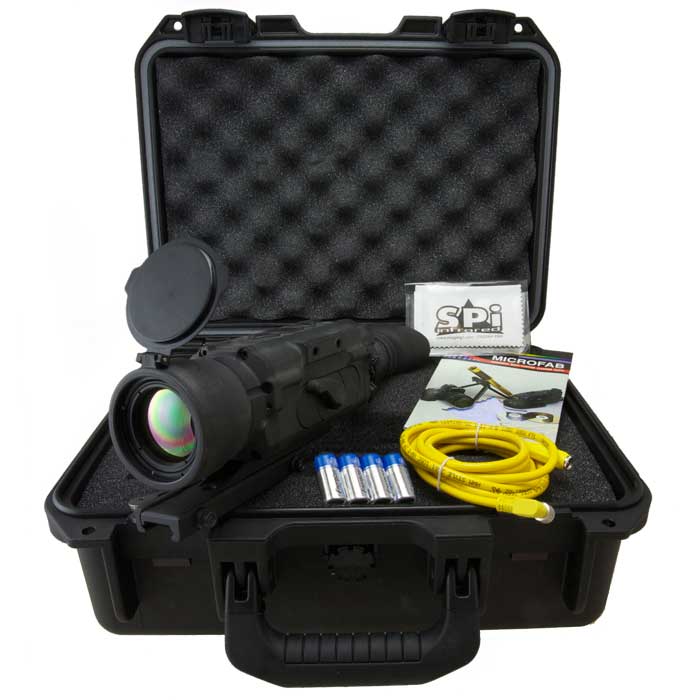 Intelligent Design for Ease of Operation
PICATINNY RAIL
Quick Picatinny rail mount for tool-less lock and release.
RAIL OPTIONS
Easily attach standard rails for lasers and accessories.
LIGHT SAFE
Light safe design automatically powers off when not in use.
STANDARD BATTERIES
Uses standard CR123 batteries in a quick release cassette.
I/O PORTS
External interfaces for AC power or video output.
DIOPTER
Diopter adjustment mates the unit to your eyes.
LONG RANGE OPTICS
Shoot farther and see clearer with precision ground germanium optics.
TACTILE BUTTONS
Tactile Buttons are easy to use in the dark or while wearing gloves.
The X26-XLR is an Advanced flir TWS Thermal Imaging Scope. The future is here now and its more affordable than you think. Owning the night has become critical in today's world of unrest and touch and go scenarios. Old night vision (starlight) scopes from the 1970's era had given us an advantage but have been severely hindered by inherent limitations. Night vision of the starlight type always requires ambient light to operate properly and provide the user an image. But too much light will play havoc with a night vision scope. The are very sensitive to common lights such as headlights, streetlights and light from buildings. This ambient light that is always present in urban terrain will cause blooming of the night vision image and turn the gain of the tube way down reducing your night vision capability. Obviously, this is not an ideal feature when contemplating a weapon aiming platform. It goes without saying that traditional night vision cannot be used in daytime at all. Weapon aiming professions require tools that work 24/7. The X26 XLR is the next bridge of TWS thermal weapon sight technology. Thermal weapon sights need no ambient light and can work day or night. The XLR is blessed with a high resolution 640×480 thermal sensor and long range optics allowing you to command the scene. The X26XLR is also a serious long range handheld spotting scope, which further expands its already impressive capabilities. The choice is clear for any professional involved in night time operations- the X26XLR is your tool of choice.
---
Flexible Sighting Options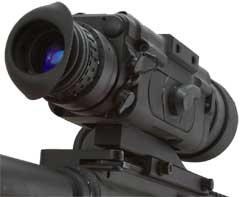 The ergonomics of the X26-XLR TWS allow it to be used as a long range sniper scope thermal or as a handheld long range thermal spotting scope.
---
Feature Details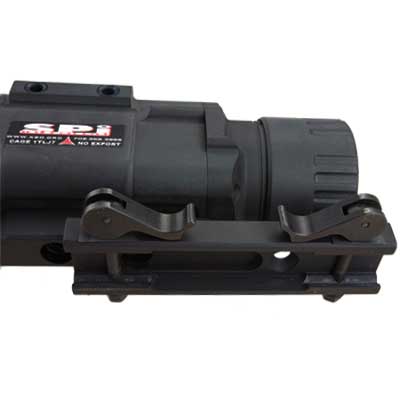 Quick Picatinny Rail Mount
The X26-XLR TWS has a locking tool-less base that quickly and positively locks the scope to any standard Picatinny rail. For operation in any scenario the cam lock screws can be manipulated with mission protective clothing and standard gloves. Maximum zero retention is assured with the hard locking base.
---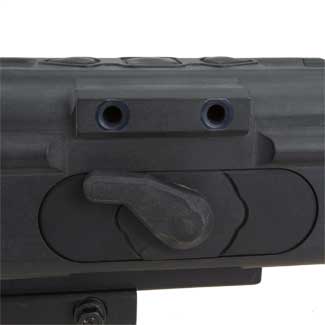 Accessory Rails
The sides of the X26XLR allow Picatinny rails attachment so you can place lasers, white lights, optical sights and other shooting accessories easily to the scope. No matter what your mission profile the X26-XLR gives you the flexibility to succeed.
---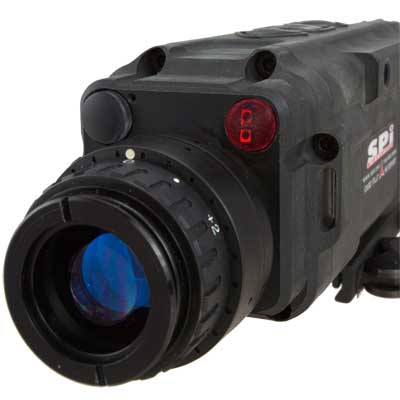 Light Safe Operation
The X26-XLR thermal imaging scope was designed as a true combat scope. Owning the night not only means seeing in the dark it also means proper light management so you do not give away your position. The X26-XLR has an adjustable proximity sensor that immediately shuts off the eyepiece as soon as you remove the sight from your eye.
---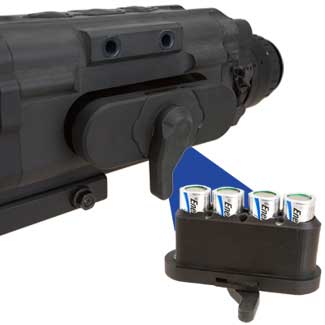 Standard CR123 Batteries
Normal CR123 batteries power the X26XLR. The one handed quick release lever and battery cassette makes changing batteries easy even while wearing gloves or in the dark of night.
---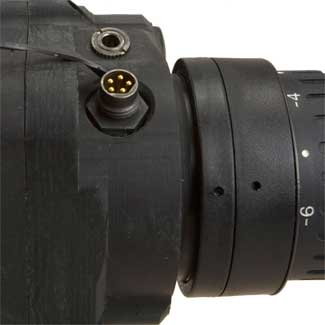 External I/O Interfaces
The X26-XLR thermal imaging scope has an advanced single port I/O interface jack to allow increased functionality while maintaining system housing integrity. This is a rugged combat scope so it is crucial that it performs no matter what the conditions. The super port allows video out and power connections while being a waterproof port.
---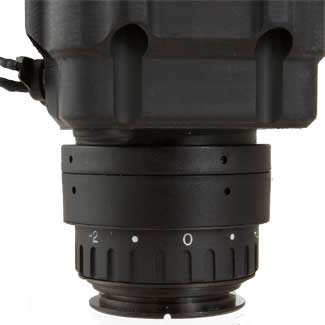 Eyepiece Diopter
The XLR thermal imaging scope uses the military standard night vision eyepiece that has been proven in years of combat operations. This crystal clear eyepiece has adjustments to tune the sight to your unique eyesight.
---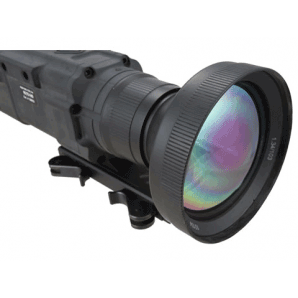 Long Range Thermal Optics
The X26-XLR utilizes precision ground and polished germanium thermal imaging optics to give you the maximum in clarity and imaging precision. When coupled to the 640×480 thermal sensor engine the performance of the X26XLR becomes legendary.
---

Tactile Buttons
A scope is just a tool for a true shooting professional. What good is a tool if it doesn't feel right in your hands? The X26-XLR was designed for maximum ease of use. Buttons are right where you expect them to be and they do just what you want them to. Easy to follow onscreen menus further enhance the capabilities of the X26-XLR.
---
X26 XLR Thermal Imaging Scope Specifications
| | |
| --- | --- |
| FPA Format | 640×512 |
| Cooling | Uncooled |
| Spectral Response Sensitivity | 7 – 14 μm |
| NETD (Thermal Sensitivity) | ≤ 50 mK |
| Refresh Rate: | Real-time 30 Hz |
| Detect Stationary Man | 3000 meters |
| Optics | Germanium, Manual Focus |
| Weapon Sight | 1X, 2X and 4X |
| Continuous Operation | 4+ Hours |
| Diopter Adjustment | -6 to +2 |
| Eye Relief | 27mm |
| Weight | 700 gr. (25 oz.) |
| Dimensions | 205 x 65 x 72mm (8 x 2.6 x 2.8 in) |
| Power Requirement | (4) CR123 Batteries or 9-28v DC External Power Supply |
| Lens | High Grade Germanium |
| Eyepiece Adjustment | Manual Focus |
| Waterproof | Yes |
| Additional Controls | Brightness & Contrast |
| Polarity Control | Black Hot / White Hot |
| Display | 640 x 480 Pixels |
| Temperate Reading | Yes (Optional) |
| Colorization | Monochrome (Color Optional) |
| Video Output | NTSC (STD) PAL (On Request) |