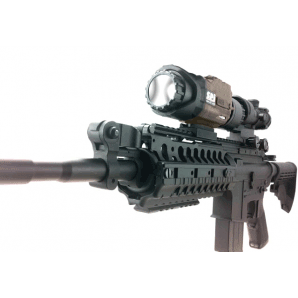 X28 Sniper grade long range thermal imaging clip on scope
X28 Clip On Thermal Rifle Scopes
Welcome to the world of high tech thermal imaging rifle sighting. The X28 clip on thermal weapon sight is a new product innovation that allows you to turn your day scope optics into a powerful thermal night scope. The best part about this awesome technology is that there is no need to re-zero your weapon.
CALL TODAY for pricing! (702) 369-3966.
---
X28 Clip On Thermal Rifle Scopes Applications
Thermal scope Hog Hunting
Thermal sight commercial applications
Thermal scope law enforcement applications
Thermal sight military target acquisition applications
The X28 thermal scope is the latest advance in thermal weapon sight technology combat optics. The genius of the clip on thermal weapon sight lies in the sophisticated optical engineering that lets you attach the X28 FLIR sight in FRONT of your day-scope to turn it into a thermal rifle scope without affecting weapon zero. Hard to believe- but absolutely true! You never need to make any zero adjustments when you mount or dismount the X28 thermal FLIR sight from your rifle. As long as your daytime rifle scope is sighted in, then the X28 thermal scope will be spot on Zero. All you have to do is mount the X28 thermal sight to the front (barrel side) of your scope with the quick release mount and BOOM, instant thermal weapon sight! The X28 thermal rifle scope works with almost any day scope (magnified or red dot) and is particularly well suited to standard military ACOG 4×32 style scopes. But it does not stop there. If you so desire the X28 thermal rifle scope can be used standalone without a day scope. Multiple internal reticles can be selected and sighted in to your weapon with internal windage and elevation control. Of course the X28 FLIR scope can also be used as a handheld thermal spotting scope. Whatever your mission profile the X28 thermal sight is a tool that delivers maximum performance and maximum ROI for your security budget.
| | |
| --- | --- |
| NEW HOG HUNTING SHOTS WITH THE X28 SENT IN BY HAPPY CUSTOMER | THE WIFE TAKES DOWN A MASSIVE HOG WITH THE X28 THERMAL RIFLE SCOPE |
| | |
The X28 Clip On Thermal Rifle Scopes are ideal as a clip on or as a stand alone thermal rifle scope.
IN STOCK AND SHIPPING NOW! CALL FOR UP TO THE MINUTE AVAILABILITY 702-728-3511
---
You can instantly go from day scope to night scope at any time. This high performance high sensitivity thermal rifle scope can be used as a standalone thermal sight, as a clip on thermal FLIR sight, and as a hand held thermal sight viewer. The X28 has user selectable crosshair reticles that are inverting to compensate for the image scene and provide enhanced targeting acquisition. The X28 unit offers a rugged all weather design that is made 100% in the USA with US military technology detectors and optics. Remote pressure switch which is included in the package allows for remote thermal rifle sight operation. The X28 Clip On thermal rifle scope/FLIR sight can be used for commercial, law enforcement and military application with proven results.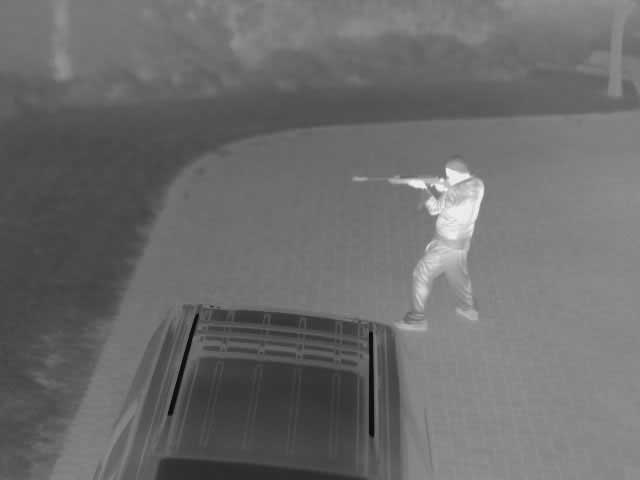 ---
X28 Thermal rifle scope Intelligent Design for Easy Operation
QUICK RELEASE MOUNT
The X28's Thermal rifle FLIR sights Positive locking quick release lever to transition from day to night quickly.
ADVANCED OPTICS
The X28 thermal rifle scopes Sophisticated optical engineering so you never have to rezero your weapon. So advanced its magic.
INTERNAL RETICLE
Activate the internal reticles so you can use the X28 thermal rifle scope as a standalone thermal weapon sight. 5 crosshairs are included
STANDARD BATTERIES
The X28 thermal rifle scope's CR123 batteries are available at consumer outlets worldwide. Never be left without batteries.
WATERPROOF COMBAT DESIGN
An advanced combat optic the X28 thermal rifle clip on FLIR scope is waterproof and designed for the rigors of combat.
TACTILE BUTTONS
The X28 thermal FLIR scope is Designed to be an intuitive easy to use system in total darkness the X28 is a joy to work with.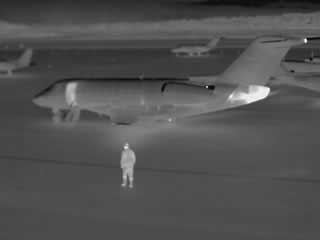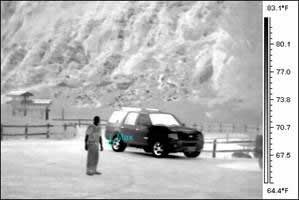 ---
Clip On Thermal Weapon Sight Technology
Future thermal scope technologies you have only dreamed of are here today and for a lot less than you think. Owning the night is paramount for today's "good guys" against the back drop of evil doers in the world. In the past night time engagements relied on old school starlight image intensified night vision scopes. Intensified tube night vision rifle scopes evolved from the 1970's and rely on ambient light to operate. Night vision scopes have severe limitations. Light amplifying scopes by nature are very sensitive to lights. Common light sources like headlights, streetlights and general background lighting wreak havoc with intensifier tubes causing blooming and image distortion. This is annoying with a viewer but a disaster when contemplating shooting at night. In addition, the typical night vision scope is a one trick pony that only works in the dark of night (but not too dark). You cannot use them in daytime at all. If you are directing fire you need a sighting solution that works whenever it is called upon. Thermal FLIR rifle scopes are the next generation in night thermal sight shooting technology. The X28 clip on thermal weapon FLIR sight is an example of a technology that addresses the limitations of starlight night vision and the limitation of weapon zero. As a clip on thermal weapon sight the X28 goes in front of your day optic and turns it into a thermal rifle scope with out the need to re zero the weapon. This is true 24/7 on demand thermal FLIR weapon sighting technology.
---
MOUNTING OPTIONS
Don't limit yourself with single purpose tools that barely do one job for you. The X28 thermal rifle scope is a true multitasker that performs multiple jobs with ease. Stand alone thermal rifle scope, clip on thermal rifle sight or handheld thermal spotting scope.
---
---
The X28 Thermal Rifle Scope Kit
The X28 THERMAL RIFLE SIGHT comes with all the items pictured here, which include:
X28 Clip On / Standalone Thermal Rifle Scope
Quick-Release 1913 Mount
Flip Up Lens Cap
2 CR123 Batteries
Scope hood boot
Demist shield
Quick start guide
Operations manual
Lens care kit
Military bag
Lifetime Support, full 1 year warranty
---
X28 THERMAL RIFLE SCOPE CROSSHAIR RETICLE STYLE EXAMPLES
X28 Thermal Rifle Scope Specifications
| | |
| --- | --- |
| Sensor | High Resolution / High sensitivity Uncooled uFPA US Made Microbolometer |
| Thermal Sensitivity | <50mK (MilliKelvin) |
| Spectral Response | 8 – 12µm (Microns) |
| Objective Lens | US Made High grade coated/hardened Ge (Germanium) Auto Focus, Sealed optics |
| Polarity | White hot / black hot |
| Crosshairs | User selectable 5 styles (Inverting to compensate for image scene) |
| Battery Type/ Life | CR123 Lithium (2ea.) Over 5 hours continuous |
| Weight (with batteries) | 550g |
| Dimensions (L x H x W inches) | Approx 6.5" x 2.7" x 2.6" |
| Display | High Resolution OLED – 800 x 600 |
| Environmental | -20⁰C to +60⁰C (operating temp.) -20⁰C to +70⁰C (storage temp.) |