The Arrow ISR EOIR long range IR thermal binoculars are a multi sensor flir Geo-imaging system with LRF laser range finder, gps, compass, laser pointer + recording and a zoom cctv EO low light camera channel with optional WiFi /4G remote control and PTZ C2.

If your application calls for a Multi Sensor thermal FLIR binocular with Extreme reliability and ultra Ruggedness, The LWIR uncooled Arrow thermal binoculars is a prime solution.
The Arrow long range thermal binoculars offer multi sensor imaging capabilities in a flir multisensor package. Integrated LRF laser rangefinder, gps, compass, zoom visible channel and video/still image storage are packed into this powerhouse all weather thermal binocular system.
---
COMING SOON: HD THERMAL IMAGING SENSOR IN THE ARROW THERMAL
BINOCULARS, THE WORLDS FIRST HD LWIR LONG RANGE
THERMAL IMAGING MULTI SNESOR BINOCULAR SYSTEM.
---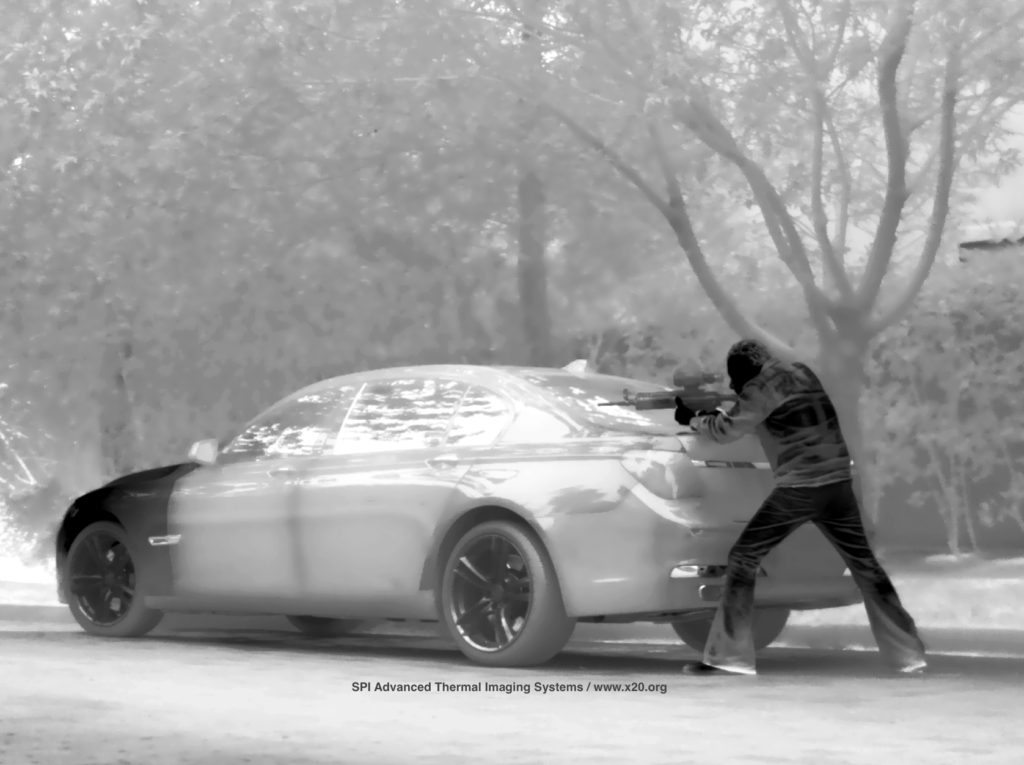 The System Incorporates an ultra sensitive Thermal imaging detector with lens options, zoom CCTv LLL CMOS camera, GPS, LRF Laser Range Finder, image stabilization, 3G Pan Tilt Tactical remote sensing, DMC Compass, IR Laser Pointer, and image storage all in a sealed IP67 MILSTD 810F robust chassis with crisp bright OLED micro displays which offer the user a crisp immersive dual eye binocular screen.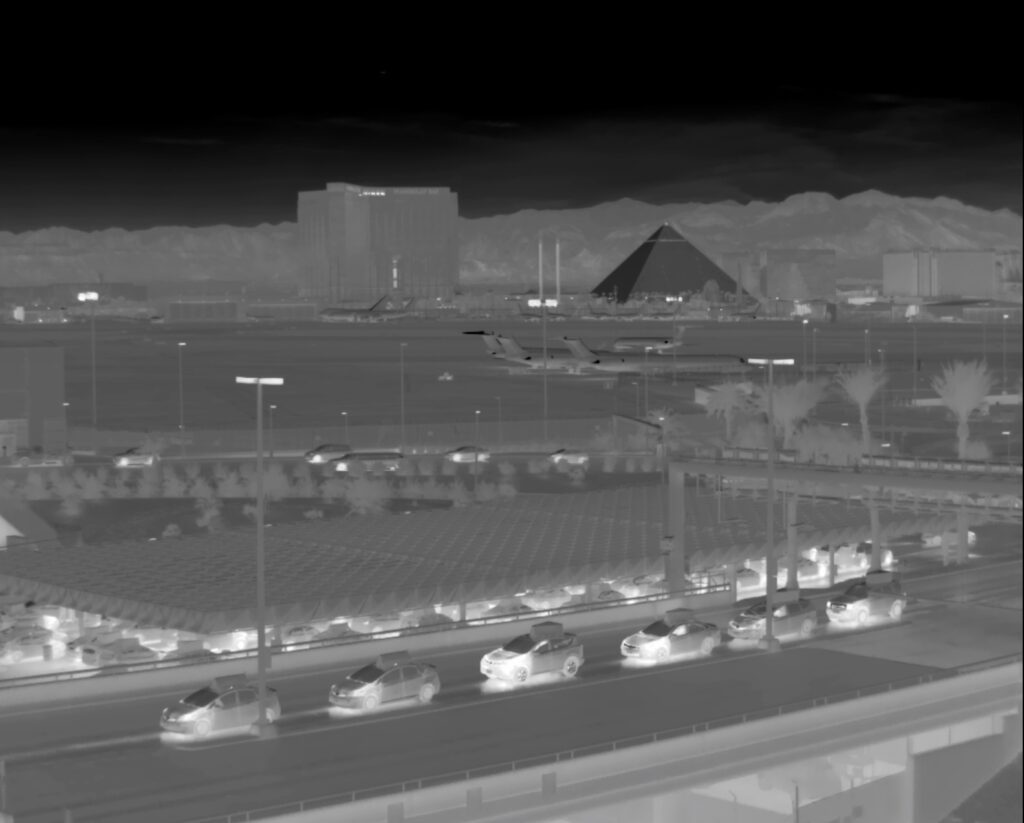 The unit is simple to operate, turns on instantly and has intuitive fast toggle menus. The ultra long life 10 hour battery assure long life uninterrupted security and surveillance imaging.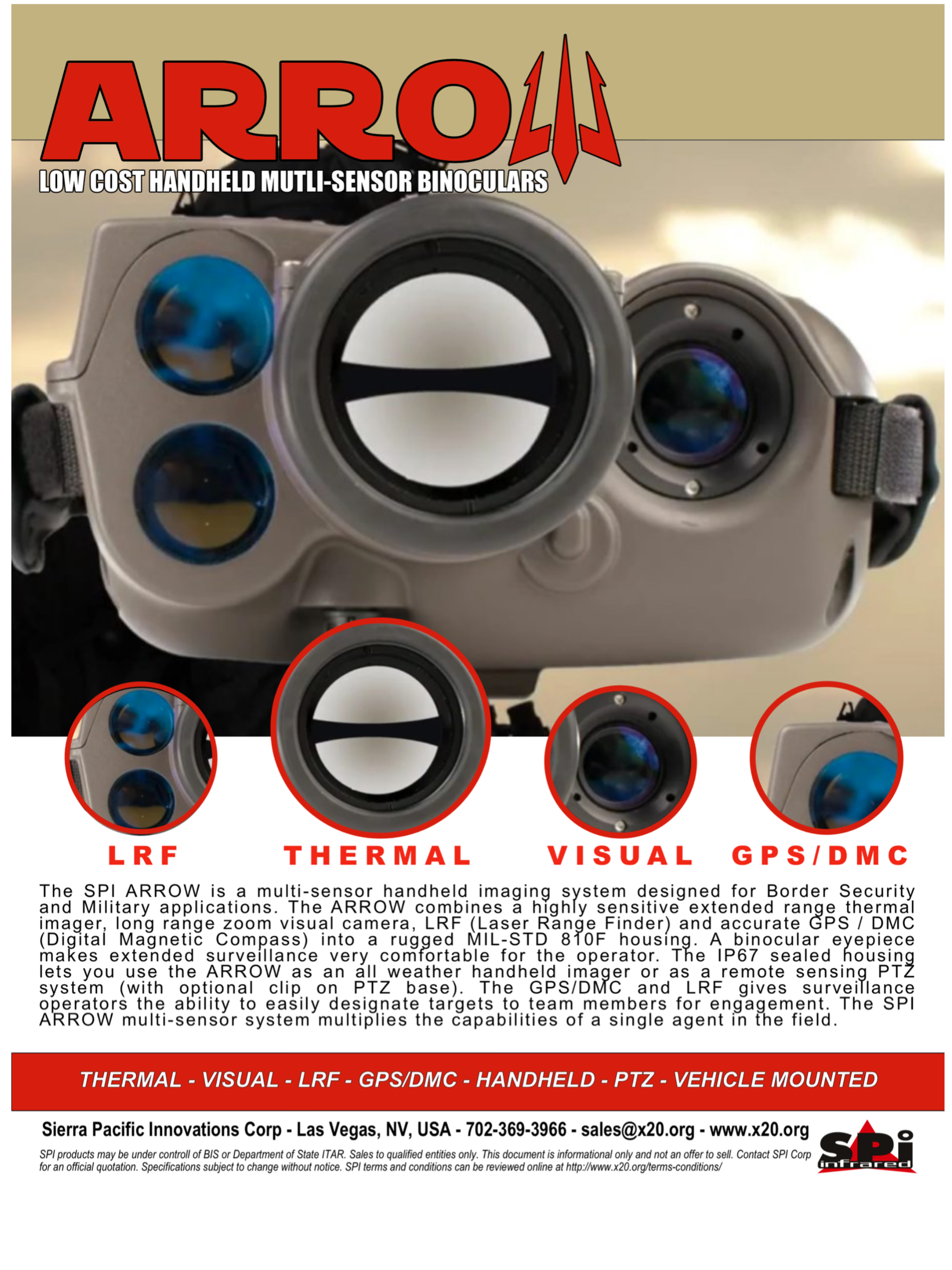 The Arrow is the most rugged/reliable thermal multi sensor system available.
The Arrow can also be easily used as a PTZ (Pan Tilt Zoom) Imaging payload for remote observation in fixed, tactical, marine and mobile applications.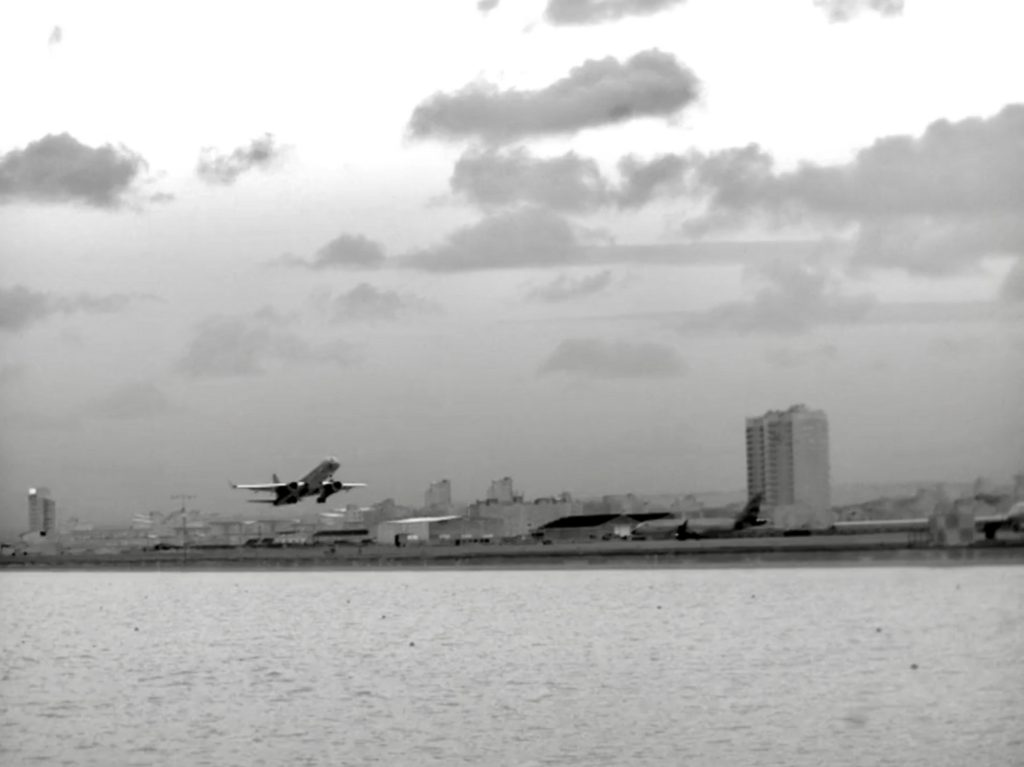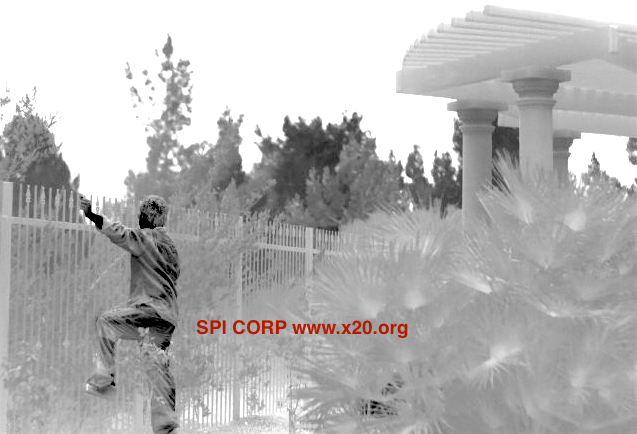 The advanced Arrow Thermal imaging PTZ Binocular systems is the worlds most intelligent, most ruggedized multi sensor imaging system
catered to fill a void in military, border, law enforcement and industrial applications, The unit can withstand any harsh
environment and offers the user a plethora of imagery and data due to its built in integrated sensor suite.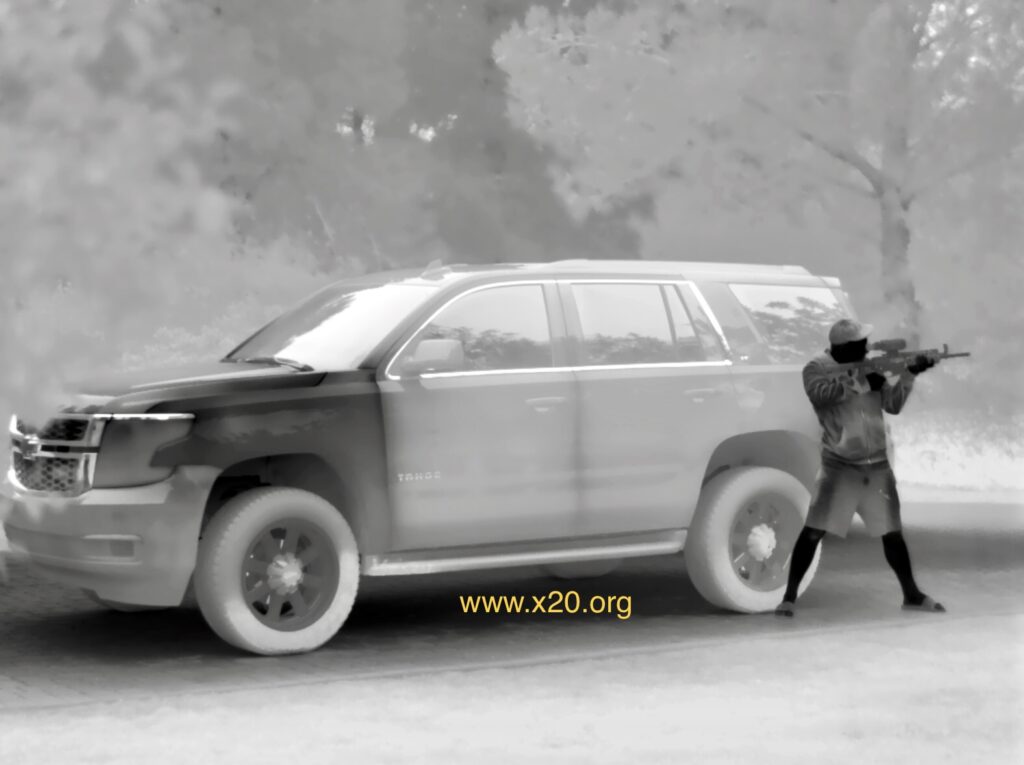 The Smart gyro stabilized PTZ Pan
Tilt Zoom platform allow the user to connect the Arrow to the gimbal and remotely view and control the system from anywhere,
3G connectivity allows for added remote sensing applications. Unlike other systems in the marketplace,
the Arrow is an affordable solution that leverages top grade sensor technologies which offers you the absolute best image quality & optics available today.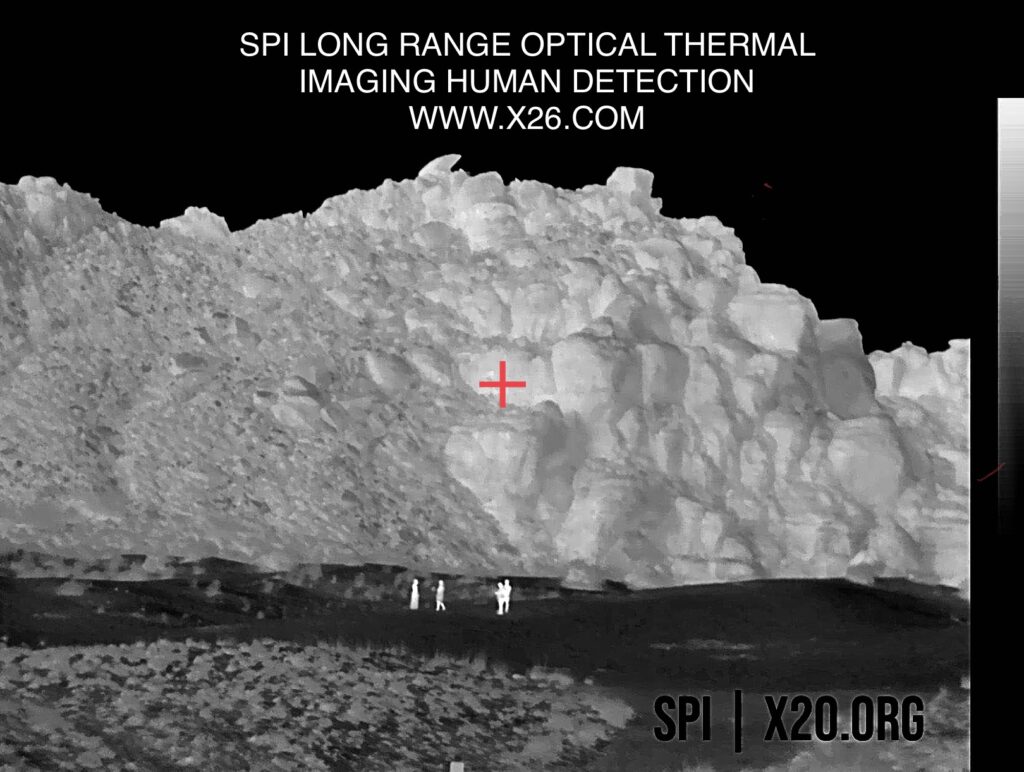 When looking into the immersive dual eye oled display of the arrow, you are guaranteed to enjoy high grade image quality even when viewing for long periods of time, specialty optical coatings relieve eye strain.
There simply isn't a better lwir (Long Wavelength InfraRed) maintenance free multi sensor thermal binocular choice anywhere.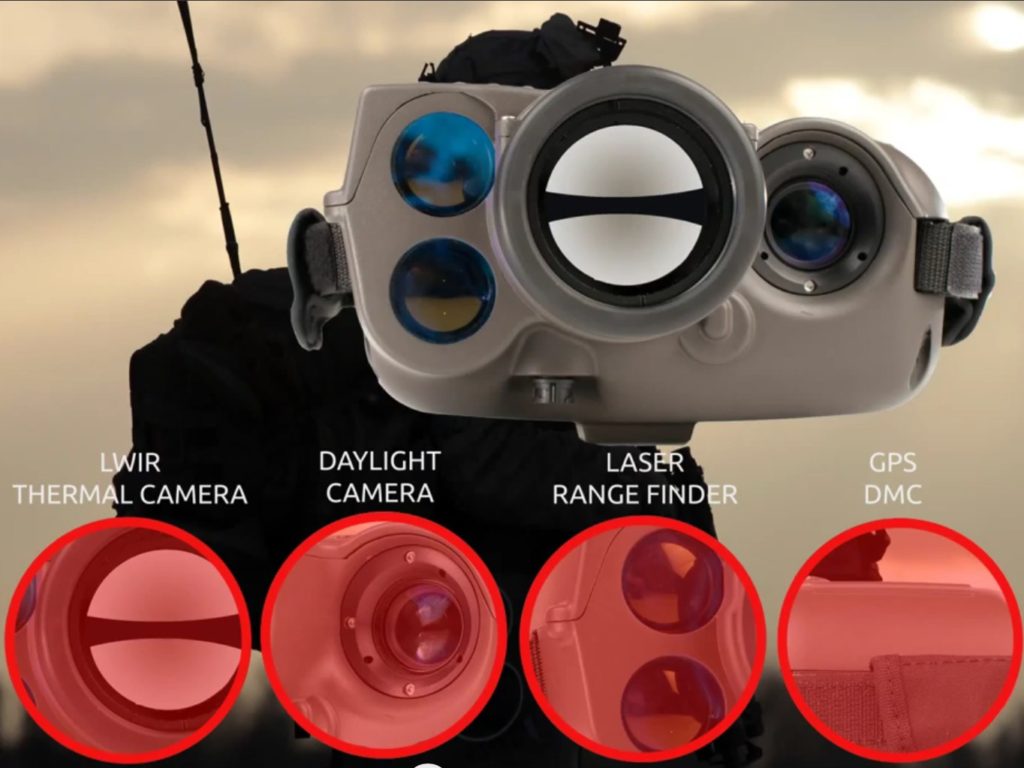 Call 702-499-9551 or email mike@x20.org for additional information
Long range thermal binoculars are a prime choice for many military, law enforcement, and homeland security professionals, typically the use of a dual eye binocular or biocular system is preferred over single eyed monoculars due to the enhanced image presentation to the users eye. HD high resolution Oled micro displays offer big screen style immersive viewing capabilities which is pleasant to the eye and Aids in reduced eye strain and fatigue. SPI has many standalone long range thermal Flir binoculars with multi sensors giving multi spectral imaging capabilities. Day and night vision cameras along with geo locating sensors and ir lasers are added to compliment the overall system and increase its capabilities, today's top tier SPI thermal binocular observation/reconnaissance and detection systems have up to a dozen sensors and detectors added into a single platform.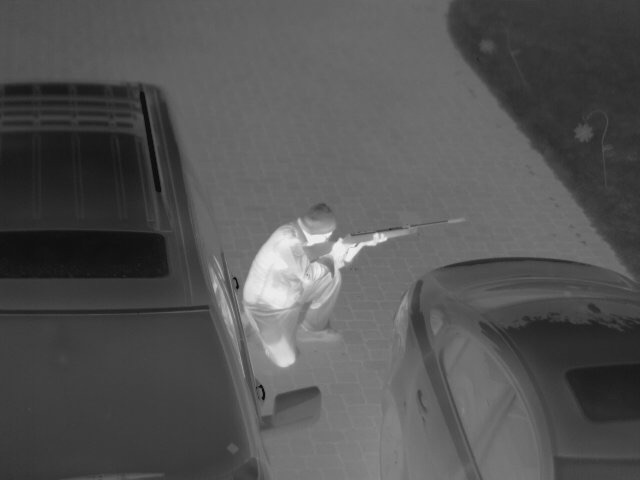 SPi Corp long range thermal binoculars are Rugged, all weather, state of the art dual eye thermal imaging flir systems. These devices come in uncooled LWIR And Cooled MWIR thermal imaging sensor Choices both in standard definition and in HD high definition. Utilizing small micro pitch detectors, our long range thermal binoculars pack optics that can reach out in excess of 10 kilometers for human and vehicle detection applications, this is considered very long range especially in total darkness for a handheld thermal imaging unit. Our handheld long range thermal imaging binoculars also come with a variety of complementary Sensors to add for mission readiness. Sensors like laser rangefinder's (LRF), infrared laser pointers, infrared laser illuminators complementary lowlight HD visual day cameras, our EO/IR long range thermal binoculars also have GPS and DMC (Digital Magnetic Compass) modules for geolocating capabilities. Our military grade long range thermal binoculars are a premier choice by military and border protection personnel, the advantage of using thermal binoculars is the ease of viewing especially for long durations while using both eyes. Our thermal cameras offer the user crisp, clear image quality with outstanding detail, clarity and fidelity. Long range thermal binoculars housing tend to be bigger in size compared to Long range thermal monoculars, this extra real estate in the housing allows for the incorporation of the additional optics, sensors, and modules making up a complete multiSensor thermal binoculars system.